What National Startup Day means for startups
PC Musthafa, Co-founder and CEO, ID Fresh
I believe for the ecosystem to grow; it is important to have a supportive administration at all levels. The Government has been proactively engaging with the stakeholders and encouraging India's youngsters to startup on their own. National Startup Day is a step in the right direction. 
I would also like this day to be celebrated by awarding some unsung heroes and entrepreneurs who are working on the ground and making a difference in the lives of people, particularly in rural areas. As a nation, we should also start celebrating our entrepreneurs and not just film stars.
Nandini Mansinghka, CEO and Co-Founder of Mumbai Angels
The announcement made by the Prime Minister is a solid step towards encouraging entrepreneurs and innovation whilst also highlighting a New India initiative – one where industries across Agriculture, Health, Enterprise Systems, Space, Industry 4.0, Security, Fintech, Environment and more are encouraged, to fiercely build a better future for the country.
Vineeta Singh, Co-founder and CEO, SUGAR Cosmetics
India has been one of the fastest growing markets globally. Also the Indian consumers have been continuously evolving, with a large sized young demographic, being easy adapters of newer technologies, with growing purchasing power. This rightly makes India a favourable market with strong potential for any apt startup idea to exponentially flourish. In addition to this, the gaining Government recognition for Startups on India by launching different schemes and easing regulations has only made the future of startups in the country stronger.
Abhay Hanjura, Co-founder, Licious
"Being the change makers for building the nation of tomorrow, we've arrived :)"
Sanjay Swamy, Managing Partner and Co-founder Priven Advisors, Advisory to Prime Venture Partners
The declaration of National Startup Day is a recognition of the role startups are playing and expected to play to address issues of national (or global) significance – from financial services to education to healthcare, startups are now first-class citizens in defining the decade of India – the best is yet to come.
Prashanth Prakash, Accel Partners
The Startup Day each year will focus on India's amazing entrepreneurs and will also help us redouble our collective efforts to achieve even greater heights to help us build startups that tackle the greatest challenges.
Apeksha Gupta, CEO and Creative director of John Jacobs Eyewear
Declaration of National Startup Day recognises the gumption, risk-taking, and patience of entrepreneurs, employees and collaborators at startups. It provides fuel to be a nation that values democratic wealth building
Garima Surana, Co-founder, SochCast 
Last year India created 42 unicorns, this only paves way for an entrepreneurial tomorrow. Validation from the centre means new opportunities, new investment streams globally, a more fertile ecosystem for ideas and innovation and definitely a boost to the young which is central to an atmanirbharbharat.
Pulkit Agrawal, Co-founder and CEO, Trell
Getting such inspiring news ahead of the budget gives all entrepreneurs a hope and a much needed boost. This initiative will enhance awareness of the startup ecosystem and job creation furthermore accelerating support to the country's entrepreneurial community. 
The government's decisions and message on prioritizing innovation, entrepreneurship, and the startup environment have three important features – entrepreneurship must be free of bureaucratic silos, an institutional structure for innovation must be built, and  provide young innovators a platform to grow and flourish.
Binal Patel, Designer and Founder, Theralb 
The declaration means that now young innovators have got a real space to showcase their ideas and will be able to take it further and execute practically without bureaucratic interference.
Neha Khanna, Director, ValPro
The National Startup Day marks the recognition of new age ventures as a significant contributor to the economy in multiple ways: large infusion of FDI in an asset class outside of public markets, export of products and services by the country, larger base of retail investors borne out of employees with respectable salaries and wealth creation tools such as ESOPs and being a key consumption market in the global economy.
Neha Lidder, Founder and Director Platoon Advisory and Kombat Wellness 
Startups are not just bringing innovations to the market place with products and services that are out of the box but also playing a major role as job creators.
This is a wonderful decision taken by our PM to mark 16th Jan as National Startup Day.
It shows support towards fledgling entrepreneurs who start out on a very tough and challenging journey as an entrepreneur in such a competitive environment and economy that's been challenged by the pandemic.
Arshhya Chabbra, Founder, Alive and Well Personal Care Brand 
This motivation boost was much required ever since 2020. Pivot or perish was the mantra for 2020 when the world was badly affected due to COVID 19. That year, played a vital role in the Indian Economy when we saw many emerging start-ups from various segments taking control and truly becoming atmanirbhar.
The newly found freedom provided confidence and cleared a path for the Entrepreneurs in India. Intended to build a strong eco-system for nurturing innovation and startups in the country, the initiative and the declaration of 16th Jan as National Startup Day by our honourable PM will drive sustainable economic growth and generate large scale employment opportunities for thousands.
Vikash Pacheriwal, Co-founder, Raisin 
The best thing a growing business can ask for is better Government litigation and smoother policies. With the declaration of the National Start Up Day, the Indian Government is trying to extend their hands towards the growing Entrepreneurs and welcome them for a better tomorrow.
I think this is an amazing initiative and it will enable several young minds to come with many more new ideas. The fund flow as well as FDIs and FIIs will increase because of this step and in most likely cases, we will see many more Unicorns in the coming time – much more than what we saw in 2021.
Vedang Patel, Co-founder, The Souled Store
It's great to have recognition that helps spread the word and inspire the next generation of entrepreneurs
Himanshu Gautam, CEO & Co-founder, Safalta, an edtech platform 
We laud the government's continuous commitment towards revolutionizing the start-up ecosystem in India and welcome this step. Be it 'Make in India', Skill-India or all the other initiatives, the youth of the country is imbibing the values of 'atmanirbharta' or self-reliance and we believe that a nation of entrepreneurs can transform the nation's economic future. As a brand that is committed to ignite the champion mind-set in young India, we are excited for the new policy changes announced by the Prime Minister in his interaction with the startups.
Mangesh Panditrao, CEO and Co- Founder, Shoptimize
There has been a lot of innovation by Indian startups in recent years resulting in world class products, jobs opportunities as well as wealth creation. The announcement made by the honorable PM is a big boost to the startup ecosystem. The continuing support from the Indian Government will create an atmosphere for startups to further innovate and grow. We will see more unicorns coming from the Indian startup ecosystem.
Anshul Bhagi, Founder, Camp K12, coding platform 
We are delighted with the Government's policy stimulus to catalyse the growth of the start-up ecosystem, and the declaration of Jan 16 as National Startup Day. As a brand that champions new-age 21st century skills for young learners, the Camp K12 team has long worked towards lowering the barrier to "starting up" across India's schools and k-12 segment. We believe the proposed policy changes will provide a boost to young entrepreneurs across the country and we celebrate this announcement."
Narendra Pasuparthy, Chief Farmer, CEO & Founder, Nandu's
India's success story in startups needs to be celebrated and recognized for its contribution. National Startup Day is a good way of not just recognizing our young entrepreneurs and stakeholders in the ecosystem but also reminding us that we need to continue this momentum and compete at a global level.  
Shezaan Bhojani, Co-founder and CEO, Design Cafe 
I think it signifies 2 things: 
1) Is the Government's positive attitude to help young start-ups and hence make it easier to "Start-up" in India and we must laud the government for that. 
2) The impact that start-ups have had in the last 5 years with so many success stories across Industries that have actually helped India grow not just in Tier-1 cities but across Tier II and Tier III as well.
Zafar Imam, CEO, FinShell.
The attention of the Government to this sector will boost the morale of the sector and encourage new entrepreneurs to venture into untapped potential by use of disruptive technology. 
Alok Mittal, Co-founder and CEO, Indifi 
I guess it promotes startups as a choice for young Indians. Critical to help solve problems, and generate more jobs.
Apeksha Gupta, CEO and Creative director of John Jacobs Eyewear
Declaration of National Startup Day recognises the gumption, risk-taking, and patience of entrepreneurs, employees and collaborators at startups. It provides fuel to be a nation that values democratic wealth building
Rushikesh Bhandari, Co-founder, The Purchase House 
Declaring 16th Jan as a National Start-up Day by Hon. PM Today is like giving meaning to all those wonderful Start-up Journeys which are contributing towards building a Dream India,  a Digital India and an Emerging India! It's the real recognition of the entire start-up ecosystem & a day to Celebrate & Cherish for The Founders, Their Core Teams, Angel Investors, Vc's, Mentors, Stakeholders,Users and more importantly for their families.
Arpit Agarwal, Blume Ventures 
National Startup Day celebrates the value tech and entrepreneurship has created over the last two decades and the pivotal role it is likely to play in the coming years. It also allows all of us to acknowledge the work done by this movement over the years and renew our commitment to it. Just like International Yoga Day.
Rohan Singh Bais , Founder and CEO, Ziptrax
National Startup Day is a great way to proactively help recognise the efforts of Indian Startup Entrepreneurs and the ecosystem. Over the past 7 years, I have seen that the massive growth in the startup ecosystem has been multi-fold, this is also because PM Modi has made it the priority to make India the Top Start-up destination in the World!
Kapil Gaba, Country Head, OneValley
Declaration of National Startup Day by the Prime Minister is a sign of acceptance of startups as the next anchor of economic growth and social mobility. Startups riding on technology are beyond barriers – age, gender, creed, race, geography, et al. They are the greatest equalisers of all time. 
The National Day for Startups is not just an acknowledgement of the efforts of the previous generations of entrepreneurs who paved the way in tougher circumstances, but also a huge encouragement to the future generations of entrepreneurs who will build on that and multiply globally relevant solutions coming out of the country.
Ganesh, Founder, Stylumia 
 "We at Stylumia believe every day is Day 1, having a childlike curiosity and humility to learn and improve is fundamental to Progress. Progress is our Product. We can achieve anything through continuous progress. National StartUp day is a great reminder of this spirit"
Prashanth Pitti, Co-founder, Easemytrip 
The startup ecosystem in India is growing at an unbelievable pace and is also getting recognised at the global level. However, so many passionate individuals and entities with strong entrepreneurial mindsets who dream of starting their business lack the resources to do so. Therefore, we still have so many untapped ideas and talent resulting in losing out on economic growth and job creation. This is where initiatives like National Startup Day will help in boosting such entrepreneurship. It will also encourage everyone to innovate and pursue their dreams as National Startup Day will ensure proactive support from the Indian government across levels.
Udita Pal, Co-founder, Salt
​​A day to celebrate innovation, development, and risktaking. A day to cherish people who choose to step out of their comfort zone to build something to make lives better, a day to celebrate the sweat, tears and anxiety entrepreneurs go through when they make something, and the happiness they get when people enjoy their innovation.
Deb Mukherjee, Founder and CEO, Ceres Foods Pvt Ltd 
​​It is a way to acknowledge, recognise and appreciate the spirit of Entrepreneurship and the impact it is making towards the growth of India and it's people.
Aanan Khurma, Founder, Wellversed
To be honest, it does not mean anything. Maybe this may help in normalising the concept of starting up in conservative families but that doesn't mean much. We need to place more emphasis on purpose than starting up.  If one is really passionate about bringing some change to the status quo, they can choose whether that can be done through starting up or by joining someone else. We also need skilled people. We need to motivate people to be absolutely best at what they do. Purpose + Skill is what will change this country – starting up might be just one of the ways. 
Nruthya Madappa, Head of Growth and Capital Development, 3one4 Capital
It is a much deserved acknowledgement of the sheer impact entrepreneurship has had, and will only amplify, towards economic growth and democratisation of access to information, employment, health, education and financial services through technology. 
Gaurav Manchanda, Founder and Director, The Organic World 
Calling start-ups the 'backbone of India', Prime Minister Narendra Modi has said that January 16 will be celebrated as 'National Startup' Day. This is a great boost for an economic sector that has rapidly emerged as the most vibrant one in India, putting it firmly on the global map. 
It is a recognition of how ideas, especially those from the youth of our country, have shown the potential to contribute extensively towards the growth of the nation. 
Such a recognition paves the way for more start ups to emerge, it galvanises people to embrace the spirit of entrepreneurship. 
It also means that the government will continue its strong work to make the atmosphere even more conducive for the birth and growth of startups, as well as incentivise investment and funding and this is just the encouragement we in the startup world need.
Vinayak Bhavnani, Co-founder and CTO, Chalo 
​​It's wonderful to have a day to commemorate Indian startups. Creating occasions like this will encourage and spur even more entrepreneurs waiting in the wings to take the plunge and start their companies.
Ankit, Innoven Capital 
Startups have become a major force to drive the Indian economy forward and are becoming key contributors to drive consumption and create jobs across sectors. Starting up has become a formidable choice for young bright minds of the country ahead of taking up high paying jobs. National startup Day will play a very important role to acknowledge and celebrate this change and encourage more and more people to take up entrepreneurship. 
Rajiv K Vij, Founder, Plug Mobility 
This is a celebration of India's youth, Indian Startups and motivating them to innovate and build world class products, services and businesses.
Abhay Tandon, ex-Lowe Innovation Labs 
Declaration of National Startup Day: It signifies a monumental day when the nation recognises the passionate entrepreneurs, the spirit and their impact on the country!
Nirmit Parikh, Founder and CEO, Apna.co 
We see this as a milestone announcement by the Prime Minister that will define the future of India and the world. 
Today, the entire nation is celebrating the innovations brought by startups. And we are certain that India will become the innovation capital of the world in the next few years
Akshat Singhal, Founder and CEO, Legistfy 
I think more than anything, it puts our name out there. We're probably one of the fastest growing startup ecosystems in the world today. Initiatives like these depict that we as a nation fully acknowledge and support startups as well as entrepreneurs.
Sanjay Mehta, 100X.VC 
Celebrate years of entrepreneurs success
Celebrate years of building companies ground up
Celebrate years of investor partnerships
Celebrate years of discovery, innovation & disruption
Celebrate years of venture capital success
Celebrate years of India as the youngest unicorn nation.
Let us toast and celebrate the complete startup ecosystem.
Harsh Pokharna, Co-founder and CEO, OkCredit
National Start-up day is another milestone in the already existing benefits provided to the start-ups in the country. It will encourage innovation amongst the youth and help individuals in believing in their ideas and pursuits. 
The day is a testimony to the vastness and innovation of the start-up ecosystem in the country and is a push in the right direction. It's a validation of the extremely important role Indian startups have played in solving problems of the country.
Ravi Kallayil, CEO and Co-founder, Plaeto
India is among the top three startup ecosystems in the world and very soon will top the chart. The success is a testimony to the talent that we have in India and the vast opportunities that our market provides for industries across segments. 
In fact, this has come even in the middle of a global crisis, and the way our startups have shown resilience and innovated to navigate through these difficult times is yet another example of our rising power. 
The National Startup Day is a great way to celebrate this success and growth. I join the ecosystem in congratulating and wishing everyone a great success in their endeavours. 
Sushant Kumar, CEO and MD, AMO Mobility Solutions Pvt. Ltd. 
The declaration of National Startup Day further emboldens the position of Indian tech talent in the global world. It is a monumental opportunity for budding founders and entrepreneurs to get deeper insights of the market. The move is also likely to encourage further investments in the country, which will generate more employment and innovations.
Anshuman Narain, Vice President, CashBean (P.C.Financial Services Pvt. Ltd.)
It means the day of both celebrations and revaluations. A reaffirmation of the core principle behind every venture 'Take India Forward'. It is a day for all entrepreneurs to platform together over their shared values.
Sanket Shendure, Co-founder and CEO, Minko
The declaration recognises those who have been toiling in the shadows. It will make it easier for future entrepreneurs to have the hard conversations with their families and get their support. It will lead to ease of doing business and inspire the youth towards alternate career opportunities.
Niraj Singh, Founder & CEO, Spinny
In an era of the latest technological-based solutions and innovations, the automotive sector has a long way to go.  The Indian startup business landscape is far more open and accessible, as compared to some of the biggest economies. As a consumer-focused brand, we use new age technologies to provide a seamless experience to our consumers. 
The announcement to celebrate 16th January as a National Startup Day is welcomed and well appreciated. We also believe that the Indian startup environment will continue to grow at a rapid pace with more and more new age businesses coming and shaping the economy."
Sanket Shendure, Co-Founder and CEO, Minko
The declaration recognises those who have been toiling in the shadows. It will make it easier for future entrepreneurs to have the hard conversations with their families and get their support. It will lead to ease of doing business and inspire the youth towards alternate career opportunities.
Anshuk K Aggarwal, Co- Founder, AdYogi
National startup day is a great initiative by Shri Modi Ji. This will serve greatly in making the new generation of youth aware that starting your own venture is a viable career alternative. As more and more job seekers turn into entrepreneurs, I am sure India will see a wave of homegrown companies solving unique challenges like never before. And over time, this will also bring down the prevailing unemployment rate in India.
Naiyya Saggi, Co-founder Good Glamm Group, Founder & CEO, BabyChakra
The declaration of the National Startup Day is a pivotal moment in India's transformation from becoming a nation of job seekers to job creators. 
When in Business School in the US, I remember distinctly how Entrepreneurship was celebrated and being an entrepreneur was a feasible choice for 1st generation founders. 
With the Govt in India celebrating Entrepreneurship and bringing it to mainstream dialogue, this movement will unlock massive value creation by creating a new generation of Indian first time founders.
Roshan Farhan, Founder & CEO – Gobillion.
We welcome the move of declaring January 16th as National Startup Day, it will provide much needed focus in promoting startups and entrepreneurship in mainstream society, especially in smaller towns in India
Arshia Pasricha – Founder and CEO of WLTH (We Love To Heal):
India has become a poster child for emerging unicorns and is capable of offering abundant opportunities for startups. Declaration of National startup day will help the mass population acknowledge and recognise startups as vehicles for transformation and socio-economic growth. 
The startup ecosystem is capable of creating innovative and impactful solutions to drive change at a macro level. With a population of nearly 1.3 billion, even niche market segments have high market and growth potential. National startup day will serve as a badge of honour to commemorate the ever-rising and booming startup ecosystem. Cheers to ushering in the golden age of startups!
Mabel Chacko , Co-founder & COO , Open Financial Technologies Pvt. Ltd
Indian startups raised around $42 billion in funding in 2021 and as per research report published by 3one4 capital, startups will contribute to generating employment for over 3.25 million people by 2025.
We appreciate the thought behind creating a special day to commemorate the start-up fraternity and our contribution to the growth of the country.  
As an entrepreneur, it is encouraging to see the efforts of the Hon'ble Prime Minister Mr. Narendra Modi in  building a strong and inclusive start-up culture fueled by innovation, technology and sound policies. This will encourage more startups to emerge in tier 2 and tier 3 towns and will play a key role in increasing our country's GDP."
Arjun Nair, Co-founder, Great Learning
Declaration of a special day by the government to celebrate the spirit of India's thriving startup culture and entrepreneurs is very encouraging. The announcement is a testament to the fact that our governing authorities consider startups as an important engine of growth and job creation in India. This will motivate young and ambitious individuals to make bold bets on the future, take calculated risks and find others to partner with as they build their businesses." 
Vishal Chopra, Co-founder and CEO, WeRize
With the PM declaring January 16 as National Startup Day, January will now bring the nation together for another reason, celebrating entrepreneurship, innovation and new ideas. Some of the biggest changes that we have seen in the last two decades – e-commerce, digital payments, mobility – all have been powered by startups. 
With the kind of scale, talent and opportunity that India offers, startups will continue to be the harbingers of change over the next several decades. 
As a company that provides financial services in small cities of India, we are witnessing first-hand how the younger generation is more courageous and eager about starting something of their own. 
Building support for entrepreneurs in smaller towns and villages can unlock tremendous value for India." –
Tauseef Khan, Co-founder and CEO, Gramophone 
It is great to know that the nation will celebrate January 16 as National Startup Day. Over the years, this will inspire millions of youngsters across the country to innovate and start their own companies. From 'sarkari naukri first' to 'naukri first' to 'starting up', as an economy we have come a long way. 
The Indian startup ecosystem today is at a stage where it has the depth to support top talent to innovate and experiment. Unlike before when failure was seen as the end of one's career, today it is being seen as the first step towards success and entrepreneurs are rising and building huge companies as they learn from their mistakes.
As a leading agri-tech startup that is serving farmers, we understand the potential that rural India holds and we are striving to unlock it through our full-stack tech solutions."  
Dr. Srikanth Sola, CEO and Founder, Devic Earth Pvt. Ltd
National Startup Day recognises the outsized impact startups have on the economy. India's 50,000 startups are spread across every state and UT, creating 5.5 lakh jobs. Forty-five percent of startups have at least one women co-founder. These startups are creating prosperity, ingenuity, and inclusivity for India.
Prashant Pitti, Co-founder, EaseMyTrip
The startup ecosystem in India is growing at an unbelievable pace and is also, getting recognised at the global level. However, so many passionate individuals and entities with strong entrepreneurial mindsets who dream of starting their business lack the resources to do so. 
Therefore, we still have so many untapped ideas and talent resulting in losing out on economic growth and job creation. This is where initiatives like National Startup Day will help in boosting such entrepreneurship. 
It will also encourage everyone to innovate and pursue their dreams as National Startup Day will ensure proactive support from the Indian government across levels.
Saurabh Garg, Co-founder, NoBroker
This is one of the best times to be a startup in India. With many startup IPOs doing really well and 46 startups entering the unicorn club, we will see the startup ecosystem getting a big boost in the coming time. PM Modi believes that startups are going to be the backbone of India and announcing Jan 15th as India Startup Day is a big testament to this vibrant ecosystem. 
I resonate with PM Modi's views and believe that there are many problems that are unsolved, and many ways in which startups can make things more efficient. India is a highly innovative country and this decade is going to the 'Decade of startups'.
Aakrit Vaish, Co Founder and CEO, Haptik
"Tech adoption is booming in every corner of the country and every type of business is becoming a digital-first business. Until five years ago, technology and digital were thought of as a cool thing to do, but now it has become a demand where everything is tech and digital. The most essential thing is that the PM's acknowledgement to the entrepreneurs' problems and recommendations to them is the greatest source of inspiration for creative people. Thus, it's a great time to be in the industry."
Dhruv Sawhney, Business Head and COO nurture.farm 
This is an incremental step in the acceptance of the startup culture. With the largest working population India has ever seen and the outburst of the internet as a service, the Indian youth is today equipped to solve problems that previously did not have a voice or a face. Celebrating such innovators and service providers will boost confidence and give more and more youngsters the necessary push to take risks with respect to their ideas and drive changes.  
Chaitanya Ramalingegowda, Director and Co-founder, Wakefit.co
Having a day to celebrate and recognise startups is a testament to  what the industry has been doing for the financial, social and cultural fabric of the country. It is definitely noteworthy. However, we should ensure that it is not restricted to one day in the year where startups are celebrated. We believe it's important for the ecosystem to continue working on the ground and facilitate the ease of doing business through various stakeholders. 
Amitt Sharma, the Founder and CEO at VDO.AI
 "The Startup Day announcement has given hope to many new age businesses to ensure success and security of startups through various government schemes and solutions. Adtech startups are benefitting immensely from the government's pool of solutions like building a strong ecosystem, transforming India, financial support, government tender, networking opportunities, income tax benefits, among others. 
The announcement is part of the government's effort to foster and grow India's startup ecosystem. While supporting millions who work in India's startup boom, the government's intentions and actions are encouraging. 
India is recognised as the world's third largest startup ecosystem, with over 61,000 startups by the Department for Promotion of Industry and Internal Trade. With the help of the government, this era of innovation and disruption will prepare the unicorns and startups in India to be another silicon valley, generating large scale employment.
Navin Joshua, Founder and Director, GreenHonchos 
"The National Startup Day is a huge validation for this ecosystem of new-age entrepreneurs that are backing their ideas into path-breaking business & employment opportunities. Just in the eCommerce space, we have witnessed a slew of innovative technology-based solutions across the digital landscape that solve real-world consumer challenges."
"Launching a startup up in India has never been as exciting as it has been in recent times. With collaborative efforts of the entrepreneurial ecosystem, opportune investment environment and supportive government initiatives, India has clearly become the startup epicentre on the world map."
Mihir Gupta, CEO & Co-founder, Teachmint
"It's heartening to see this recognition and celebration by our government, and it makes us really proud to be innovating in and for a nation like ours! Rightly said, the revolution taking place in the Indian startup ecosystem is making immense local and global impact, and truly becoming the backbone of 'new' India. While entrepreneurship has had a highly encouraging atmosphere in India, this is a positive indication of even more regulatory support startups can expect in the near future. At Teachmint, we have been building for 'Bharat' since inception and look forward to being a part of a strong startup ecosystem that is driving change at the grassroot levels."
---
With inputs from Priyanka Shah and Ankit Das  
Here's how technology and innovation are driving the growth of Arista Vault, India's first smart luggage brand
It was a crisp winter evening in October 2017 when Purvi Roy, an ace designer who studied at Nuova Accademia di Belle Arti in Milan, presented her high fashion fall winter collection – Warriors Alley- at India Runway Week. The collection was powerful and the show was a great success. At the after-party, she crossed paths with Colonel Krishan Kumar Singh and finance expert Atul Gupta.
After a brief conversation with Purvi, the Colonel suggested that maybe it was time for her to do something for the regular masses which would serve a larger purpose. They began brainstorming and after much deliberation, hard work, and perseverance Arista Vault was born.
Arista Vault is an innovative tech company creating concept-based products to make human life easy, simple, and safe. The company is headquartered in Delhi with offices in Gurugram, Bengaluru, Kolkata and Goa. One of their first offerings was a smart wallet with inbuilt anti-theft and anti-loss features, that would keep your most valuable belongings safe and protected while travelling.
"Arista is a Sanskrit word that means 'unhurt' or safest, and vault is a safe. We particularly chose a Sanskrit word for the name because while we go global it will always depict the roots which are Indian; so Arista Vault is a proud Made in India brand," reveals Purvi.
As a D2C brand, it is also India's first smart luggage company having filed six patents with one of them being an internationally published patent. The company is the perfect amalgamation of indigenous technology and in-house design that attempts to make customers feel the luxury as well as the safety of carrying a smart wallet.
Backed by Purvi's years of knowledge and experience as a designer, the wallet while being the best at technology also has the slimmest silhouette which gives it a very luxurious look, making it a great gifting product. Purvi always wanted to make sure that the aesthetics of the product felt opulent, hence it has a jewel packaging with a matte-finished box.
The logo which is a power button inside a hexagon has a touch of gold to it, symbolic of a sense of pride and luxury. So you have a plush feeling when you own an Arista Vault smart wallet along with complete security of your wallet and its belongings.
Making traveller's life hassle-free
If you had a penny for every time your heart skipped a beat while you frantically searched your pockets thinking you had lost your wallet, you'd probably beat Elon Musk's wealth!
While that is a far-fetched reality, safeguarding your wallet is not. Arista's Smart Wallet, with its many features, offers customers the relief to travel hassle-free even in crowded areas like trains and buses. The wallet has a power button which when pressed activates its features.
Its main USP is the anti-loss and anti-theft features. It comes with an abundance of technologies such as an anti-theft alarm, built-in power bank, two-way tracker, remote selfie feature, RFID protection. The wallet also has a 20-meter separation alarm with two-way connectivity to your mobile phone. This way the phone can ring the wallet and vice versa. This feature especially comes in handy if your phone is either lost or stolen.
To enable such a high level of technology in a product as simple as a wallet would mean a dedicated amount of research and development.
"We are backed by the Ministry of Electronics and Information Technology and were incubated at the Electropreneur park and IIITD. We work in two world-class labs – Power lab and Fab Lab, which have state-of-the-art technology where the design, research, and technology integration are done. We also have a dedicated tannery and product design manufacturing unit where the integration of technology is done into the product after three layers of quality control," Purvi says.
Along with technology and design, the co-founders were clear on maintaining the highest level of safety for the smart wallets. Hence all wallets are ISO certified with their privacy policy in compliance with the IT Act of the Government. As of the last quarter of this year, 6,000 smart wallets were sold amounting to Rs 2.6 crore.
Challenges along the way
It's the trailblazing technology that makes the smart wallets of Arista Vault stand out. But this technology was not easy to develop. Purvi says that it took over a year of R&D to develop a prototype finally, but by this time all the seed fund had been exhausted.
"We knew we had a great product but for further research, innovation and product marketing more capital was needed. So all the three founders decided to put their savings and I supported the company with the earnings of my fashion venture that had initially incubated Arista Vault," Purvi adds.
The company ran a pilot of their wallets on Amazon Launchpad and those were all sold out within three days. They used all the feedback received to further improve the product. The turning point in their entrepreneurial journey came in 2019 when the company got funding and support from the Ministry of Electronics & Information Technology under Electronics System Design & Manufacturing (ESDM), with Software Technology Parks of India (STPI) & Electropreneur Park.
Using this support, Arista Vault was able to scale their venture sustainably to build world-class smart wallets that eventually got them recognition from Amazon with the Viewer's Choice award as an Emerging Brand in 2019. In 2021, the company received the prestigious Star award for Most Innovative Brand Year. They were also able to enter the international market by exporting their products to Germany, Chile, Dubai, and other gulf countries and finally to the USA.
This year the company achieved a major milestone in its journey when it became one of the few smart luggage brands in India to raise funding from Germany-based MainStage Angel Network and UK-based Pontaq VC.
Establishing itself in a new segment
Purvi says that while the funding was a great boost both financially and morally, the true journey of the company has begun now. The capital raised is being used to scale the business and establish itself as a market leader in a fairly new segment of smart luggage.
To do this, the company has grown its distribution model and channel partners to cover various cities across the country where Arista Vault products are being sold in a brick-and-mortar model. They have forged partnerships with relevant stakeholders like the Goa government to enter the travel and tourism sector as well, with their smart products.
In October when Prime Minister Narendra Modi launched 5G services in India, Arista Vault was one of the few tech companies to exhibit their smart products. They are also coming up with a series of 5G-implemented products.
Going ahead, the company wishes to build a strong presence in the smart luggage market in a B2B model. For that, they recently launched their Switch2Smart range which has a variety of smart business bags, business trolleys, laptop bags and file holders. These bags have features like GPS live and lost location which makes it almost impossible for them to be lost or stolen. They also have other features like smart charging for mobile phones, geofencing and anti-skimming.
"Nowadays from our homes to watches, everything is smart. So why should our bags be left behind? The Switch2Smart range of Arista Vault will give travellers the luxury to be free and not worry about their luggage," Purvi says. The company has already started generating sales with B2B orders displayed in DIW 2022 Gift Expo.
In FY 2020-2021, the company generated revenue of Rs 3.59 crore and now they are well on their way to achieving Rs 12-15 crore in this financial year showing more than 4X growth in business.
Along with the sales generated on Amazon, Flipkart and their own website, this festive season Arista Vault also got into corporate gifting for occasions like Diwali and has completed bulk orders from companies such as Bharati Cement, Mitsubishi, etc. They also recently started with Amazon.com in the US and UAE.
"Going forward, both B2B and B2C have their specific areas to serve. Our products are innovative and new and require consumer awareness which is possible primarily through B2C. However at a certain level to reach a wider audience, B2B is a preferred mode of business," Purvi adds.
Arista Vault aims to establish itself as a market leader in the smart luggage category by bringing revolutionary technology to wallets, business bags, travel backpacks and much more. In the coming year, they wish to strengthen their brand presence in India as well as abroad by launching another 15 product categories worldwide.
---
Elon Musk Reveals Twitter Will Soon Release a New Feature
Elon Musk continues to reach out directly to Twitter users to get feedback on his newly acquired platform.
In a tweet earlier today, the billionaire/Chief Twit turned his focus on lurkers who consume the content but don't contribute. He politely encouraged these so-called 'doom scrollers' to get involved.
"I meet so many people who read twitter every day but almost never tweet," he wrote. "If I may beg your indulgence, please add your voice to the public dialogue!"
I meet so many people who read twitter every day, but almost never tweet.

If I may beg your indulgence, please add your voice to the public dialogue!

— Elon Musk (@elonmusk) December 1, 2022
Musk has reason to be concerned. According to a study done in 2021, around 25% of Twitter users in the U.S. produce around 97% of all tweets.
His plea to be more active on the platform received nearly 85,000 responses, but he honed in on one in particular from a Twitter user named Rocket_Medic who, perhaps channeling hundreds of thousands of others in the Twitterverse, wrote:
"I reply a lot…no one reads my tweets."
Musk then asked Rocket_Medic if he was aware of Twitter Analytics, which can be surfaced by clicking on the graph icon at the bottom right of all users' tweets. The feature lets you know how many times people have seen, Retweeted, liked, and replied to each tweet.
Musk told Medic that he shouldn't be bothered by the low reply rate since that's not the metric that really matters. "Those who read tweets outnumber those who reply/retweet/like tweets by over 1000%," Musk wrote.
At this point, Musk revealed an upcoming feature that had not yet been discussed publicly.
Twitter will soon start displaying tweet reach metrics up-front on all tweets, just like they do for video views.
Twitter will start showing view count for all tweets, just as view count is shown for all videos. The system is far more alive than it would seem.

— Elon Musk (@elonmusk) December 1, 2022
Musk ghosted?
The reaction to Musk's announcement seemed mostly positive, with over 15,000 likes. But one user was not convinced.
@JamieHutchens4 replied:
"My Tweets get zero reactions. I think that's the case with most people. No reactions give a feeling of being unimportant. Avoiding that feeling is likely why lots do not tweet. Most probably don't even realize that is why they aren't Tweeting."
My Tweets get zero reactions. I think that's the case with most people. No reactions give a feeling of being unimportant. Avoiding that feeling is likely why lots do not tweet. Most probably don't even realize that is why they aren't Tweeting.

— Ibjmeh (@JamieHutchens4) December 1, 2022
To which Musk replied: "How many views do your tweets get?"
At press time, @JamieHutchens4 still had yet to respond to Musk's question.
Ironically, his tweet has been liked over 10,000 times, with nearly 800 replies.
CEO of Amazon Says Platform Won't Stop Selling Anti-semitic Film From Kyrie Irving Tweet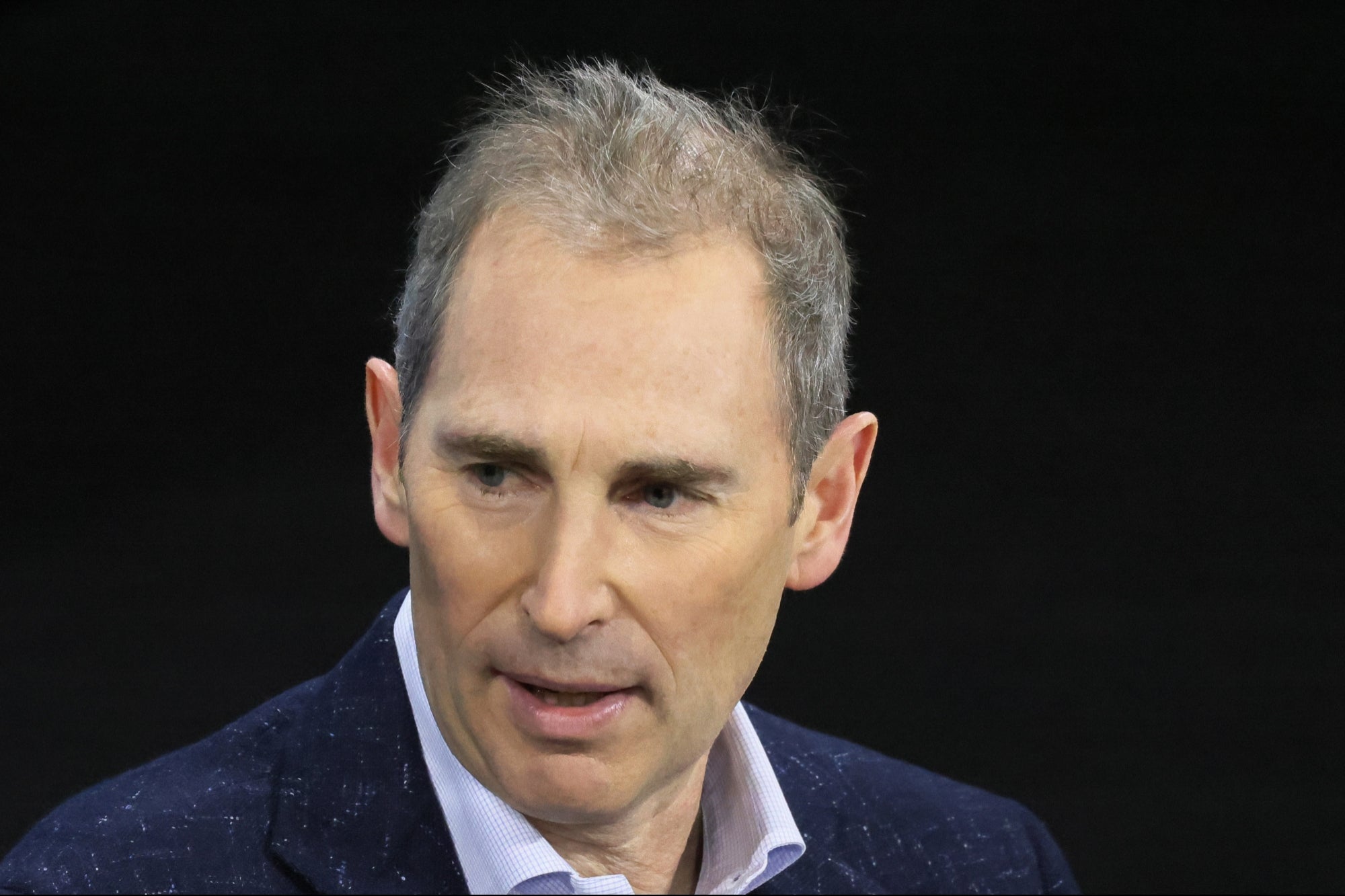 Opinions expressed by Entrepreneur contributors are their own.
On Wednesday, Amazon CEO Andy Jassy said the company would not be removing the antisemitic film Hebrews to Negroes: Wake Up Black America from its streaming service. Jewish groups such as the Anti-Defamation League (ADL) have prodded Amazon to take down the film because it contains antisemitic tropes and allegations that, throughout history, Jews have conspired to oppress Black people.
The video first received widespread attention near the end of October after Brooklyn Nets guard Kyrie Irving shared a link to it on Twitter.
Speaking at the New York Times DealBook Summit, Jassy — who is Jewish — said Amazon should allow access to controversial viewpoints. He continued: "As a retailer of content to hundreds of millions of customers with a lot of different viewpoints, we have to allow access to those viewpoints, even if they are objectionable — objectionable and they differ from our particular viewpoints."
Jassy added that Amazon must be consistent with its policies and take care not to censor content. If the media "actively incites or promotes violence," Jassy said, "or teaches people to do things like pedophilia," the decision to take it down is "more straightforward."
Amazon has "very expansive customer reviews," according to Jassy, and where any kind of media receiving considerable public attention are concerned, "customers do a good job of warning other people." According to the Times, Amazon has indicated that it is considering adding a disclaimer to Wake Up, but Jassy also expressed confidence in customer reviews playing a role in how the video is perceived.