These machines scrub greenhouse gases from the air – an inventor of direct air capture technology shows how it works
Two centuries of burning fossil fuels has put more carbon dioxide, a powerful greenhouse gas, into the atmosphere than nature can remove. As that CO2 builds up, it traps excess heat near Earth's surface, causing global warming. There is so much CO2 in the atmosphere now that most scenarios show ending emissions alone won't be enough to stabilize the climate – humanity will also have to remove CO2 from the air.
The U.S. Department of Energy has a new goal to scale up direct air capture, a technology that uses chemical reactions to capture CO2 from air. While federal funding for carbon capture often draws criticism because some people see it as an excuse for fossil fuel use to continue, carbon removal in some form will likely still be necessary, IPCC reports show. Technology to remove carbon mechanically is in development and operating at a very small scale, in part because current methods are prohibitively expensive and energy intensive. But new techniques are being tested this year that could help lower the energy demand and cost.
We asked Arizona State University Professor Klaus Lackner, a pioneer in direct air capture and carbon storage, about the state of the technology and where it's headed.
What is direct carbon removal and why is it considered necessary?
When I got interested in carbon management in the early 1990s, what drove me was the observation that carbon piles up in the environment. It takes nature thousands of years to remove that CO2, and we're on a trajectory toward much higher CO2 concentrations, well beyond anything humans have experienced.
Humanity can't afford to have increasing amounts of excess carbon floating around in the environment, so we have to get it back out.
Not all emissions are from large sources, like power plants or factories, where we can capture CO2 as it comes out. So we need to deal with the other half of emissions – from cars, planes, taking a hot shower while your gas furnace is putting out CO2. That means pulling CO2 out of the air.
Since CO2 mixes quickly in the air, it doesn't matter where in the world the CO2 is removed – the removal has the same impact. So we can place direct air capture technology right where we plan to use or store the CO2.
The method of storage is also important. Storing CO2 for just 60 years or 100 years isn't good enough. If 100 years from now all that carbon is back in the environment, all we did was take care of ourselves, and our grandkids have to figure it out again. In the meantime, the world's energy consumption is growing at about 2% per year.
One of the complaints about direct air capture, in addition to the cost, is that it's energy intensive. Can that energy use be reduced?
Two large energy uses in direct air capture are running fans to draw in air and then heating to extract the CO2. There are ways to reduce energy demand for both.
For example, we stumbled into a material that attracts CO2 when it's dry and releases it when wet. We realized we could expose that material to wind and it would load up with CO2. Then we could make it wet and it would release the CO2 in a way that requires far less energy than other systems. Adding heat created from renewable energy raises the CO2 pressure even higher, so we have a CO2 gas mixed with water vapor from which we can collect pure CO2.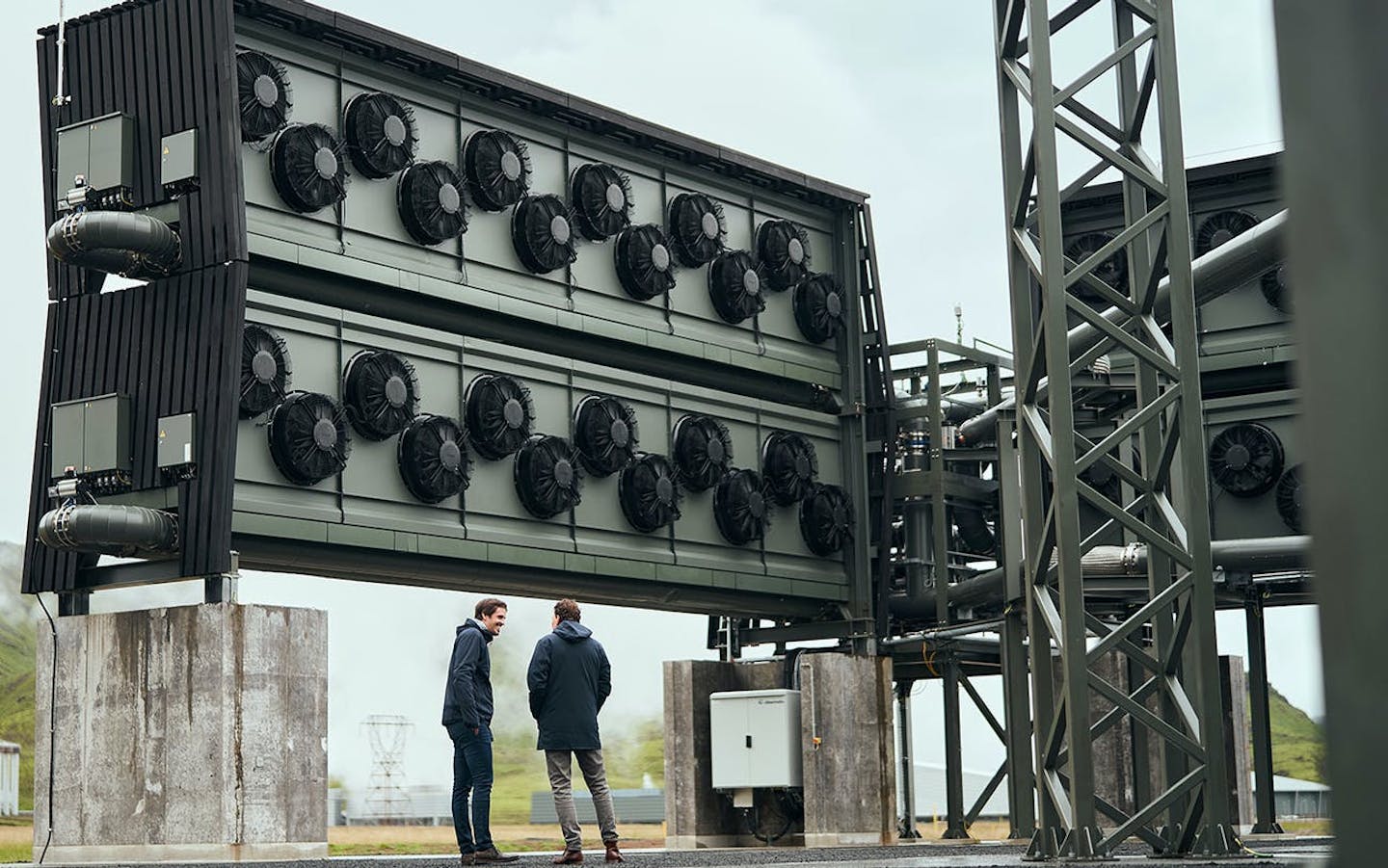 We can save even more energy if the capture is passive – it isn't necessary to have fans blowing the air around; the air moves on its own.
My lab is creating a method to do this, called mechanical trees. They're tall vertical columns of discs coated with a chemical resin, about 5 feet in diameter, with the discs about 2 inches apart, like a stack of records. As the air blows through, the surfaces of the discs absorb CO2. After 20 minutes or so, the discs are full, and they sink into a barrel below. We send in water and steam to release the CO2 into a closed environment, and now we have a low-pressure mixture of water vapor and CO2. We can recover most of the heat that went into heating up the box, so the amount of energy needed for heating is quite small.
By using moisture, we can avoid about half the energy consumption and use renewable energy for the rest. This does require water and dry air, so it won't be ideal everywhere, but there are also other methods.
Can CO2 be safely stored long term, and is there enough of that type of storage?
I started working on the concept of mineral sequestration in the 1990s, leading a group at Los Alamos. The world can actually put CO2 away permanently by taking advantage of the fact that it's an acid and certain rocks are base. When CO2 reacts with minerals that are rich in calcium, it forms solid carbonates. By mineralizing the CO2 like this, we can store a nearly unlimited amount of carbon permanently.
For example, there's lots of basalt – volcanic rock – in Iceland that reacts with CO2 and turns it into solid carbonates within a few months. Iceland could sell certificates of carbon sequestration to the rest of the world because it puts CO2 away for the rest of the world.
There are also huge underground reservoirs from oil production in the Permian Basin in Texas. There are large saline aquifers. In the North Sea, a kilometer below the ocean floor, the energy company Equinor has been capturing CO2 from a gas processing plant and storing a million tons of CO2 a year since 1996, avoiding Norway's tax on CO2 releases. The amount of underground storage where we can do mineral sequestration is far larger than we will ever need for CO2. The question is how much can be converted into proven reserve.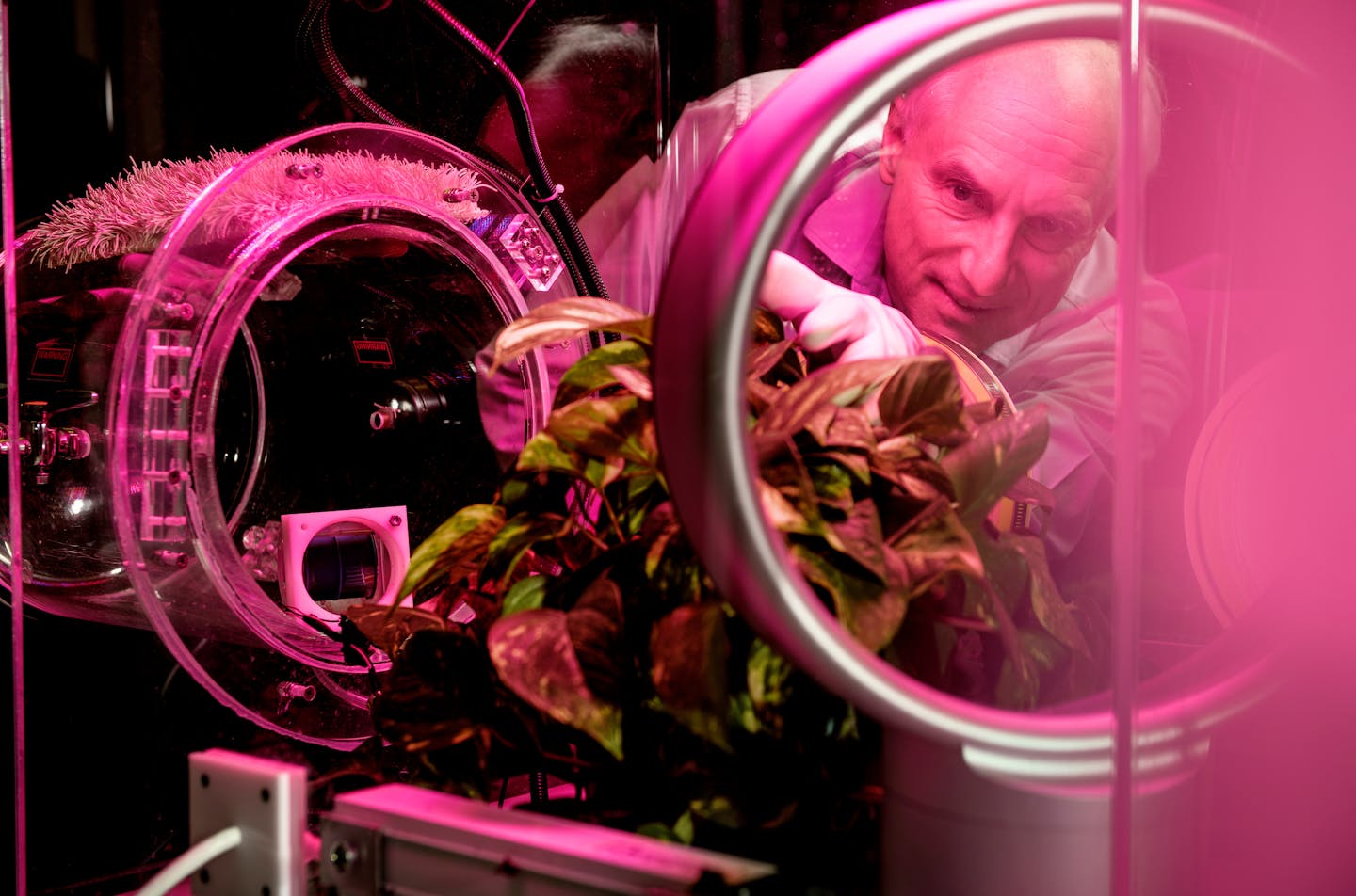 We can also use direct air capture to close the carbon loop – meaning CO2 is reused, captured and reused again to avoid producing more. Right now, people use carbon from fossil fuels to extract energy. You can convert CO2 to synthetic fuels – gasoline, diesel or kerosene – that have no new carbon in them by mixing the captured CO2 with green hydrogen created with renewable energy. That fuel can easily ship through existing pipelines and be stored for years, so you can produce heat and electricity in Boston on a winter night using energy that was collected as sunshine in West Texas last summer. A tankful of "synfuel" doesn't cost much, and it's more cost-effective than a battery.
The Department of Energy set a new goal to slash the costs of carbon dioxide removal to US0 per ton and quickly scale it up within a decade. What has to happen to make that a reality?
DOE is scaring me because they make it sound like the technology is already ready. After neglecting the technology for 30 years, we can't just say there are companies who know how to do it and all we have to do is push it along. We have to assume this is a nascent technology.
Climeworks is the largest company doing direct capture commercially, and it sells CO2 at around 0 to
,000 per ton. That's too expensive. On the other hand, at per ton, the world could do it. I think we can get there.
The U.S. consumes about 7 million tons of CO2 a year in merchant CO2 – think fizzy drinks, fire extinguishers, grain silos use it to control grain powder, which is an explosion hazard. The average price is -0. So below 0 you have a market.
What you really need is a regulatory framework that says we demand CO2 is put away, and then the market will move from capturing kilotons of CO2 today to capturing gigatons of CO2.
Where do you see this technology going in 10 years?
I see a world that abandons fossil fuels, probably gradually, but has a mandate to capture and store all the CO2 long term.
Our recommendation is when carbon comes out of the ground, it should be matched with an equal removal. If you produce 1 ton of carbon associated with coal, oil or gas, you need to put 1 ton away. It doesn't have to be the same ton, but there has to be a certificate of sequestration that assures it has been put away, and it has to last more than 100 years. If all carbon is certified from the moment it comes out of the ground, it's harder to cheat the system.
[Get the best of The Conversation. Sign up for our weekly newsletter.]
A big unknown is how hard industry and society will push to become carbon neutral. It's encouraging to see companies like Microsoft and Stripe buying carbon credits and certificates to remove CO2 and willing to pay fairly high prices.
New technology can take a decade or two to penetrate, but if the economic pull is there, things can go fast. The first commercial jet was available in 1951. By 1965 they were ubiquitous.
This article is republished from The Conversation, a nonprofit news site dedicated to sharing ideas from academic experts. It was written by: Klaus Lackner, Arizona State University.
Read more:
Klaus Lackner is a Scientific Advisor to Carbon Collect and holds shares in the company, which is working with Arizona State University on developing an air capture device. He also advises Aircela, which is developing a household-scale system to convert ambient carbon dioxide into synthetic fuel. Lackner's work in carbon management has over three decades been supported by research grants from private companies, foundations, universities and the U.S. Department of Energy.

Experts deliberate on technologies leading to the rise of gaming and content in India
Technology is seeping into every aspect of the world and online gaming is no stranger to it. Over the years, online gaming and esports have been through a lot of changes and today this industry is more advanced and progressive. Technology has enabled a variety of changes which is why online gaming continues to grow in popularity.
To discuss these new-age technologies in depth and how they are changing the gaming landscape, a panel discussion was held on 'Playing to the fantasy: Rise of gaming & content in India' at TechSparks 2022 featuring Gaurav Barman, Senior Business Development Manager, AWS; Vinayak Shrivastav Co-founder and CEO, VideoVerse; Ranga Jagannath, Senior Director – Growth, Agora; and Ratheesh Mallaya, Director of Products, Zynga.
Here are some of the key highlights from the discussion:
Tech enabling the growth of esports in India
The panel discussion started with understanding the rise of esports gaming in India. Despite being around for more than a decade, it's only recently seen a boom in popularity. The current size of the Indian esports industry is Rs 250 crore and the forecast for the compound annual growth rate (CAGR) is expected to be 46 percent in the next four years. The esports industry is expected to see a growth of four-folds estimated to be Rs 1,100 crore by 2025.
Technology is a major propelling force that's driving this rise. Gaurav of AWS shed more light by discussing a few of the technologies that AWS provides that help in building more interactive engagement for esports and gaming platforms.
"Esports companies in India can build engagement, which is much more interactive by offering players the ability to communicate with each other beyond linguistic or geographical boundaries. This can be done by providing multilingual, real-time, translation across geographies. Companies can also build real-time recommendation systems in terms of feed that the user sees," said Gaurav.
Vinayak of VideoVerse spoke about how technology that aids in the production of short-form content is going to play a key role in driving the popularity of esports. "I think what's important for all of us to see is that e-gaming as an entire market is just continuously changing. It's going to continuously keep evolving over the next couple of years," he said. In such a scenario, Vinayak believes that the services that VideoVerse provides with their flagship product Magnifi will play an important role in amplifying the entire ecosystem.
Magnifi uses state-of-the-art AI and ML technology to auto-produce key moments and highlights from live matches within seconds. Such kind of short-form content is what Vinayak feels is the need of the hour and will drive the growth of the esports market as well.
Hits and misses in the industry
The panelists further deliberated what has been working well for the gaming industry and what has tanked completely. Ranga of Agora spoke in detail about real-time engagement and how greatly it has benefited the gaming landscape.
"What we've seen is that apps and games which have embedded technologies that are truly real-time tend to be able to monetise much better and significantly more, as compared to games that either don't have real-time engagement, or they have laggy real-time engagement. Games that have real-time engagement also tend to be more active with better user retention," he remarked.
He further explained that it doesn't just stop at real-time engagement, but the ability for gaming companies to analyse what's happening in that real-time engagement is what is working in their favour.
While it's important to know what is working for the esports landscape, it's even more important to understand what's not. Ratheesh shared some pearls of wisdom from some of the failures that Zynga has faced.
"When you're looking to build local, there is definitely a big opportunity out there. But that has to be on top of a really strong core that is fun and engaging for the users. We launched a game around the time of Independence Day in India based on a match game, but it did not turn out the way we wanted it to because of this reason," he said.
Ratheesh highlighted that there is a great scope for games with Indian IP and in fact, according to a recent report, about 60 percent of the audience that doesn't play games have said they will play if there is an Indian IP. But just building a game on something vernacular or Indian IP will not work out. He also pointed out how games that are currently top-grossing like Garena Free Fire, Coinmaster, and Candy Crush all have great visuals and quality and that's what is enticing users to stay hooked on the game.
Talking about other hits, Gaurav emphasised how Web3 technologies and blockchain will hugely benefit the industry. Gaming companies are now looking at making digital assets interoperable and with the advent of the Metaverse, an entire make-believe world is possible where players can socialise, connect, and share content beyond the scope of gaming.
"From my perspective, technology is going to play a pivotal role in the evolution of this industry. Be it blockchain, NFT, or metaverse, all of that will come together as a platform where interoperability is enabled through underlying technology and used to build these solutions at this point in time," he said.
Along with Web3 technologies, Vinayak shared how cloud-based video editing and streaming solutions will become pivotal for the overall growth of the ecosystem as they'll make broadcasting, editing, and collaborating with peers in the industry much easier.
Microtransactions in the gaming industry
The panel ended by discussing microtransactions in the gaming industry where Ratheesh shared some useful insights on how transactions and in-app purchases have to be tailored according to the genre of the game. "There are different monetisation strategies like subscription-based model, battle pass kind of monetisation strategy or an impulse buy. Those are all options available to you. But what strategy you deploy depends completely on the genre of the game," he shared. He also suggested that microtransactions on gaming apps must be personalised to the users' needs and that they must be pivotal in framing up the monetisation strategy for any gaming app.
Tattoo Removal Studio Will Remove Tats From Regretful Kanye West Fans for Free
Opinions expressed by Entrepreneur contributors are their own.
After Kanye West, A.K.A. Ye, made antisemitic statements and false claims about George Floyd's killing, a London-based tattoo parlor announced on Instagram that it would remove West-related tattoos for free.
Naama Tattoo parlor said its offer to remove tattoos of the controversial rapper was a "natural extension" of its "second chances" project, which offers free tattoo laser removal to people seeking to rid themselves of certain types of ink — gang tats or an ex's name. The procedure, which can cost roughly $2,400 elsewhere, has prompted several customers to contact Naama about having their Ye tattoos lasered off.
"We understand that tattoos can be triggering for some people and not everyone can afford to remove their tattoos," the company told The Washington Post in an email Thursday. It noted that one of the people who took them up on the offer said she was being trolled for her Ye-inspired tattoo.

The store said several people have contacted it in recent weeks to have their Ye tattoos lasered off — a procedure that can cost up to 2,000 pounds (about $2,400).
Ye was dropped by brands including Adidas and Gap and locked out of his Twitter and Instagram accounts over his past comments and posts. On Thursday, he appeared on Alex Jones's Infowars clad in a full-head balaclava. He doubled down on his past statements, telling Jones, "I like Hitler," and, "Every human being has value that they brought to the table, especially Hitler."
Naama told the Post that "there are a few former fans with tattoo regret," stating that three clients are already in the middle of the tattoo removal process, and ten more are ready for consultations. Following Ye's comments on Infowars, that number seems likely to rise.
Here's how technology and innovation are driving the growth of Arista Vault, India's first smart luggage brand
It was a crisp winter evening in October 2017 when Purvi Roy, an ace designer who studied at Nuova Accademia di Belle Arti in Milan, presented her high fashion fall winter collection – Warriors Alley- at India Runway Week. The collection was powerful and the show was a great success. At the after-party, she crossed paths with Colonel Krishan Kumar Singh and finance expert Atul Gupta.
After a brief conversation with Purvi, the Colonel suggested that maybe it was time for her to do something for the regular masses which would serve a larger purpose. They began brainstorming and after much deliberation, hard work, and perseverance Arista Vault was born.
Arista Vault is an innovative tech company creating concept-based products to make human life easy, simple, and safe. The company is headquartered in Delhi with offices in Gurugram, Bengaluru, Kolkata and Goa. One of their first offerings was a smart wallet with inbuilt anti-theft and anti-loss features, that would keep your most valuable belongings safe and protected while travelling.
"Arista is a Sanskrit word that means 'unhurt' or safest, and vault is a safe. We particularly chose a Sanskrit word for the name because while we go global it will always depict the roots which are Indian; so Arista Vault is a proud Made in India brand," reveals Purvi.
As a D2C brand, it is also India's first smart luggage company having filed six patents with one of them being an internationally published patent. The company is the perfect amalgamation of indigenous technology and in-house design that attempts to make customers feel the luxury as well as the safety of carrying a smart wallet.
Backed by Purvi's years of knowledge and experience as a designer, the wallet while being the best at technology also has the slimmest silhouette which gives it a very luxurious look, making it a great gifting product. Purvi always wanted to make sure that the aesthetics of the product felt opulent, hence it has a jewel packaging with a matte-finished box.
The logo which is a power button inside a hexagon has a touch of gold to it, symbolic of a sense of pride and luxury. So you have a plush feeling when you own an Arista Vault smart wallet along with complete security of your wallet and its belongings.
Making traveller's life hassle-free
If you had a penny for every time your heart skipped a beat while you frantically searched your pockets thinking you had lost your wallet, you'd probably beat Elon Musk's wealth!
While that is a far-fetched reality, safeguarding your wallet is not. Arista's Smart Wallet, with its many features, offers customers the relief to travel hassle-free even in crowded areas like trains and buses. The wallet has a power button which when pressed activates its features.
Its main USP is the anti-loss and anti-theft features. It comes with an abundance of technologies such as an anti-theft alarm, built-in power bank, two-way tracker, remote selfie feature, RFID protection. The wallet also has a 20-meter separation alarm with two-way connectivity to your mobile phone. This way the phone can ring the wallet and vice versa. This feature especially comes in handy if your phone is either lost or stolen.
To enable such a high level of technology in a product as simple as a wallet would mean a dedicated amount of research and development.
"We are backed by the Ministry of Electronics and Information Technology and were incubated at the Electropreneur park and IIITD. We work in two world-class labs – Power lab and Fab Lab, which have state-of-the-art technology where the design, research, and technology integration are done. We also have a dedicated tannery and product design manufacturing unit where the integration of technology is done into the product after three layers of quality control," Purvi says.
Along with technology and design, the co-founders were clear on maintaining the highest level of safety for the smart wallets. Hence all wallets are ISO certified with their privacy policy in compliance with the IT Act of the Government. As of the last quarter of this year, 6,000 smart wallets were sold amounting to Rs 2.6 crore.
Challenges along the way
It's the trailblazing technology that makes the smart wallets of Arista Vault stand out. But this technology was not easy to develop. Purvi says that it took over a year of R&D to develop a prototype finally, but by this time all the seed fund had been exhausted.
"We knew we had a great product but for further research, innovation and product marketing more capital was needed. So all the three founders decided to put their savings and I supported the company with the earnings of my fashion venture that had initially incubated Arista Vault," Purvi adds.
The company ran a pilot of their wallets on Amazon Launchpad and those were all sold out within three days. They used all the feedback received to further improve the product. The turning point in their entrepreneurial journey came in 2019 when the company got funding and support from the Ministry of Electronics & Information Technology under Electronics System Design & Manufacturing (ESDM), with Software Technology Parks of India (STPI) & Electropreneur Park.
Using this support, Arista Vault was able to scale their venture sustainably to build world-class smart wallets that eventually got them recognition from Amazon with the Viewer's Choice award as an Emerging Brand in 2019. In 2021, the company received the prestigious Star award for Most Innovative Brand Year. They were also able to enter the international market by exporting their products to Germany, Chile, Dubai, and other gulf countries and finally to the USA.
This year the company achieved a major milestone in its journey when it became one of the few smart luggage brands in India to raise funding from Germany-based MainStage Angel Network and UK-based Pontaq VC.
Establishing itself in a new segment
Purvi says that while the funding was a great boost both financially and morally, the true journey of the company has begun now. The capital raised is being used to scale the business and establish itself as a market leader in a fairly new segment of smart luggage.
To do this, the company has grown its distribution model and channel partners to cover various cities across the country where Arista Vault products are being sold in a brick-and-mortar model. They have forged partnerships with relevant stakeholders like the Goa government to enter the travel and tourism sector as well, with their smart products.
In October when Prime Minister Narendra Modi launched 5G services in India, Arista Vault was one of the few tech companies to exhibit their smart products. They are also coming up with a series of 5G-implemented products.
Going ahead, the company wishes to build a strong presence in the smart luggage market in a B2B model. For that, they recently launched their Switch2Smart range which has a variety of smart business bags, business trolleys, laptop bags and file holders. These bags have features like GPS live and lost location which makes it almost impossible for them to be lost or stolen. They also have other features like smart charging for mobile phones, geofencing and anti-skimming.
"Nowadays from our homes to watches, everything is smart. So why should our bags be left behind? The Switch2Smart range of Arista Vault will give travellers the luxury to be free and not worry about their luggage," Purvi says. The company has already started generating sales with B2B orders displayed in DIW 2022 Gift Expo.
In FY 2020-2021, the company generated revenue of Rs 3.59 crore and now they are well on their way to achieving Rs 12-15 crore in this financial year showing more than 4X growth in business.
Along with the sales generated on Amazon, Flipkart and their own website, this festive season Arista Vault also got into corporate gifting for occasions like Diwali and has completed bulk orders from companies such as Bharati Cement, Mitsubishi, etc. They also recently started with Amazon.com in the US and UAE.
"Going forward, both B2B and B2C have their specific areas to serve. Our products are innovative and new and require consumer awareness which is possible primarily through B2C. However at a certain level to reach a wider audience, B2B is a preferred mode of business," Purvi adds.
Arista Vault aims to establish itself as a market leader in the smart luggage category by bringing revolutionary technology to wallets, business bags, travel backpacks and much more. In the coming year, they wish to strengthen their brand presence in India as well as abroad by launching another 15 product categories worldwide.
---