We need social media to survive. From waking up to sleeping, we are on our phones and computers. Maybe the stats are more significant because of the COVID stuff in 2020 and 2021? But what are your predictions for 2022? How much time are you on social media a day? Do you use Facebook?
Which applications receive the most love? How much should social media be regulated? How much time does your social media suck from your productivity work schedule?
What are the unsanitary parts of your phone? Is social media spreading more than social connection?
And what about the sanitary parts of your phone? In early 2020 my office had a note on the bathroom door — "Stop taking your cell phone in the bathroom." Was that request because of COVID or because it means bathroom germs travel back to the office?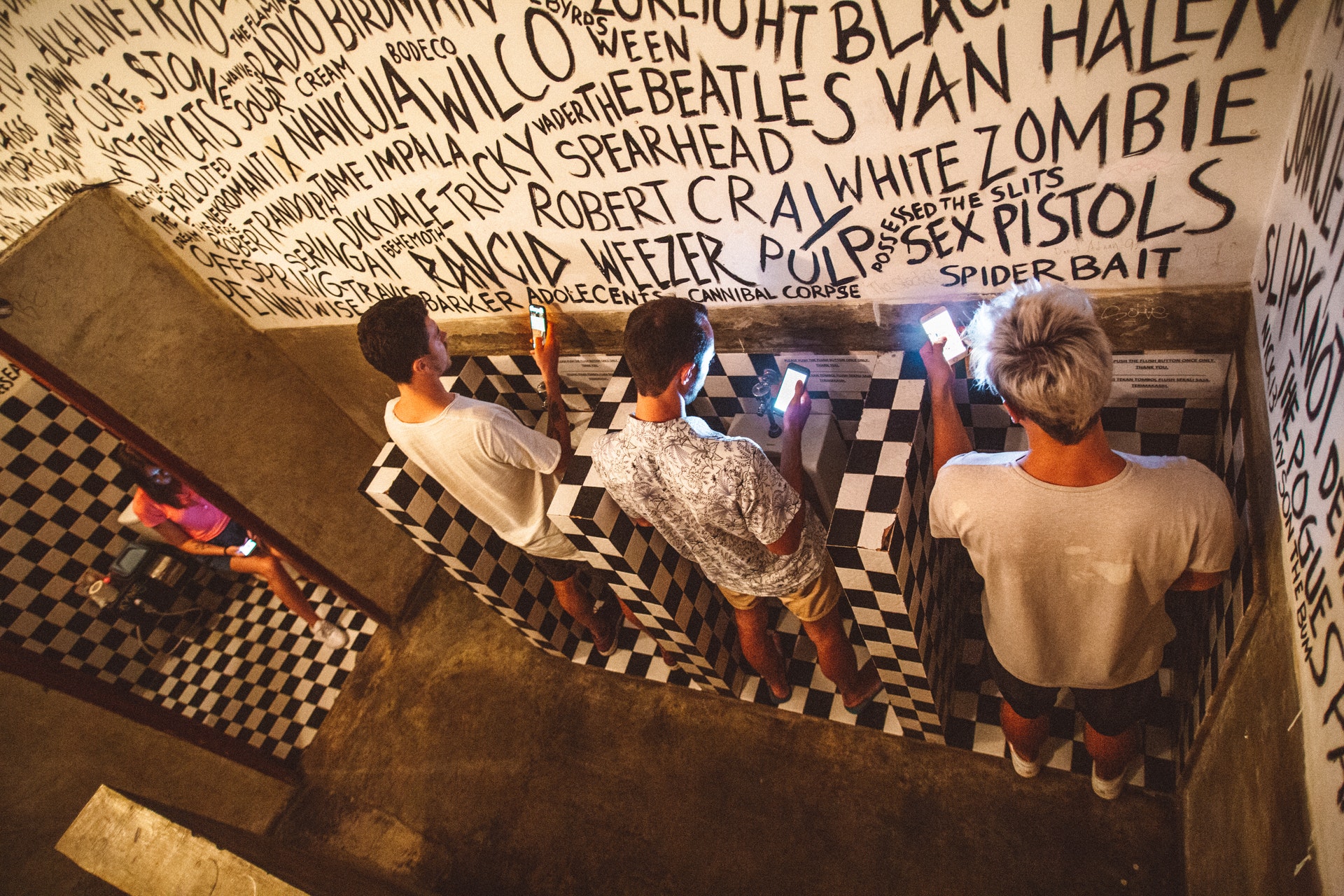 Could it be that we were talking too long or texting too long when away from the desk? Whatever the reason, I've got to think about it, what about you? However, take a look at the photo — I've seen this, have you? Even with the suits in the building, the bathroom image is the same, only with suits.
But I digress.
To put things in the social media perspective, consider these recent metrics:
Users spent 2 hours 24 minutes on social media in 2020. In 2020, consumers spent 50.1 percent of mobile time on social media. Facebook takes the most time, 2 hours 24 minutes every day. Most people are daily, 40 minutes on YouTube. Stats show us every day for 30 minutes viz Snapchat. Instagram users spend 28 minutes every day looking through ideas compared to 14.2 minutes on Pinterest.
3.196 billion people utilize social media. The average internet user spends 2 hours 33 minutes on the six most popular sites.
Per day, Filipinos spend the most time on social media — at 3 hours 57 minutes.
The Brazilians come in second with 3:39 hours daily.
The Japanese report: they spend 48 minutes every day — good on that stat!
75% of internet users utilize social media between April and September — and just 24% of them think it is useful for their job.
First, some social media use numbers for 2021 — But what will 2022 look like?
The most recent social media time spent numbers exist. Around the world, every day for an hour and twenty-five minutes, we were on our social media feeds in 2020 — That's 2,038 minutes each day. Compare this with 2 hours 25 minutes in 2019. That stat is easier to handle until you know the rest of the story, which is that the 2019 number exceeds the numbers added up for all years since 2012.
Facebook is losing users.
According to 2020 social media usage figures, the younger generation focuses on platforms other than Facebook. This means Gen Z's favorite applications on social. Instagram has lost 15 million users. This report began in 2017. Instagram took up 41 minutes in 2017. In 2018, Insta was at 38 minutes. In 2019, it was 58 minutes, but other platforms are showing up, begging to be explored, and the Gen Zs take the time to check it out.
But how much time is really being spent on social media?
You likely can add these stats up a lot quicker than I want to — and at least my excuse is, mobile has become an essential part of daily life. But if you spend 3. 50.1 hours of mobile time on your social media — and we have 5.19 billion people in the world who own phones — whoa. In 2021, there were 4.57 billion active internet users, including 4.2 billion on mobile.
Every site gives you a little different stats — but essentially, you spent 3 hours 40 minutes on social media every day in 2021. Do you plan that many hours on social media for 2022? Do you even think about this?
4. YouTube users spend 11m 24s each day.
Take a look at YouTube, with 2 billion monthly users and 5 billion daily video views (about 1 billion hours). That stat makes it the second most popular search engine and website after Google. YouTube's largest market is in the US (14.8%), followed by India (70%) and China (8.1 percent ).
Statistically, the average American adult spends 24 minutes every day on YouTube alone.
5. Average daily use time is 45 minutes.
TikTok is a recent breakthrough invention. Data Report tracked the site. It has had 800 million active users. 1.5 billion downloads. All this began in 2017, with TikTok's target audience being Gen Z. However, Its user base is diverse. In 2018, users spent 52 minutes per day on TikTok. This number fell some in 2021 to 2.3-2.5 times a day usage — every day.
6. WhatsApp
Second, only to Facebook in 2020 and 2021 was WhatsApp. It seems we have downloaded WhatsApp on almost every smartphone. WhatsApp now delivers 65 billion messages daily, which is up from 43 billion in 2017.
7. Every day for 30 minutes, Snapchat.
Photo-sharing app Snapchat currently has over 265 million daily active users and is a millennial favorite. It has over 46 million monthly active users in America, which is preferred by 53% of internet users aged 15 to 25. That's a lot of time spent — and when you ask people if Snapchat is a waste of time, you can be in big trouble. But, of course, it's not a waste — "I'm connecting with my core group."
8. Instagram users log in for 28 minutes daily.
72% of American teens use Instagram. America has 121 million users. Instagram now has over a billion users. Now for each platform. Instagram is the 4th most downloaded app. Most Americans know about Twitter, and many watch for business colleagues' postings. 95% know about or use Facebook, 90% use Instagram.
Time on Facebook
In January 2021, Facebook had 4.2 billion users. Facebook is the most popular networking site. We use the site a lot. Also, there is a lot of marketing potential on Facebook, and we use it a lot in business — So, can we think of FB or any of the socials as just social when we visit the site?
Bust, we upload images and watch movies, and Americans (18+) spend 33 minutes on Facebook daily. Each visit is a little longer. In 2018, the average daily time spent on Facebook was 58 minutes. Do you have a prediction for 2022?
Unsurprisingly, 98.3% of Facebook users are on smartphones. The network is a primary reason we use our phones more every year. You may now access your newsfeed almost anywhere on the planet, and you do. Stats show that only 1.7% of people browse Facebook primarily using a laptop or PC.
Free software for Android and iOS lets you monitor your Facebook usage and get an update every week. I admit to rushing to the delete button when this appears in my feed. You can allow this stat to update you about your own usage — it is located under Settings>Privacy.
Time on YouTube
YouTube is the #2 social networking platform. 79% of internet users use YouTube (Facebook sitting at 85 percent ). It has the most active users. Eighty-six percent of all internet users use YouTube. Most users come for enjoyment. Futuresource Consulting offered intriguing statistics on UK customers aged 3 to 16. 10% of them watch 3+ hours of YouTube videos daily.
2020 (latest statistics available) found that the average person spends 11 minutes 24 seconds on YouTube daily. The available figures show the usage was 38 minutes every day in 2017.
70% of all YouTube views are generated on a mobile device. In 2018, 1.8 billion people watched videos on mobile devices for an hour apiece. In August 2018, the video behemoth allowed customers to track their daily use.
Stats on Social Media Time Spent
North Americans utilize social media to connect with friends and family, according to a GlobalWebIndex graph. Facebook Messenger and WhatsApp are popular, with the former having 72% of all accounts. The latter has 66%.
It's clear why social media is so popular — we are social creatures in need of connection. Moreover, Smartphone (and tablet) adoption facilitates human interaction. As a consequence, the apps' economic model functions well.
But how well do we function with social media? That's the question that needs answering.
Image Credit: Monstera; Pexels; Thank you!
The post The Social Media in 2021 appeared first on Calendar.
The FTC files suit to block Microsoft's Activision Blizzard acquisition
The Federal Trade Commission is suing to block the proposed acquisition of Activision Blizzard by Microsoft. It contends that the acquisition, if completed, would give Microsoft an unfair advantage over its competitors.
This morning, the four-person commission voted to issue the lawsuit. The three Democrat members (chair Lina Khan, Rebecca Slaughter and Alvaro Bedoya) voted in favor and the Republican (Christine Wilson) voted against. The commission allegedly met with Microsoft the day prior to discuss concessions, according to a report from The Washington Post.
If its news release is anything to go by, the commissioners weren't convinced that Microsoft wouldn't withhold Activision Blizzard's popular games from competing services. The FTC cited Microsoft's acquisition of Zenimax, and how games such as Starfield and Redfall became exclusive following its close.
Holly Vedova, director of the FTC's Bureau of Competition, said in a statement, "Microsoft has already shown that it can and will withhold content from its gaming rivals. Today we seek to stop Microsoft from gaining control over a leading independent game studio and using it to harm competition in multiple dynamic and fast-growing gaming markets."
Event
GamesBeat Summit: Into the Metaverse 3
Join the GamesBeat community online, February 1-2, to examine the findings and emerging trends within the metaverse.
The FTC is not the only government body to express concern about the implications of the acquisition. The UK's Competition and Markets Authority is currently investigating. It recently closed Phase One of the investigation, and expressed concerns in its issues statement.
The history of the planned acquisition
Microsoft announced its intention to acquire the publisher in January. Through this acquisition, it would become the regent of popular gaming franchises such as Call of Duty, Candy Crush, World of Warcraft and many others. Reportedly, it offered around $69 billion for Activision Blizzard.
The concerns about the scale of the acquisition emerged almost as soon as it was announced. The FTC reportedly moved to investigate the deal almost immediately. Niko Partners senior analyst Daniel Ahmad said at the time that Microsoft would have to pay Activision $3 billion if the deal was blocked.
The current focal point of the antitrust concerns is the Call of Duty franchise. Sony has repeatedly contended, in public statements primarily aimed at the CMA's investigation, that Microsoft could undermine its competition via these popular and lucrative games. It could, according to Sony, either outright stop publishing them on Sony's platforms, or it could offer them on its Xbox Game Pass subscription service. Sony claims Call of Duty on Game Pass would diminish demand for Sony consoles even if Call of Duty is still published on them.
Microsoft has, in turn, responded that its competitors have plenty of exclusive titles of their own. It's also offered to sign 10-year deals with Sony, Nintendo and Valve (the company behind PC games store Steam) to offer Call of Duty titles on their platforms. It announced earlier this week that it has inked such a deal with Nintendo.
Brad Smith, Microsoft's vice chair and president, said in a statement to The Verge, "We continue to believe that this deal will expand competition and create more opportunities for gamers and game developers. We have been committed since Day One to addressing competition concerns, including by offering earlier this week proposed concessions to the FTC. While we believed in giving peace a chance, we have complete confidence in our case and welcome the opportunity to present our case in court."
Airtable chief revenue officer, chief people officer and chief product officer are out • TechCrunch
As part of Airtable's decision to cut 20% of staff, or 254 employees, three executives are "parting ways" with the company as well, a spokesperson confirmed over email. The chief revenue officer, chief people officer and chief product officer are no longer with the company.
Airtable's chief revenue officer, Seth Shaw, joined in November 2020 just one month before Airtable's chief producer officer Peter Deng came on board. Airtable's chief people officer, Johanna Jackman, joined Airtable in May 2021 with an ambitious goal to double the company's headcount to 1,000 in 12 months. The three executives are departing today as a mutual decision with Airtable, but will advise the company through the next phase of transition, the company says. All three executives were reached out to for further comment and this story will be updated with their responses if given.
An Airtable spokesperson declined to comment on if the executives were offered severance pay. The positions will be succeeded by internal employees, introduced at an all-hands meeting to be held this Friday.
Executive departures at this scale are rare, even if the overall company is going through a heavy round of cuts. But CEO and founder Howie Liu emphasized, in an email sent to staff but seen by TechCrunch, that the decision – Airtable's first-ever lay off in its decade-long history – was made following Airtable's choice to pivot to a more "narrowly focused mode of execution."
In the email, Liu described Airtable's goal – first unveiled in October – to capture enterprise clients with connected apps. Now, instead of the bottom-up adoption that first fueled Airtable's rise, the company wants to be more focused in this new direction. Liu's e-mail indicates that the startup will devote a majority of its resources toward "landing and expanding large enterprise companies with at least 1k FTEs – where our connected apps vision will deliver the most differentiated value."
The lean mindset comes after Airtable reduced spend in marketing media, real estate, business technology and infrastructure, the e-mail indicates. "In trying to do too many things at once, we have grown our organization at a breakneck pace over the past few years. We will continue to emphasize growth, but do so by investing heavily in the levers that yield the highest growth relative to their cost," Liu wrote.
Airtable seems to be emphasizing that its reduced spend doesn't come with less ambition, or ability to execute. A spokesperson added over e-mail that all of Airtable's funds from its $735 million Series F are "still intact." They also said that the startup's enterprise side, which makes up the majority of Airtable's revenue, is growing more than 100% year over year; the product move today just doubles down on that exact cohort.
Current and former Airtable employees can reach out to Natasha Mascarenhas on Signal, a secure encrypted messaging app, at 925 271 0912. You can also DM her on Twitter, @nmasc_. 
Airlines Finally Get Serious About Contrails. What Are They?
What are those puffy white plumes trailing jets high up in the sky? They're called contrails, and scientists have long said they contribute to climate change.
Now some major airline companies are getting on board. Carries such as American, Southwest, United, Alaska, and Virgin Atlantic, and tech companies like Google, are working with the Rocky Mountain Institute to figure out which of these contrails are bad for the environment and what they can do about it.
"Air travel has almost a double-sized impact on global warming than what we thought it was before," said Andrew Chen, an aviation specialist with the Rocky Mountain Institute, told The Dallas Morning News. "The most interesting dynamic is that the airlines are not shying away from contrails."
Related: 'The Fumes Are Unbelievably Bad:' Residents Complain About Kyle Jenner's Private Jet
What are airplane contrails?
Conspiracies abound about how the lines of clouds following jets are "chemtrails" released by the government in a secret program to add toxic chemicals to the atmosphere.
But scientists say that these clouds are, in fact, water vapor trails or condensation trails (contrails, for short) created by airplane engines. The hot, humid exhaust mixes with the colder atmosphere, causing a cloud similar to what you see when you breathe on a cold day.
Climate scientists believe contrails can trap heat in the atmosphere contributing to global warming.
Carbon emissions from jets have long been the target of environmentalists, leading many airlines to retool their planes to use alternative energy. But the industry is now getting serious about contrail pollution, as well.
"The science around contrails has become more clear in just the last few years," said Jill Blickstein, vice president of sustainability at American Airlines told the DMN. "For example, we've known for some time that some contrails formed in the morning can have a cooling effect and that contrails formed at night were more likely to be warming. But we didn't have a good sense of the net impact of all contrails. That warming impact has become clearer recently."
Not all contrails have the same impact. The worst seems to happen at night when the earth is cooler, but the contrails block heat from escaping.
The good news is that airlines can avoid making contrails, but doing so may require changing flight patterns and burning more fuel, thus creating more carbon dioxide.
To read more about this, head on over The Dallas Morning News.