Startups going public have to be thoughtful about both substance and form
When private companies go public, it shouldn't be the usual substance over the form concept– which insists on firms disclosing the realities of the business over merely complying with the rules, said Promeet Ghosh, Managing Director, India, at Temasek Holdings Advisors India Pvt. Ltd. 
Instead, he said, public companies need to be careful about both. 
"Because public markets are looking at both what are you doing and how are you doing," he said while speaking at in a virtual seminar themed 'Private companies going public" organised by Institutional Investor Advisory Services's (IiAS) in a day-long event titled 'The Start-up Boardroom: Building for the Future', held last week. 
Around the same time, according to InnoVen Capital's Startup Outlook Report 2022, the startup ecosystem revealed that  58 percent of founders believe getting listed on the stock exchanges is a realistic exit route, compared to 30 percent in 2020.
With 2021 witnessing nearly a quarter of dozen tech startups joining the initial public offerings (IPOs) bandwagon in 2021, and a larger bunch of them having IPO plans during 2022, the takeaways from the IaAS summit are of gold standard.
One of the key takeaways from the IiAS session was that startups (private companies) going public should be prepared for the regulatory changes and requirements including quarterly reports, metrics to disclose, and setting expectations. 
Amansa Capital's Akash Prakash, who was also in the panel, said he felt that entrepreneurs don't spend enough time trying to understand what type of investors they should try to get when they go public. 
"Because a lot of these companies, which are going public today in India, are historically different. Many of them are still loss-making, many of them are still building businesses at various stages."
"And you(founders) need an investor base which understands how to value a company, which is still making losses, and you need people who buy into you what you want to do with the company to develop into," Akash added. 
Stock market moves aren't entirely based on a company's financial fundamentals or performance, but also how investors expect the company and industry to perform. "I do find that this is not always well understood, and that frequently is a bit of a surprise," said Promeet. 
Clearly, a company's primary business won't change as much in a month as its stock price. Zomato, which listed in July last year, is a clear point in case. 
In a note to Zomato employees, on January 24 – when its share price hit the lower circuit with 20 percent fall, Deepinder Goyal, Zomato's Founder and CEO wrote: "We cannot control the market's sentiments or the macro-economic factors which also significantly impact our valuations." 
Generally, the private investors in a startup (private company) have a better perspective on the company's performance, given the engagement they have with the founders. This isn't the case with public investors. 
"Public markets are far more focused on sensing whether you (company) have kept your promises," Promeet said. 
So, startups going for their IPOs need to be mindful of this.  For such companies, even after the IPO allocation, presenting and communicating the right message to public shareholders becomes crucial. 
"The fact of the matter is that public markets move on large growth factors and being unduly focused on that marker, which continually moves throughout the day, is actually a distraction," Promeet added. 
Entrepreneurs should be focused on creating value through their offerings. "They should be focused on their stock market price – which determines their market valuation–increasing in the long run, instead of interim changes," Promeet added. 
The panel also had Manan Lahoty, Partner at IndusLaw – a multi-speciality law firm – who spoke on the founder versus promoter situation which is peculiar for startups aiming to go public. The bigger companies which IPO'd in the previous years had promoters.
"They (startups) have founders but not promoters, the difference being they're not controlling shareholders anymore," said Manan. 
While the founders are the controlling shareholder at the start of the business, but subsequently at every consecutive fund-raise the founders keep getting diluted. 
However, governance standards have already been established to some extent by the existing private investors, which is evident by the fact that the board is not majority-controlled by the founders anymore.
At the panel discussion, the 'private to public' representation came from Pramad Jandhyala, Co-Founder and Director, LatentView Analytics – which IPO'd last year, and got listed on November 23 and registered a 148 percent gain at its listing day closing price of Rs 488.6 a piece on the BSE, against its issue price of Rs 197 apiece.    
Pramad shared an interesting anecdote that came through an advisor when LatentView was getting IPO-ready. "Going public and being public are two very different things," said Pramad.
That clarity was useful for LatentView when it started the process of going public. "We kind of said: What does being public look like?, and that's a very distinct responsibility from going public," said Pramad. "The process of going public is an intense process as there are a lot of steps along the way."
Pramad enumerated those steps, around bringing the ideal persons on the board (of directors), filing the IPO prospectus, and a host of other compliances that are required to be in place. "Lots of times, you don't know what you don't know. And you are then relying on advisors to guide you along the way," said Pramad. 
"While the advisors have all the experience and understanding of what it takes to go public, they may not understand our business the way we do and what it is that we want to convey," Pramad added.
That fine balance of working with the advisors to arrive at all the disclosures that startups need to put in, are they being represented in the right way, is very crucial.
Pramad also highlighted that, for LatentView, the transition from private to public was something that they had in their mind fairly early on. "Even though we started out in 2006, we actually brought onboard a professional management team eight years after we started off. We had a professional CEO in place, 7 years prior to going public," Pramad added.
Better together: Offsetting cybersecurity's labor challenges with API integrations
The labor challenges afflicting cybersecurity teams far and wide are no secret. A razor-tight hiring market coupled with surging demand and an accelerating threat landscape has created a perfect storm of complexity, resulting in a widening skills gap that is driving higher levels of burnout and human error across the sector. In fact, Verizon's independently commissioned 2022 Data Breach Investigations Report found that 82% of breaches today involve some degree of human error. Whether it's an unsuspecting end user or a bleary-eyed analyst, the vulnerabilities caused by cognitive overload shouldn't be overlooked.  
Take the recent high-profile Uber data breach. A malicious actor, posing as an internal IT administrator, used digital collaboration channels to trick an Uber employee into giving up their VPN credentials, leading to a total compromise of the rideshare giant's network infrastructure. The breach exemplified the consequences of a social engineering attack targeting the always-on hybrid workforce. And with the rate of such attacks accelerating in volume and velocity, it's clear that more visibility of these threats is needed for security teams to effectively remediate them.
Many organizations are investing in a plethora of new, best-in-class security products in response to staffing shortages. However, reactive patchwork spending on the industry's latest niche products shouldn't be viewed as the answer, as the tool sprawl often creates additional complexity that hurts organizations more than it helps. Enterprises, on average, have 60 to 80 different security monitoring tools in their portfolio, many of which go unused, underutilized or forgotten. Forcing security teams to master a myriad of tools, consoles and workflows shifts priorities from managing risk to managing technology.
An integrated cybersecurity framework
The companies best positioned to offset cybersecurity's labor challenges are those adopting best-of-breed security tools and platforms that offer a deep library of API and third-party integrations. Above all, an integrated framework empowers organizations to effectively navigate their unique environments by consolidating tools and reducing human error through the following three processes:
Event
Intelligent Security Summit
Learn the critical role of AI & ML in cybersecurity and industry specific case studies on December 8. Register for your free pass today.
Improved protection via security intelligence and threat sharing: This enables rapid recognition and response to incoming threats via machine learning analytics tools, strengthening a human analyst's ability to formulate swift and comprehensive cyberdefense measures.
Improved efficiency via automation: This enables offloading of repetitive and mundane manual tasks to AI-enabled tools, streamlining human workflows by accelerating and improving key facets of incident response and vulnerability management.
Improved prevention via sharing and consolidating tool data: This enables complete, real-time visibility into an organization's entire security environment to promote the creation of targeted alerts that uncover unknown threats.
In collaborating with a wider range of security vendors, organizations leveraging API integrations benefit from the combined knowledge of all integrated platforms to greatly improve overall security posture. The extensive access to timely threat intelligence allows security teams to align prevention, investigation and response plans across multiple security controls, as well as increase the speed of their detection and remediation efforts.
Amid the widespread adoption of cloud-based hybrid work environments, it's increasingly clear that organizational security architectures must consist of scalable, tightly integrated solutions that combine the right balance of automated prevention, detection and response capabilities to effectively protect data across its lifecycle.
Enhancing detection and increasing cybersecurity efficacy
An open API integration framework is the embodiment of unlocking strength in numbers. It stitches together the critical functions and processes performed by foundational security tools — email security, endpoint security, web security, NDR, data security — into a single meshed framework that operates in unison and shares centralized threat intelligence data across its ecosystem. By connecting all the pieces of the puzzle, organizations gain the resources to enhance their prevention and detection capabilities in complex environments.
In one scenario, an API framework could enable automated processes to continuously flow between an email gateway and security service edge (SSE) to corresponding SIEM/XDR systems. This would allow security teams to share rich logging, metadata, indicators of compromise, malicious URLs, user activity, data movement and machine learning analytics in real time. The AI-powered SIEM platform automates the analysis of that threat data, sifting through the noise to generate actionable alerts with contextual information for security teams. Meanwhile, the real-time contextual insights provide simplified guidance for analysts to alleviate potential threats and, if needed, formulate a swift response to an attack.
With access to a wider range of threat data touchpoints, cybersecurity teams can also create customized scripts within the overarching API library. This gives them "targeted capabilities" that more directly align with their specific needs and skillsets. For instance, the team could create a script that simultaneously analyzes email security logs from Vendor A, data protection logs from Vendor B, web security click logs from Vendor C, and spam filter logs from Vendor D, based on which intel is most relevant to their specific use case. Filtering the exceedingly high volumes of incoming alerts enhances the efficiency of the entire team, empowering analysts to identify needles in the haystack by prioritizing the right alerts at the right times for maximized protection.
Automating manual processes and workflows
Despite the growing number of innovative, best-in-class products available on the market today, it's important to remember that a multi-vector social engineering attack is exceedingly difficult for hybrid security teams to combat regardless of the tools in their stack. Quick and agile responses are non-negotiable in these situations, but with resources stretched thin and employees working from multiple locations, executing swift corrective action free of human error is easier said than done. Even the most experienced and skilled security teams are susceptible to mistakes while trying to remediate an attack. Therefore, identifying how to automate well-defined processes wherever possible is imperative for tightening these response durations and ensuring security teams can remediate quickly and effectively.
With access to an open API library, organizations can integrate the capabilities of additional AI/ML security tools into their existing security architecture to automate the repetitive steps of protection, detection, response, mitigation and intelligence sharing. Whether it's informing an endpoint security provider of an emerging alert, or securely moving data from one storage solution to another, API-driven automation can handle the routine, error-prone tasks cybersecurity teams perform every day. Streamlining these otherwise human-centric workflows allows overstretched analysts to instead focus on more critical threat assessments requiring extensive time and attention. That, on a macro level, strengthens the security posture of the greater organization.
There's no magic bullet that will completely reverse cybersecurity's labor challenges in the immediate future. But there are proactive steps organizations can take now to provide the critical support their security teams need today. For effectively navigating a complex threat landscape, there's no better place to start than with the applied adoption of a deep API integration framework.
After all, cybersecurity is a team sport. Why defend alone when you can defend together? 
Joseph Tibbetts is senior director for tech alliances and API at Mimecast.
It's foie gras season in unicorn land • TechCrunch
W
elcome to the TechCrunch Exchange, a weekly startups-and-markets newsletter. It's inspired by the daily TechCrunch+ column where it gets its name. Want it in your inbox every Saturday? Sign up here.
With most startups getting repriced behind closed doors, we love getting data that gives us a glimpse of what's going on. This week, our new information comes from EquityZen, which shared insights on secondary stock sales. EquityZen also put up a few IPO predictions that gave us food for thought. Let's explore. — Anna
A glimpse of repricing
How do you know when a unicorn has lost its billion-dollar valuation? Usually you only find out long after the fact, when — and if — the company raises a down round that makes it clear that its equity valuation is no longer in the unicorn realm.
The thing is, not many founders want to advertise that they have raised capital at a lower valuation than their previous round; in most cases, they just won't disclose their new valuation.
As market observers, this leaves us with little data on a topic that our readers do care about: What kind of repricing they could expect. This is why we were grateful for Instacart, which made it public that it reduced its valuation through a 409A price change. This wasn't good news, but it was a helpful data point for everyone involved. However, that was back in March.
This Top-Rated PDF Solution Is 66% Off Now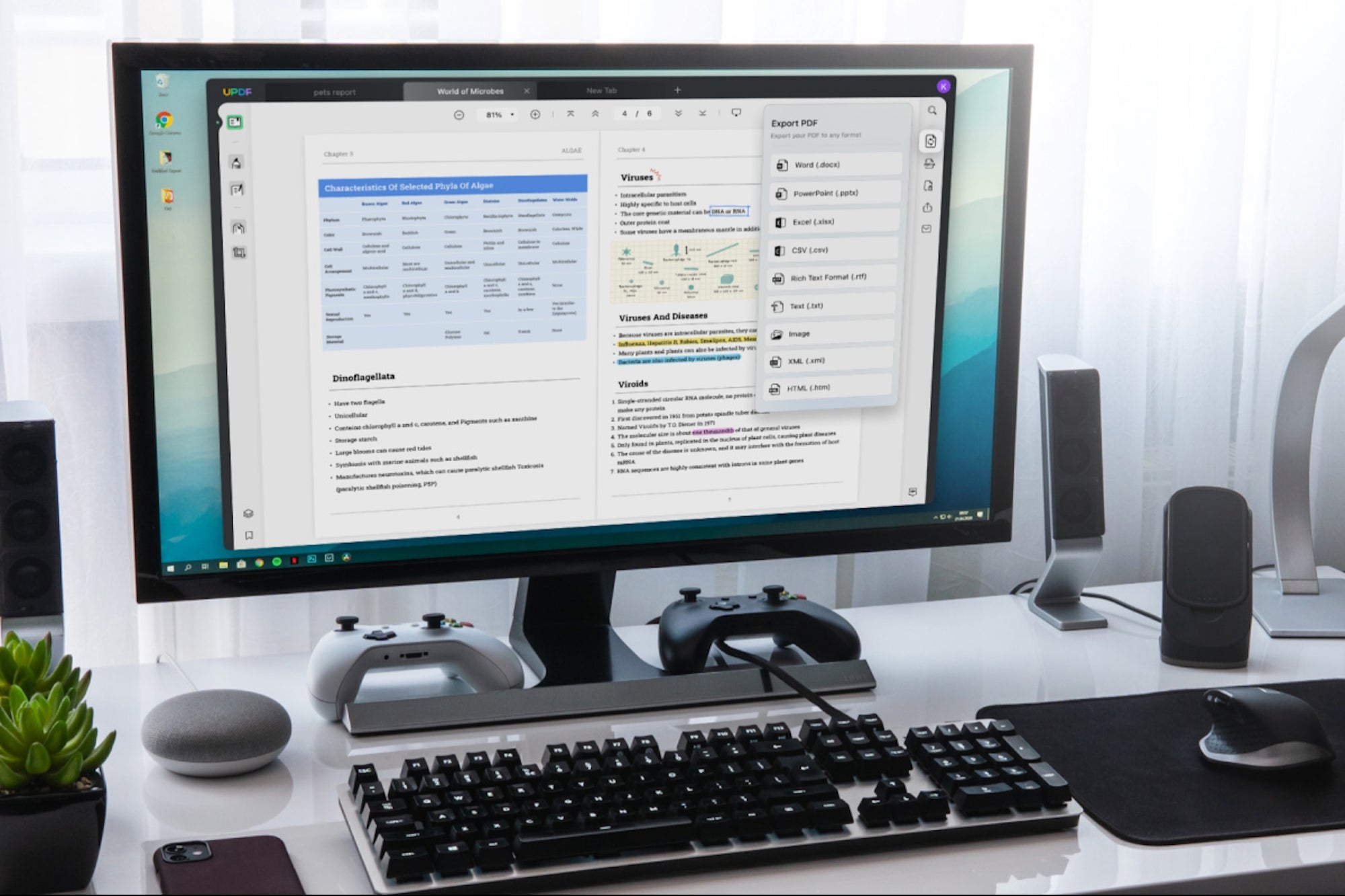 Opinions expressed by Entrepreneur contributors are their own.
Paper has made its way largely out of business, but that doesn't mean you don't still work with documents regularly. Instead, we're just working with them differently: with the dreaded PDF. These static files can be great if you're positive that a document is ready, but a serious nightmare when you have to make changes. When you're working with a lot of PDFs, you need a quality digital solution.
We've got a deal you'll like. For a limited time, you can get a lifetime subscription to UPDF Pro for 66% off.
UPDF Pro is one of the top-rated PDF solutions on the market. Geeky Gadget writes, "UPDF is a potent PDF editor and PDF converter designed to stay up with advanced technologies. It ensures that whichever features you use are up to date. UPDF not only converts PDF to Word but can perform many advanced editing." Fossbytes adds, "UPDF doesn't have a boring interface like other PDF software. The design is stunning and eye-catching. On top of it, it is convenient to use. You wouldn't be bothered with a complex design that is very time-consuming."
These are just the tip of the iceberg of positive reviews for this all-in-one PDF solution for individuals and businesses. With it, you can edit any PDF document across Windows, Mac, iOS, and Android devices, adding or deleting text, editing fonts and color, and much more. The tool allows you to add, crop, rotate, replace, extract or delete images, watermark documents, and password-protect them for elevated confidentiality. You can also easily annotate PDFs, highlight, underline, or strike out text, add shapes and notes, and much more. Finally, it's even easy to convert any PDF to Word, Excel, PowerPoint, and a ton of other file types in just a click.
Working with PDFs has never been easier than with a lifetime subscription to UPDF Pro. Grab it on sale for 66% off $149 at just $49.99, the best price you'll find online.
Prices subject to change.