On Holding AG Stock Could be a New Trend on Many Levels
Swiss footwear maker On Holding AG (NYSE: ONON) stock has been cut in half since hitting highs of $55.87 in November 2021. Ironically, its Q3 2021 earnings represents the strongest quarter in the history of On Holding. The Company IPO'ed in September 2021. The Company announced the development on an environmentally safer foam called CleanCloud, which is made from using  carbon emissions as a raw material. The Company expects supply chain disruption in the fiscal first half of 2022, but still raised its revenue guidance for full-year 2022. The Company emphatically states that demand is strong and growing and any shortfalls is a result of transitory supply issues, not demand issues. Prudent investors seeking exposure in a sports sneaker maker experiencing hyper growth can watch for opportunistic pullback levels in shares of On Holding AG.
Fiscal Q3 2021 Earnings Release
On Nov. 16, 2021, On Holding released its fiscal third-quarter 2021 results for the quarter ended September 2021. The Company reported diluted earnings-per-share (EPS) profit of CHF0.06 beating consensus analyst estimates for a loss on (-CHF0.10) by CHF0.16. Revenues grew 67.6% year-over-year (YOY) to CHF218 million, beating of analyst estimates for CHF182.79 million.  
Upside Full-Years Revenue Guidance
On Holding raised its fiscal full-year 2021 revenue guidance to between CHF710 million versus CHF681.49 million with adjusted EBITDA around CHF92 million. The Company also raised its fiscal full-year 2022 revenue guidance to come in between CHF960 million versus CHF898.87 million with adjusted EBITDA around CHF125 million.
Conference Call Takeaways
Co-CEO martin Hoffman set the tone, "The demand for our products accelerated across both the wholesale the direct-to-consumer channel, as well as all regions and all product categories. As Caspar mentioned, we consider our direct-to-consumer and wholesale channel highly complementary. In Q3, we see the strategy being validated by the strong demand in both channels. DTC grew ninety three percent to seventy five point seven million Swiss Frac and wholesale net sales increased by fifty six point seven percent to one hundred and forty two point three million Swiss Frac. Despite the full reopening of retail stores in most key geographies, we see a very strong continued engagement of existing customers and the growth of new customers in our DTC channel. For example, in North America, DTC grew one hundred and twenty nine percent and in Asia Pacific one hundred and fifty two percent. Overall, the contribution of net sales from the direct-to-consumer channel grew to thirty four point seven percent for the quarter versus thirty point two percent in the same period last year." He continued, "The continued acceleration of the demand in North America it best reflected in the fact that DTC sales crude twice as fast as wholesale. As previously mentioned, we see China is one of the key regional growth driver, which was showcased with strong triple digit sales growth in the third quarter. The Asia Pacific region in total grew by seventy one point four percent with the significant growth in China being somewhat offset by a slowdown in Australia wholesale market as local lockdowns continued into Q3. Also, in Europe, most markets continue to grow strongly with an overall regional growth of fifty point three percent. Here is important to highlight the difference to most other regions, many European market significant COVID restrictions in Q3 2020, which had driven higher wholesale sales in the same period last year. The growth across our distribution network is fueled by the successful expansion and development of our innovation driven products."
Supply Chain Disruptions
Co-CEO Hoffman concluded, "We expect to have better visibility in the new year on how quickly we can get additional capacity and we will revisit the guidance then. To be very clear again, we are experiencing a transitory supply shortage, not a demand issue. This is not a new situation for over the last decade, strong demand for the on unplanned has regularly outpaced supply. And we have experienced in turning this into an advantage form by tightly controlling distribution to ensure sustainable quality growth. In the first half of 2022, we will face supply shortages on certain products that are higher than what we would like and not all consumers will have the ability to buy exactly the product they are looking. However, we believe in the long run, it will only increase the decidability of the own trend. A tight control of the increase of our SG&A costs in the first half year will allow us to caution mitigate highest rate and distribution expenses.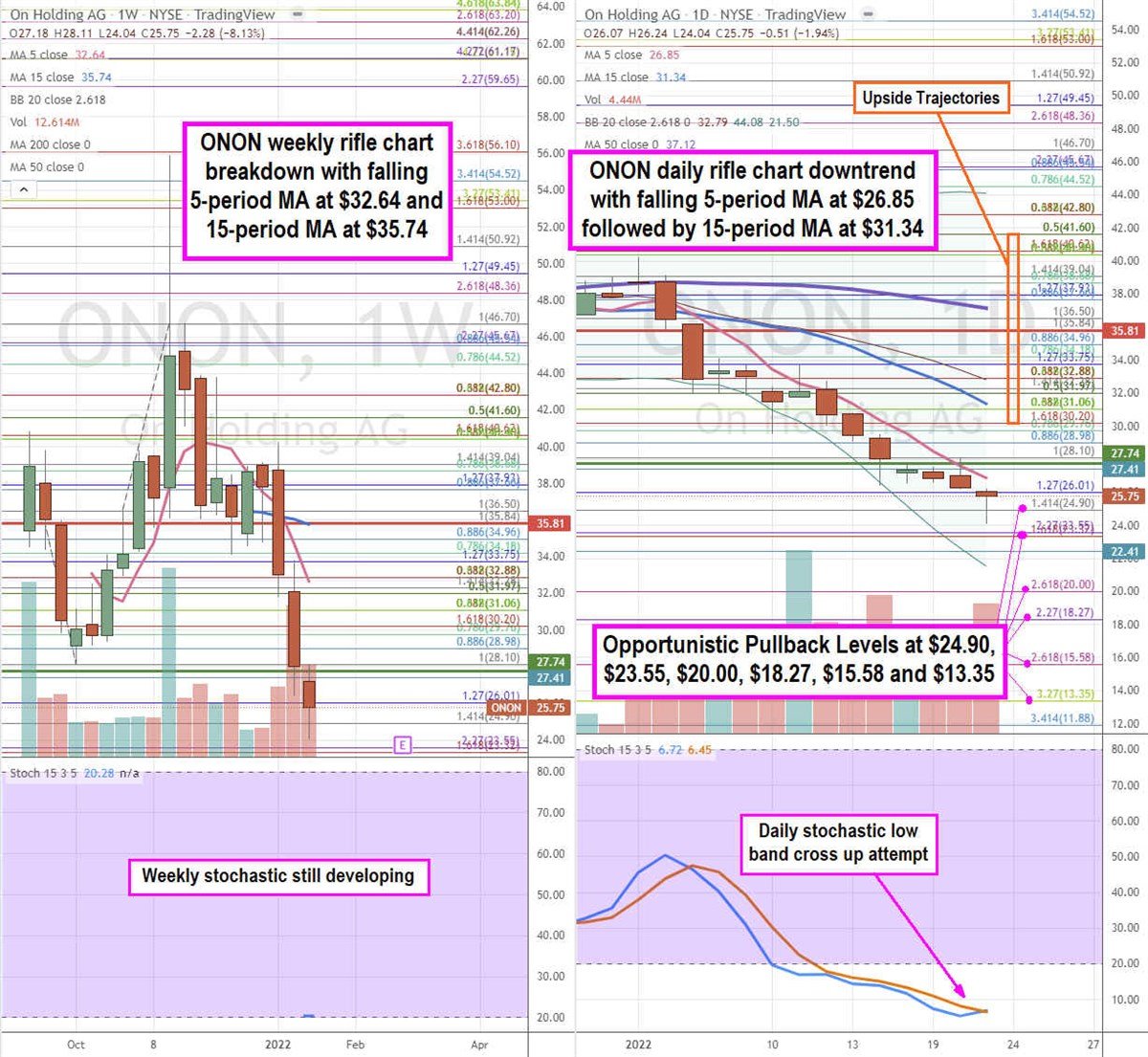 ONON Opportunistic Pullback Levels
Using the rifle charts on the weekly and daily time frames provides a precision view of the landscape for ONON stock. The weekly rifle chart peaked near the $56.10 Fibonacci (fib) level before sinking into a breakdown with a falling 5-period moving average (MA) resistance at $32.65 followed by the 15-period MA at $35.74. The daily market structure high (MSH) triggered a sell signal on the break of $35.81. The weekly Bollinger Bands (BBs) and stochastic are still developing. The daily rifle chart has been in a downtrend with a falling 5-period MA resistance at $26.85 followed by the 15-period MA at $31.34 and 50-period MA at $37.12. The daily stochastic has been smothered down to the 6-band as it attempts to crossover back up towards the 20-band. The daily lower BBs sit at $21.50. The daily market structure low (MSL) buy triggers above $27.74. Prudent investors can watch for opportunistic pullback levels at the $24.90 fib, $23.55 fib, $20.00 fib, $18.27 fib, $15.58 fib, and the $13.35 fib level. Upside trajectories range from the $30.20 fib up to the $41.60 fib level.
LastPass hacked, OpenAI opens access to ChatGPT, and Kanye gets suspended from Twitter (again) • TechCrunch
Aaaaand we're back! With our Thanksgiving mini-hiatus behind us, it's time for another edition of Week in Review — the newsletter where we quickly wrap up the most read TechCrunch stories from the past seven(ish) days. No matter how busy you are, it should give you a pretty good idea of what people were talking about in tech this week.
Want it in your inbox every Saturday morning? Sign up here.
most read
Instafest goes instaviral: You've probably been to a great music festival before. But have you been to one made just for you? Probably not. Instafest, a web app that went super viral this week, helps you daydream about what that festival might look like. Sign in with your Spotify credentials and it'll generate a promo poster for a pretend festival based on your listening habits.
LastPass breached (again): "Password manager LastPass said it's investigating a security incident after its systems were compromised for the second time this year," writes Zack Whittaker. Investigations are still underway, which unfortunately means it's not super clear what (and whose) data might've been accessed.
ChatGPT opens up: This week, OpenAI widely opened up access to ChatGPT, which lets you interact with their new language-generation AI through a simple chat-style interface. In other words, it lets you generate (sometimes scarily well-written) passages of text by chatting with a robot. Darrell used it to instantly write the Pokémon cheat sheet he's always wanted.
AWS re:Invents: This week, Amazon Web Services hosted its annual re:Invent conference, where the company shows off what's next for the cloud computing platform that powers a massive chunk of the internet. This year's highlights? A low-code tool for serverless apps, a pledge to give AWS customers control over where in the world their data is stored (to help navigate increasingly complicated government policies), and a tool to run "city-sized simulations" in the cloud.
Twitter suspends Kanye (again): "Elon Musk has suspended Kanye West's (aka Ye) Twitter account after the latter posted antisemitic tweets and violated the platform's rules," writes Ivan Mehta.
Spotify Wraps it up: Each year in December, Spotify ships "Wrapped" — an interactive feature that takes your Spotify listening data for the year and presents it in a super visual way. This year it's got the straightforward stuff like how many minutes you streamed, but it's also branching out with ideas like "listening personalities" — a Myers-Briggs-inspired system that puts each user into one of 16 camps, like "the Adventurer" or "the Replayer."
DoorDash layoffs: I was hoping to go a week without a layoffs story cracking the list. Alas, DoorDash confirmed this week that it's laying off 1,250 people, with CEO Tony Xu explaining that they hired too quickly during the pandemic.
Salesforce co-CEO steps down: "In one week last December, [Bret Taylor] was named board chair at Twitter and co-CEO at Salesforce," writes Ron Miller. "One year later, he doesn't have either job." Taylor says he has "decided to return to [his] entrepreneurial roots."
audio roundup
I expected things to be a little quiet in TC Podcast land last week because of the holiday, but we somehow still had great shows! Ron Miller and Rita Liao joined Darrell Etherington on The TechCrunch Podcast to talk about the departure of Salesforce's co-CEO and China's "great wall of porn"; Team Chain Reaction shared an interview with Nikil Viswanathan, CEO of web3 development platform Alchemy; and the ever-lovely Equity crew talked about everything from Sam Bankman-Fried's wild interview at DealBook to why all three of the co-founders at financing startup Pipe stepped down simultaneously.
TechCrunch+
What lies behind the TC+ members-only paywall? Here's what TC+ members were reading most this week:
Lessons for raising $10M without giving up a board seat: Reclaim.ai has raised $10 million over the last two years, all "without giving up a single board seat." How? Reclaim.ai co-founder Henry Shapiro shares his insights.
Consultants are the new nontraditional VC: "Why are so many consultant-led venture capital funds launching now?" asks Rebecca Szkutak.
Fundraising in times of greater VC scrutiny: "Founders may be discouraged in this environment, but they need to remember that they have 'currency,' too," writes DocSend co-founder and former CEO Russ Heddleston.
Building global, scalable metaverse applications
Previously we talked about the trillion-dollar infrastructure opportunity that comes with building the metaverse — and it is indeed very large. But what about the applications that will run on top of this new infrastructure?
Metaverse applications will be very different from the traditional web or mobile apps that we are used to today. For one, they will be much more immersive and interactive, blurring the lines between the virtual and physical worlds. And because of the distributed nature of the metaverse, they will also need to be able to scale globally — something that has never been done before at this level.
In this article, we will take a developer's perspective and explore what it will take to build global, scalable metaverse applications.
As you are aware, the metaverse will work very differently from the web or mobile apps we have today. For one, it is distributed, meaning there is no central server that controls everything. This has a number of implications for developers:
Event
Intelligent Security Summit
Learn the critical role of AI & ML in cybersecurity and industry specific case studies on December 8. Register for your free pass today.
They will need to be able to deal with data that is spread out across many different servers (or "nodes") in a decentralized manner.
They will need to be able to deal with users that are also spread out across many different servers.
They will need to be able to deal with the fact that each user may have a different experience of the metaverse, based on their location and the devices they are using due to the fact not everyone has the same tech setup, and this plays a pivotal role in how the metaverse is experienced by each user.
These challenges are not insurmountable, but they do require a different way of thinking about application development. Let's take a closer look at each one.
Data control and manipulation
In a traditional web or mobile app, all the data is stored on a central server. This makes it easy for developers to query and manipulate that data because everything is in one place.
In a distributed metaverse, however, data is spread out across many different servers. This means that developers will need to find new ways to query and manipulate data that is not centrally located.
One way to do this is through the blockchain itself. This distributed ledger, as you know, is spread out across many different servers and allows developers to query and manipulate data in a decentralized manner.
Another way to deal with the challenge of data is through what is known as "content delivery networks" (CDNs). These are networks of servers that are designed to deliver content to users in a fast and efficient manner.
CDNs are often used to deliver web content, but they can also be used to deliver metaverse content. This is because CDNs are designed to deal with large amounts of data that need to be delivered quickly and efficiently — something that is essential for metaverse applications.
Users and devices
Another challenge that developers will need to face is the fact that users and devices are also spread out across many different servers. This means that developers will need to find ways to deliver content to users in a way that is efficient and effective.
One way to do this is through the use of "mirrors." Mirrors are copies of the content that are stored on different servers. When a user requests content, they are redirected to the nearest mirror, which helps to improve performance and reduce latency.
When a user's device is not able to connect to the server that is hosting the content, another way to deliver content is through "proxies." Proxies are servers that act on behalf of the user's device and fetch the content from the server that is hosting it.
This can be done in a number of ways, but one common way is through the use of a "reverse proxy." In this case, the proxy server is located between the user's device and the server that is hosting the content. The proxy fetches the content from the server and then delivers it to the user's device.
Location and devices
As we mentioned before, each user's experience of the metaverse will be different based on their location and the devices they are using. This is because not everyone has the same tech setup, and this plays a pivotal role in how the metaverse is experienced by each user.
For example, someone who is using a virtual reality headset will have a completely different experience than someone who is just using a desktop computer. And someone who is located in Europe will have a different experience than someone who is located in Asia.
Though it may not be obvious why geographical location would play a part in something that is meant to be boundless, think of it this way. The internet is a physical infrastructure that is spread out across the world. And although the metaverse is not bound by the same physical limitations, it still relies on this infrastructure to function.
This means that developers will need to take into account the different geographical locations of their users and devices and design their applications accordingly. They will need to be able to deliver content quickly and efficiently to users all over the world, regardless of their location.
Different geographical locations also have different laws and regulations. This is something that developers will need to be aware of when designing applications for the metaverse. They will need to make sure that their applications are compliant with all applicable laws and regulations.
Application development
Now that we've looked at some of the challenges that developers will need to face, let's take a look at how they can develop metaverse applications. Since the metaverse is virtual, the type of development that is required is different from traditional application development.
The first thing that developers will need to do is to create a "space". A space is a virtual environment that is used to host applications.
Spaces are created using a variety of different tools, but the most popular tool currently is Unity, a game engine used to create 3D environments.
Once a space has been created, developers will need to populate it with content. This content can be anything from 3D models to audio files.
The next step is to publish the space. This means that the space will be made available to other users, who will be able to access the space through a variety of different devices, including desktop computers, laptops, tablets, and smartphones.
Finally, developers will need to promote their space. This means that they will need to market their space to users.
Getting applications to scale
Since web 3.0 is decentralized, scalability is usually the biggest challenge because traditional servers are almost impossible to use. IPFS is one solution that can help with this problem.
IPFS is a distributed file system used to store and share files. IPFS is similar to BitTorrent, but it is designed to be used for file storage rather than file sharing.
IPFS is a peer-to-peer system, which means that there is no central server. This makes IPFS very scalable because there is no single point of failure.
To use IPFS, developers will need to install it on their computer and add their space to the network. Then, other users will be able to access it.
The bottom line on building global, scalable metaverse applications
To finish off, the technology to build scalable metaverse applications already exists; but a lot of creativity is still required to make it all work together in a user-friendly way. The key is to keep the following concepts in mind:
The metaverse is global and decentralized
Users will access the metaverse through a variety of devices
Location and device management are important
Application development is different from traditional development
Scalability is a challenge, but IPFS can help
Clearly, we can't have an article series about building the metaverse without discussing NFTs. In fact, these might be the key to making a global, decentralized, metaverse work. In our next article, we will explore how NFTs can be used in the metaverse.
By keeping these concepts in mind, developers will be able to create metaverse applications that are both user-friendly and scalable.
Daniel Saito is CEO and cofounder of StrongNode
7 Secrets of Truly Successful Personal Brands
Opinions expressed by Entrepreneur contributors are their own.
The choice to launch your brand is noticeable. But creating a solid brand is essential. Authenticity, consistency, initiative, confidence, courage, and time are required to complete everything.
Personal branding is not a thing to do because social media says so. Today it's an essential element in your communication strategy, used by not only famous and influential people and big businesses but also every individual that wants to be seen, heard and ultimately valued.
Globally, everyday people are already creating their own brands. The corporate branding machine enslavement is too much, so many professionals are leaving employment. It is crucial to build your brand authority because other than leading to commercial and reputational opportunities, it's also positive for your self-expression.
Better clientele, industry recognition and financial gains result from it. Due to declining trust in our institutions, customers trust individuals more than businesses; therefore, you should concentrate on establishing your personal (and business) brand as part of your elevation strategy.
Check out these seven personal branding success secrets:
1. Find and curate your "A-Team"
A new brand's path can be pretty tricky and resemble an endless race of overcoming technical, emotional and personal obstacles. A key component of overcoming these obstacles is finding and building a solid team that shares your vision and mission.
Co-founders, workers, advisers, consultants, mentors, coaches and even dependable family members may be a part of your team — link your team selection to your values and ideals and favor compatibility above competence.
Related: I've Interviewed and Hired Thousands of People. Here's What to Keep in Mind Before Offering the Job.
2. Tap into future trends and needs
Adapting based on future trends and customer needs is pivotal because the world is evolving daily. For example, if Jeff Bezos tried setting up an online bookstore today, he would most possibly fail miserably. However, his foresight to know what customers need drove Amazon to a global ecommerce store today. Timing is everything!
Likewise, knowing the market's future can help your brand make the right moves and become successful. But it doesn't imply it's impossible to foresee how the corporate world will develop. What matters most is how analytically sound you are and how well-equipped you are to anticipate future events.
Even though it won't always be exact to a tee, this will give you a solid idea of where things are going. Making assumptions about future trends carries some calculated risk, but staying safe will never help you or your brand grow.
Related: Looking for a New Business Idea? Here's How to Identify What People Really Need
3. Unlearn outdated trends to make way for the new
For a brand to flourish, it is vital to unlearn in business. We can only build something fresh and distinctive if we let go of our outdated attitudes and practices—discovering a new project or closing a transaction with unexpected customers results from curiosity.
Unlearning is a systematic strategy to advance and overcome barriers one at a time.
Entrepreneurship success is composed of 20% learning and 80% unlearning. Remove the restrictive presumptions to make room for helpful information.
4. Think fast for solutions and act fast
One of the secrets to a great brand is having the capacity to think and respond quickly. Since environmental issues are worsening, the brand must move soon, seek eco-alternatives and sustainable solutions that reduce their adverse effects, and convey the concept of conscious living to the next generation as quickly as possible.
Simply acting quickly and moving quickly to find answers can give you a competitive edge. If you are not in a technology-dominant business-like distribution, manufacturing, or something not typically controlled by technology firms, your rivals are probably advancing slowly. We must make many daily decisions, but some are more crucial than others.
For example, eating is essential, but whether you choose a salad, chicken or a Big Mac is less important at the moment. You can think more rapidly if you can swiftly pick what to eat. Even if your choice weren't the best, the effects would be minimal in the short term.
5. Be adaptable and flexible
Being an entrepreneur entails weighing possibilities and dangers equally. This will help you create a distinct brand and ensure its long-term survival and competitiveness. Many new brands tend to concentrate on a single item or service.
Meanwhile, they frequently need to see the value of brand creation right away. Startup brands often think that the benefits of their products are evident and that the brand can speak for itself. You can only place that much faith in some potential consumers.
You must include the development of your brand skills in your content strategy and make sure that the visuals reflect this.
You must evaluate new items in light of your company values as you grow. Check to see if your objectives are compatible, and if not, make any necessary modifications.
6. Become an autodidact
After college, education for most people typically comes to an end. However, your reputation will continue to rise if you develop a passion for studying and being an autodidact.
However, in this day and age of information overload and many online distractions, being an effective autodidact can be taxing. Therefore, staying focused on your mission is more crucial than ever.
Some people contend that the age of the autodidact, or self-directed learning, is currently upon us. After all, the internet is brimming with tools for self-learning that you can utilize to build your brand. However, beware that some may lack substance and are merely shiny bells and whistles.
Related: 6 Little-Known Characteristics of Successful Entrepreneurs
7. Be street smart
Being "street smart," or able to foresee and handle unexpected everyday business issues, is generally seen as a crucial ability for brand owners and entrepreneurs.
Most investors claim to be able to spot this capacity when they see it, but the experience is necessary to describe it. To be a street-smart person, you need to comprehend your brand's surroundings or condition well.
You are consciously aware of your surroundings. Moreover, you can see what's happening around you even when you can't see it. You can form opinions about the situation based on lived experience, the environment and the people in it, giving you the confidence to put your faith in these opinions.
Related: Are You 'Intelligent' Enough to Be an Entrepreneur?
Conclusion
To succeed at personal branding, you must be a brand new, evolving you. In a world full of imitators, be genuine and authentic to yourself.
Authentic personal branding is more than simply self-promotion and marketing commonly seen online. It focuses more on making a courageous difference in people's lives and inspiring them to live better lives. It can also be about inspiring humanity to do good. After 33 years in this game, I believe and practice that "doing good" is all possible.
You must invest time and effort to be the "go-to" authority in your chosen area. All things worth doing must be done well; therefore, it's better to make the most of that time and effort!
Applying the seven tips above will help you create an authentic personal brand that is true to you and enjoy the success that will inevitably follow.