Knight-Swift Transportation Confirms Support On Strong Earnings
Knight-Swift Transportation Is Hammering Out A Bottom 
Knight-Swift Transportation (NYSE: KNX) delivered a very strong report and we are not surprised. Not only is the industry supported by strong tailwinds but the company is working on growth and its competitors have been reporting strongly as well. The takeaways from the report are that revenue is growing across all segments, margins are widening, and the stock is falling because of it. In our view, the move is less than bearish due to technical and fundamental factors within the market. The bottom line is that Knight-Swift Transportation is growing, it's profitable, it's buying back shares, and it's paying a dividend and that all points to higher share prices in our view. 
Knight-Swift Transportation Beats And Raises F22 Guidance 
Knight-Swift Transportation had a strong quarter in which revenue grew by 42.2% gross and 38.8% ex-fuel surcharges. The gains were driven by organic and acquisitional strength that are both expected to continue because Knight-Swift is trying to build the nation's dedicated trucking operation. All segments contributed to growth and margin with some notable performance in Trucking, Logistics, and Intermodal. Trucking saw YOY revenue growth but, more importantly, a 460 basis point improvement in margin. The Intermodal segment also saw a substantial improvement in margin, 1360 basis points, while it grew 7.5% on the top line. Logistics grew the most, up 139%, and demand remains high. 
Earnings came in at $245.6 million on an adjusted basis, or 13.50% of revenue to drive better than expected results on the bottom line. The GAAP $1.52 is up from last year's $0.82 while the adjusted $1.61 is up from $0.99 and beat the Marketbeat.com consensus by $0.18. Looking forward, the company is expecting the strength to continue into the coming year and guided the market to an EPS outlook above the current consensus. The expected $5.10 to $.530 compares to $5.01 and might be weak in light of the demand trends we are seeing in the economy. 
The Analysts Are Supporting Knight-Swift Transportation 
There has yet to be any analysts' activity in the wake of the Knight-Swift earnings report but we think it is just a matter of time before there is. Based on the Marketbeat.com analyst tracking data, we think that activity will include price target and rating upgrades that will drive share prices higher. The current rating is a weak Buy with a notable uptrend in the number of analysts covering the stock. The stock has picked up 7 analysts over the last year for an increase of 50% in regards to coverage. Along with this is a consensus price target of $62 that implies 14% of the upside and it has been rising. The most recent analyst shout-out was a downgrade to Peer Perform from Outperform but, before that, there is a months-long string of price target increases, initiated coverage, and upgrades. 
The Technical Outlook: Knight-Swift Transportation Confirms Support 
Shares of Knight-Swift Transportation pulled back to support recently and confirmed that support in the days before the earnings report was released. Price action has fallen in the wake of the report but is still within recent ranges and above support with buying evident at the low end of the range. Assuming support holds at or near $54.30 we see this stock continuing sideways within its range of $54.30 to $62 with a chance of breaking out to new highs later in the year. Those highs may be sparked by results, analysts' activity, or a combination of both.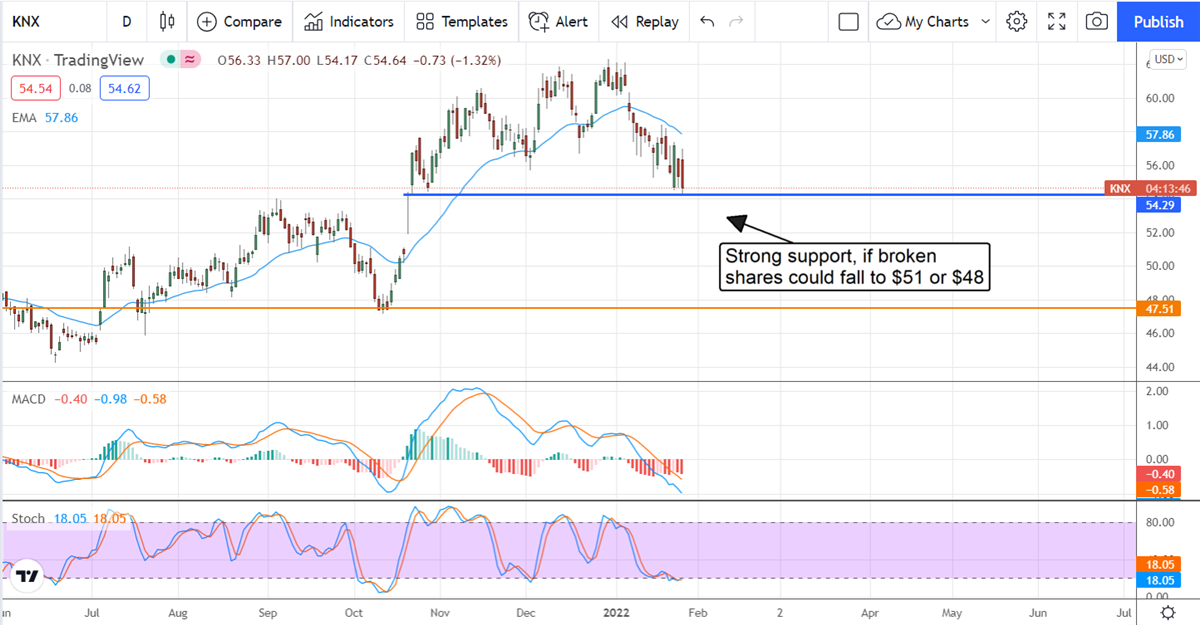 Startup news and updates: daily roundup (December 8, 2022)
Anuj Berry joins Klub as Entrepreneur in Residence
Revenue-based financing platform Klub announced the appointment of Anuj Berry as an Entrepreneur in Residence. In his new role, Anuj would be responsible for driving key global initiatives for Klub.
Before joining Klub, Anuj was the head of Amazon India Launchpad. At Amazon India, Anuj led a team of 70 employees and worked closely on launching 2,800 brands, including YogaBar, The Whole Truth, The Moms Co., and Bare Anatomy.
"Our aim at Klub is to become India's most loved capital platform and we are excited to have Anuj join us to further this mission. With his deep understanding of building and scaling brands, Anuj will expand our portfolio of offerings for loved brands and tap global scale," Ishita Verma, Co-founder and Chief Operating Officer at Klub, said in a media statement.
Klub offers growth capital to digital businesses without founders having to dilute equity. Since its inception, Klub claims it has funded over 350 brands with over 725 investment rounds. Last year, Klub raised $20 million in seed funding from Sequoia Capital India's growth programme Surge, US-based Alter Global, Japan-based GMO Venture Partners, and 9Unicorns.
Shopify partners with Payoneer, PayGlocal, and TazaPay
Shopify announced its partnerships with cross-border payment providers Payoneer , PayGlocal and Tazapay to streamline cross-border commerce for Indian merchants.
Shopify's association with Payoneer, PayGlocal, and Tazapay will add more than 80 new payment methods to the platform. The ecommerce company claims the partnerships will offer stronger conversion, lower transaction fees, and broaden the acceptance of international payments.
"Reliable payments are a key enabler for merchants to go global effortlessly. Since cross-border transactions form an invaluable share of business for Shopify India merchants, we've collaborated with Payoneer, PayGlocal, and Tazapay in a bid to make international payments seamless and more cost effective," Bharati Balakrishnan, India Country Head and Director at Shopify, said in a media statement.
The new payment methods will be available to all merchants across Shopify, and will enable them to seamlessly process payments made through localised payment modes present in different countries across the globe, according to the company.
(This article will be updated with the latest news throughout the day.)
A Business Owner's Operating Guide
Running a remote business comes with a different set of challenges to having a team who all work from the same office. Things that once made sense now don't. Lines that were definite are now blurred. There's a new set of expectations and myriad ways to operate.
The events of 2020 forced many companies to adopt remote work with zero training or guidance. It's no surprise that feelings of burnout and a lack of work-life balance were at an all-time high. Not only that, but the definitions aren't widely understood. Working remotely does not mean working from home. Truly location independent companies understand the nuances and are creating a structure that means business success and an enjoyable life for everyone involved.
Mitko Karshovski is the host of That Remote Life, a top 2% podcast covering the remote work revolution and the digital nomad lifestyle. Since 2018, his work has helped remote companies establish operations and culture from a remote-first perspective. After guiding hundreds of entrepreneurs looking to better run remote teams, Karshovski created a set of rules for effective remote work.
Karshovski believes following these 12 simple rules will mean you and your team are, "more productive, less anxious, and positioned to grow and thrive."
1. Look for answers before you ask questions
Karshovski believes that all companies working remotely not only need to make good use of Google, but they also need to have "a handbook that keeps track of how things are done in the company." Your manual, playbook or collection of SOPs. Whatever it's called, it needs to exist.
He advised that, "before asking anyone in your team how to do something, check if the answer is in the company's handbook." If it takes more than five minutes to find the answer, that document needs to be improved.
2. Only solve problems you are qualified to solve
"The person that is closest to the problem is usually the one that is best suited to make decisions about that problem," said Karshovski. They have the most information and are most likely to come up with the best solution. "Trust t hem to make the right call."
You wouldn't "ask managers how to solve a coding issue" or a developer how to solve a marketing issue and Karshovski agrees this "will likely end in disaster." But, similarly, avoid weighing in on decisions you aren't best placed to make, because this overcomplicates and creates unnecessary lines of enquiry.
3. Create physical and mental boundaries
Avoid burnout by creating "a sacred work space both digitally and physically." Karshovski advised you don't work where you relax. Instead, "Go to a coworking space, find a coffee shop you love, or even try working from a local museum. You'd be surprised how good the internet speed is at museums."
If you use the same computer for work and fun, use different profiles and accounts so you keep work and home separate. Karshovski uses Notion to create dedicated spaces for work and life.
4. Identify and share your weaknesses
Karshovski encourages his clients to, "share their weakness with the team." This doesn't "make you a bad worker," he said. Instead, it will make it easier for them to know where you might need support and how they can help. "No one is perfect, we all struggle with something."
Your team exists to cover your weaknesses, and you theirs. Accepting that you each have downfalls focuses your mind on the solution; on solving the puzzle of how everyone's strengths are best utilized.
5. Maximize your non work time
If you work largely asynchronously or have the ability to get your work done without a time overlap with the rest of your team, make the most of it. "This allows you to work around your life, rather than the opposite," which means you can rethink your time. Use this to "do epic stuff," said Karshovski. There's no excuse.
Get your work done to a high standard and use every other second to "travel the world, take on side projects or experiment with a new hobby." Karshovski said having fun remote working is the whole point.
6. Create and stick to a routine
As a wise man once said, discipline equals freedom. Routine doesn't stifle creativity; it allows for it. Karshovski guides his clients to, "create boundaries for your work so it doesn't blur into the rest of your life, and vice versa." He knows that in the long run, "your family, coworkers and mental health will thank you for it."
Your default day could be exactly the same, as long as the structure works for you. Perhaps you do deep work in the morning, exercise and eat in the middle of the day, then do manager work and smaller tasks in the afternoon before exploring a new city in the evening. Whatever works for you, just make sure it's intentional.
7. Only your results count
The golden rule of remote work, according to Karshovski. "How you get work done doesn't matter as long as you deliver." Duration, effort and input doesn't matter, it's the results that count. But while you can only be judged on your results, if they're not up to scratch, your methods will be questioned.
"If you've found a way to get something done in less time while meeting expectations, more power to you," he said. "But if you've found a way to do get things done faster, cheaper, or more efficiently, it's your responsibility to show the rest of your team so they all benefit."
8. Invest in your hardware
If you aren't seeing people face to face, how you appear on a screen matters, so Karshovski wants you to "invest in a good microphone and webcam." For less than $100 your video can, "look and sound as good as your local TV anchor," an investment that you should absolutely make.
Karshovski compares this to office work, where you wouldn't, "turn up wearing a stained shirt and dirty sweatpants." For working remotely, don't show up for a video call sounding like you're in a hurricane.
9. Plan for no response
Being left hanging isn't ideal in a work situation, and with a remote team it's inevitable as you all clock off at different times. Karshovski advised you "always add a 'dead man's switch' for decisions." This means you let people know what action you will take if they don't respond.
For example, "let them know which option you will go with if they don't answer in a certain number of hours," but give them plenty of time. No one wants to work in a place that forces urgency and hurried decisions, so aim to overcome blockers to action without enforcing them on others.
10. Improve your written communication
Without face-to-face interactions happening (unless they are planned), written communication becomes even more important. Karshovski said you should take extra care to improve your emails and messages.
Ask, "Is your question clear? Did you make any silly spelling mistakes? Did you include answers to any obvious follow up questions?" Finally, did you signal the best solution or the next steps, or is the way forward ambiguous? Karshovski believes "your team will appreciate the extra effort."
11. Assume positive intent
"Communicating through text can sometimes make things sound sharper than they were intended," said Karshovski. "So always assume that messages are positive." As the writer of messages, remember text will be inferred in the worst way possible, so read it as such when you proofread and adjust.
Karshovski knows that emojis are your friend. "They may be silly, but they are a great way of making sure that a message that may come across as sassy is received in the positive way that it was meant to."
12. Overcommunicate your availability
Working remotely puts you on a different schedule to your team and your availability is likely not to overlap very much. Karshovski says overcommunicate your availability to avoid issues. "Make it clear when you won't be at your computer," which he said avoids the team, "assuming you're available and waiting on your response."
Similarly, respect the stated availability and working patterns of your team members." Overcommunicate to find a cadence that works well. If you absolutely need crossover time with certain members, agree on this together.
Follow the 12 commandments of remote work to communicate effectively, do your work to a high standard and enjoy your life when you're not working. Edit these rules to suit your workplace and share them somewhere everyone can see.
HUL, other FMCGs in acquisition talks with Oziva: Report
Hindustan Unilever (HUL) is in talks with Oziva for a strategic acquisition of the plant-based nutrition brand.
The development, first reported by The Economic Times, comes at a time when niche brands—which saw accelerated growth amid the COVID pandemic-led online shopping boom—are now struggling to grow during a funding winter.
According to the report, the nutrition brand is also in talks with Dabur and Tata Consumer for a possible acquisition.
A query shared with Oziva did not elicit any response at the time of publishing this story.
Oziva was founded by Aarti Gill, an MBA graduate from INSEAD, along with Mihir Gadani in 2016. The direct-to-consumer (D2C) brand operates in nutrition categories, including immunity boosters and organic plant protein.
Last year, as the pandemic shopping boom started to subside, the brand introduced products in the clean beauty category. Oziva also started making inroads in physical retail stores by launching sachets of its products, priced between Rs 15 and Rs 20 to appeal to a wider consumer base.
"Our current price points are slightly premium due to the quality. But we want everyone to be able to afford our products," Aarti told YourStory in July 2021. However, growing digital marketing costs and investors backing firms with caution has been hard for many direct-to-consumer brands.
According to Abneesh Roy, Executive Director at Nuvama Institutional Equities, Oziva could be valued at Rs 400-Rs 500 crore.
"We like HUL's strategy of acquiring small companies in spaces where it doesn't have a presence. HUL ramped up Indulekha, V Wash, sharply post-acquisition," says Abneesh.
Earlier in November, clothing firm Bewakoof Brands Pvt. Ltd. got acquired by Aditya Birla Fashion and Retail Ltd. (ABFRL) in a distress sale. Moreover, Marico has been actively acquiring more than 50% stake in D2C brands, including Beardo, Just Herbs, and True Elements.