Jason Rubin on Meta's strategy for the metaverse
When Jason Rubin joined Oculus VR in 2014, he was handed a copy of Ready Player One, one of the books that helped define the metaverse. As he was hired, Facebook acquired Oculus and he started to have some deep conversations about the  metaverse, the universe of virtual worlds that are all interconnected, like in novels such as Snow Crash and Ready Player One. 
For years, the metaverse strategy meant that the company was focused on virtual reality games. It has also been developing technology for augmented reality glasses, and when Rubin spoke to us a year ago, he was head of 2D games and cloud game streaming.
But after Facebook renamed itself Meta in October and CEO Mark Zuckerberg outlined the company's ambitions to build the metaverse with investments of more than $10 billion a year, Rubin emerged as the vice president of Meta content.
"My role has changed now and I am really focused on the VR side of things and the metaverse side of things," he said in a fireside chat today with me at GamesBeat and Facebook Gaming Summit. "The content organization that I ran for the first five and a half years that I was at Meta has transitioned now to be part of the metaverse organization and the work we're doing ladders up into the greater metaverse work we're doing."
While the organization is new, Rubin said that the original inspirations for the metaverse have been driving the company for a while, as the metaverse and VR have long been expected to become the future of social media and 3D interaction.
Event
The 2nd Annual GamesBeat and Facebook Gaming Summit and GamesBeat: Into the Metaverse 2
"This is quite a long road, I think probably you'd want to ask Mark himself where he started getting seriously interested in AI, but I can tell you for the entire career I've had at Meta, it has been ingrained in our future," Rubin said.
The metaverse used to be on the back burner. In the past, immediate goals like getting content ready for the Samsung Gear VR mobile virtual reality device could easily take precedence. Then Rubin had to commission 30 different games and apps for the launch of the Oculus Rift. By and large, that succeeded, and the Meta Quest 2 is now the top selling VR headset for virtual reality.
In the meantime, the company also spread out from games and was working on social VR, with applications like socializing and working in mind.
"They started thinking longer term on how we would ladder up into the metaverse and I think what's changed recently is that all of the things needed to make the metaverse happen, not only at Facebook, but I think why in the wider community around the world have suddenly started to happen," Rubin said. "We didn't know cryptocurrency would become what it was, but there are interesting things going on there. We didn't know VR would be as successful as it has been. We had a fantastic holiday season this year. But that has happened."
He added, "We didn't certainly know that something like Roblox would be where it was or Fortnite for that matter when Oculus was acquired, would be where it is, but the world has slowly but surely over this period of time been spending more time together in 3D social spaces. Then, you have orthogonally everybody kind of going crazy over NFTs as the on-ramp to the metaverse."
But Rubin said that the onset of the pandemic, which forced people to work from home, is bringing the metaverse to the front burner. He said it would be much better to do virtual events inside the metaverse, rather than just on video calls, while we can't do them safely in person.
"I think all of these things have come together to say now's the time," Rubin said. "The world is headed towards the metaverse and Facebook wants to be part of that. So with the rebranding and everything else, we're very serious about this. This is what we think the future is."
He pointed out that collaboration will be necessary because the metaverse is not going to be built by one company.
"The metaverse is going to be this thing that you do, moving back and forth between identities and back and forth between various interesting 3D social spaces. Having the power of Facebook behind it is like having the power of Facebook making VR happen. It took Facebook a lot of time and energy to get it to happen. And it's now happening. This, again, has been a fantastic holiday. I think that's necessary to help the industry move forward. At the same time. I think the metaverse industry is being moved forward by other companies and by individuals at home who are going to end up creating a lot of the content that we end up using and loving, monetizing it and ending up being large businesses."
He said that Facebook would work with other large companies as well as individuals who are going to be contributing to the metaverse.
The metaverse timetable
As for the implementation, Rubin said it's going to be a long timetable.
"This is going to take a long time for certainly the sci-fi versions of this to happen, but even for some of the more practical possible things," he said. "Earning the name metaverse is going to take a few years to be certain. Right now what we need to do is we need to make our platform for building Horizon is the best that could possibly be."
That was a reference to the Horizon Workrooms workspace and social meeting platform that Meta is building, as well as is Horizon social entertainment platform.
"We'd like to as much as we can make it possible for people to move back and forth between these platforms," he said. "We needed to take a lot of the content that we have on the platform and make it ladder up into the metaverse. So you could, for example, jump from a Horizon into a Beat Saber and jump from a Beat Saber back out to Horizon. And things start to feel a lot more attached to each other and a lot less like a bunch of apps and a store."
The metaverse should be able to transport you anywhere so you can do anything, rather than take you back out to a menu every time you change. Going back to a menu wouldn't feel very metaverse-like.
"We have to build that. As we've mentioned, for a company to get to mass adoption, we probably need to be where everybody is," he said. "And that is right now on 2D flat screens on mobile, in particular. So I think you need to see us expand what we're doing there. We need to build an identity system that's used by billions of people. Billions is the number that Facebook counts in and we'd like to see avatars be used by that number of people. So that's high on our list of things to get done. There's just an endless list of work that we need to do."
Developers and other builders will fill out that platform actually build the experiences that drive people's excitement, he said. Beyond the company's own first-party studios, most of the work is going to be done by third parties, by builders or by developers, he said.
I asked what was his definition of the metaverse, both the one we will start with and the one we will wind up with in terms of science fiction dreams. He said that if you ask different people, you're going to get different answers. He said it's a 3D shared social space where you can do a large number of things together and spend a significant amount of time when you desire to be in a digital world. Not all of those things are games, but they could include education, workplace, and other things.
"And you should be able to move in and out of them very freely without kind of breaking up your group of friends and having to rejoin into your group of friends as you do when you switch between games right now," he said. "If that's happening on a 2D screen, on a mobile phone in your hands, that counts. It's a hell of a lot more immersive if it's happening on a larger screen. And it's even more immersive if it's in VR. And then hopefully, in the long run, it will include AR and other ways of experiencing it. The bigger it gets, the more experiences you'll have, the more of your friends will be in it, the easier it'll be to transition back and forth between the elements of it, the more and more immersive and powerful the whole system will become. When exactly you go from being a game to a group of games strapped together into a metaverse or whatever, I don't know."
He said it's not a web page or a group of web pages.
Games lead the way
Will gaming lead the way?
"Gaming is definitely a core part of it. I mean, pulling games out of it for a second, I don't think any of this could exist without the game engine. And gaming created the game engine, right?" he said. "So for a long time, the game engine was the only major tool for real-time 3D graphics. Obviously, there was simulation and other things universities were doing, but for consumers for the most part, it was gaming."
He noted that game engines are being used to make movies as well, and so the game engine is fundamental to what everyone is building for the metaverse. He noted that much of mobile phone revenue is generated by gaming, and it is generating a lot of revenue for VR headsets.
"People like to play. We were born as children and we love to play. We never give it up," Rubin said. "And honestly, I think more gaming would make a happier world. I think play is a good thing. And so gaming becomes a great way to get people to spend a significant amount of time together. And it gives people a way to build an identity system and do other things and invest in things together. And then I think adjacencies start forming because the people are there and the possibilities are there."
Meta is branching into VR fitness through apps like Beat Saber and others, which combine gaming and exercise. But the metaverse will extend to education, shopping, travel, and other things.
"But gaming will be kind of the thing that gets you in there. And you spend a lot of time [in games] because every new computer system is proven that gaming is the core use case," he said.
Asked if people think Facebook/Meta would favor a walled garden, he said that's not correct.
"We really do want to have a much more open metaverse," Rubin said. "We've created a couple of funds, including an XR Research Fund for $50 million, that works with academics and others to kind of figure out what the metaverse should be. We have an education fund to help people learn how to create for the metaverse and we are already reaching out to have discussions about how to open the metaverse. We think the perfect situation is that you can jump into any space with any identity system. And then, as you decide to move between identity systems, you don't have to lose the friends you're with or the group of people you're with and reorganize that you can move freely between those systems."
Things to work on
He noted there are challenges to make Meta's shader system for graphics work with somebody else's system. And whether nonfungible tokens are going to play a role or not.
"Decentralization can solve the ownership issue," he said. "I do wonder how we're going to solve the technical issue of actually rendering it and making it happen. Facebook wants this to be a place where everybody can contribute and everybody can move from one metaverse to another."
He thinks blockchain and other standards will be important, but exactly how they play themselves out in the metaverse is still to be seen.
"I think cloud streaming is going to be vitally important because I don't think we're going to want to write an instantiation in the metaverse for every hardware," he said.
Mobile technology and cloud streaming will have to advance considerably to handle the load. And there are many different technical languages and standards for building products that have to interoperate.
I asked if we'll have a singular experience across all the platforms.
"We've been playing around with AR and VR and where the boundaries are and which one does what better, and which does things more poorly," he said. "I don't know that we're going to know that for a long time. "Mobile phones aren't changing that radically every generation. I think you will see a lot of new technology and new ideas come out of VR for a while. AR has not even begun that curve of showing us what it can do. And it's not really clear where the border between the two is going to be and whether or not eventually devices can do both."
All of these things are good questions without answers at the moment. The answers are going to be discovered by developers and creators and thousands of people "banging at things for a long time, he said. He noted that Beat Saber is a good example right now of the pinnacle of what you can do in VR when it comes to entertainment, though it will be supplanted at some point.
I said we're eager to see what Rubin is working on and he should get back to his job so he can get it to us faster.
"We're trying," he said.
Better together: Offsetting cybersecurity's labor challenges with API integrations
The labor challenges afflicting cybersecurity teams far and wide are no secret. A razor-tight hiring market coupled with surging demand and an accelerating threat landscape has created a perfect storm of complexity, resulting in a widening skills gap that is driving higher levels of burnout and human error across the sector. In fact, Verizon's independently commissioned 2022 Data Breach Investigations Report found that 82% of breaches today involve some degree of human error. Whether it's an unsuspecting end user or a bleary-eyed analyst, the vulnerabilities caused by cognitive overload shouldn't be overlooked.  
Take the recent high-profile Uber data breach. A malicious actor, posing as an internal IT administrator, used digital collaboration channels to trick an Uber employee into giving up their VPN credentials, leading to a total compromise of the rideshare giant's network infrastructure. The breach exemplified the consequences of a social engineering attack targeting the always-on hybrid workforce. And with the rate of such attacks accelerating in volume and velocity, it's clear that more visibility of these threats is needed for security teams to effectively remediate them.
Many organizations are investing in a plethora of new, best-in-class security products in response to staffing shortages. However, reactive patchwork spending on the industry's latest niche products shouldn't be viewed as the answer, as the tool sprawl often creates additional complexity that hurts organizations more than it helps. Enterprises, on average, have 60 to 80 different security monitoring tools in their portfolio, many of which go unused, underutilized or forgotten. Forcing security teams to master a myriad of tools, consoles and workflows shifts priorities from managing risk to managing technology.
An integrated cybersecurity framework
The companies best positioned to offset cybersecurity's labor challenges are those adopting best-of-breed security tools and platforms that offer a deep library of API and third-party integrations. Above all, an integrated framework empowers organizations to effectively navigate their unique environments by consolidating tools and reducing human error through the following three processes:
Event
Intelligent Security Summit
Learn the critical role of AI & ML in cybersecurity and industry specific case studies on December 8. Register for your free pass today.
Improved protection via security intelligence and threat sharing: This enables rapid recognition and response to incoming threats via machine learning analytics tools, strengthening a human analyst's ability to formulate swift and comprehensive cyberdefense measures.
Improved efficiency via automation: This enables offloading of repetitive and mundane manual tasks to AI-enabled tools, streamlining human workflows by accelerating and improving key facets of incident response and vulnerability management.
Improved prevention via sharing and consolidating tool data: This enables complete, real-time visibility into an organization's entire security environment to promote the creation of targeted alerts that uncover unknown threats.
In collaborating with a wider range of security vendors, organizations leveraging API integrations benefit from the combined knowledge of all integrated platforms to greatly improve overall security posture. The extensive access to timely threat intelligence allows security teams to align prevention, investigation and response plans across multiple security controls, as well as increase the speed of their detection and remediation efforts.
Amid the widespread adoption of cloud-based hybrid work environments, it's increasingly clear that organizational security architectures must consist of scalable, tightly integrated solutions that combine the right balance of automated prevention, detection and response capabilities to effectively protect data across its lifecycle.
Enhancing detection and increasing cybersecurity efficacy
An open API integration framework is the embodiment of unlocking strength in numbers. It stitches together the critical functions and processes performed by foundational security tools — email security, endpoint security, web security, NDR, data security — into a single meshed framework that operates in unison and shares centralized threat intelligence data across its ecosystem. By connecting all the pieces of the puzzle, organizations gain the resources to enhance their prevention and detection capabilities in complex environments.
In one scenario, an API framework could enable automated processes to continuously flow between an email gateway and security service edge (SSE) to corresponding SIEM/XDR systems. This would allow security teams to share rich logging, metadata, indicators of compromise, malicious URLs, user activity, data movement and machine learning analytics in real time. The AI-powered SIEM platform automates the analysis of that threat data, sifting through the noise to generate actionable alerts with contextual information for security teams. Meanwhile, the real-time contextual insights provide simplified guidance for analysts to alleviate potential threats and, if needed, formulate a swift response to an attack.
With access to a wider range of threat data touchpoints, cybersecurity teams can also create customized scripts within the overarching API library. This gives them "targeted capabilities" that more directly align with their specific needs and skillsets. For instance, the team could create a script that simultaneously analyzes email security logs from Vendor A, data protection logs from Vendor B, web security click logs from Vendor C, and spam filter logs from Vendor D, based on which intel is most relevant to their specific use case. Filtering the exceedingly high volumes of incoming alerts enhances the efficiency of the entire team, empowering analysts to identify needles in the haystack by prioritizing the right alerts at the right times for maximized protection.
Automating manual processes and workflows
Despite the growing number of innovative, best-in-class products available on the market today, it's important to remember that a multi-vector social engineering attack is exceedingly difficult for hybrid security teams to combat regardless of the tools in their stack. Quick and agile responses are non-negotiable in these situations, but with resources stretched thin and employees working from multiple locations, executing swift corrective action free of human error is easier said than done. Even the most experienced and skilled security teams are susceptible to mistakes while trying to remediate an attack. Therefore, identifying how to automate well-defined processes wherever possible is imperative for tightening these response durations and ensuring security teams can remediate quickly and effectively.
With access to an open API library, organizations can integrate the capabilities of additional AI/ML security tools into their existing security architecture to automate the repetitive steps of protection, detection, response, mitigation and intelligence sharing. Whether it's informing an endpoint security provider of an emerging alert, or securely moving data from one storage solution to another, API-driven automation can handle the routine, error-prone tasks cybersecurity teams perform every day. Streamlining these otherwise human-centric workflows allows overstretched analysts to instead focus on more critical threat assessments requiring extensive time and attention. That, on a macro level, strengthens the security posture of the greater organization.
There's no magic bullet that will completely reverse cybersecurity's labor challenges in the immediate future. But there are proactive steps organizations can take now to provide the critical support their security teams need today. For effectively navigating a complex threat landscape, there's no better place to start than with the applied adoption of a deep API integration framework.
After all, cybersecurity is a team sport. Why defend alone when you can defend together? 
Joseph Tibbetts is senior director for tech alliances and API at Mimecast.
It's foie gras season in unicorn land • TechCrunch
W
elcome to the TechCrunch Exchange, a weekly startups-and-markets newsletter. It's inspired by the daily TechCrunch+ column where it gets its name. Want it in your inbox every Saturday? Sign up here.
With most startups getting repriced behind closed doors, we love getting data that gives us a glimpse of what's going on. This week, our new information comes from EquityZen, which shared insights on secondary stock sales. EquityZen also put up a few IPO predictions that gave us food for thought. Let's explore. — Anna
A glimpse of repricing
How do you know when a unicorn has lost its billion-dollar valuation? Usually you only find out long after the fact, when — and if — the company raises a down round that makes it clear that its equity valuation is no longer in the unicorn realm.
The thing is, not many founders want to advertise that they have raised capital at a lower valuation than their previous round; in most cases, they just won't disclose their new valuation.
As market observers, this leaves us with little data on a topic that our readers do care about: What kind of repricing they could expect. This is why we were grateful for Instacart, which made it public that it reduced its valuation through a 409A price change. This wasn't good news, but it was a helpful data point for everyone involved. However, that was back in March.
This Top-Rated PDF Solution Is 66% Off Now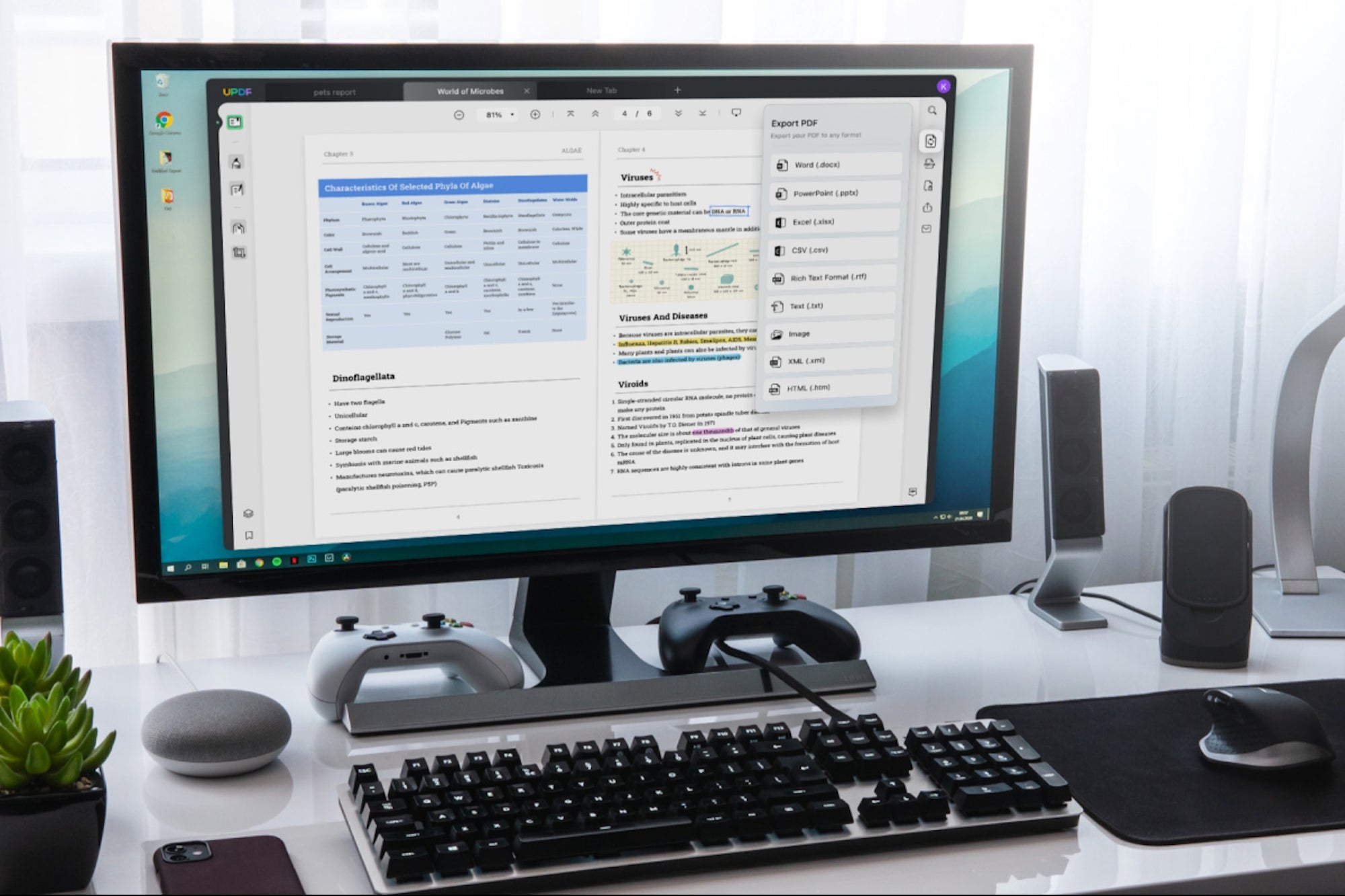 Opinions expressed by Entrepreneur contributors are their own.
Paper has made its way largely out of business, but that doesn't mean you don't still work with documents regularly. Instead, we're just working with them differently: with the dreaded PDF. These static files can be great if you're positive that a document is ready, but a serious nightmare when you have to make changes. When you're working with a lot of PDFs, you need a quality digital solution.
We've got a deal you'll like. For a limited time, you can get a lifetime subscription to UPDF Pro for 66% off.
UPDF Pro is one of the top-rated PDF solutions on the market. Geeky Gadget writes, "UPDF is a potent PDF editor and PDF converter designed to stay up with advanced technologies. It ensures that whichever features you use are up to date. UPDF not only converts PDF to Word but can perform many advanced editing." Fossbytes adds, "UPDF doesn't have a boring interface like other PDF software. The design is stunning and eye-catching. On top of it, it is convenient to use. You wouldn't be bothered with a complex design that is very time-consuming."
These are just the tip of the iceberg of positive reviews for this all-in-one PDF solution for individuals and businesses. With it, you can edit any PDF document across Windows, Mac, iOS, and Android devices, adding or deleting text, editing fonts and color, and much more. The tool allows you to add, crop, rotate, replace, extract or delete images, watermark documents, and password-protect them for elevated confidentiality. You can also easily annotate PDFs, highlight, underline, or strike out text, add shapes and notes, and much more. Finally, it's even easy to convert any PDF to Word, Excel, PowerPoint, and a ton of other file types in just a click.
Working with PDFs has never been easier than with a lifetime subscription to UPDF Pro. Grab it on sale for 66% off $149 at just $49.99, the best price you'll find online.
Prices subject to change.