IGT Announces Executive and Board Leadership Changes – European Gaming Industry News
International Game Technology PLC announced that on January 14, 2022 its board of directors implemented a number of changes to the Company's executive team and board.
Lorenzo Pellicioli will retire as chairperson of the IGT Board of Directors and will remain a non-executive director. Marco Sala, currently CEO of IGT, will become executive chair of the board. Vincent Sadusky will become CEO and executive director of the board. These changes will be effective January 24, 2022.
In a separate release today, B&D Holding S.p.A., the controlling shareholder of De Agostini S.p.A., announced that Marco Sala will be proposed at the June 2022 meeting of the corporate bodies of De Agostini as the next CEO of De Agostini, succeeding Lorenzo Pellicioli, who is retiring from the position.
"The changes to the IGT executive team and board are an important step in positioning the Company for the next phase of its evolution. The actions further strengthen IGT's capabilities to execute on its long-term strategy and the value creation initiatives identified in the Company's recent investor day. It is a natural evolution for Marco to lead the IGT board. More importantly, during his 19-years at IGT and its predecessor companies, he has a proven track record of success and has earned the trust and respect of IGT's customers, investors, business partners and regulators. As executive chair, Marco will focus on managing the board, corporate governance, including sustainability initiatives, and guiding the strategic direction of IGT. 
"Likewise, we are delighted to announce that Vince Sadusky, a seasoned executive, long-time member of the current IGT board as well as that of its predecessor companies and the former chair of our audit committee will succeed Marco as CEO. Vince brings a unique set of skills to the role, where he combines his knowledge of IGT with his demonstrated ability to create shareholder value with decades in leadership roles in public and private companies in dynamic industries, including digital and media. His transition into the CEO role will be relatively seamless," said Lorenzo Pellicioli, chairperson of IGT.
"I am looking forward to taking on the new role of executive chair at IGT and to partner with Vince, with whom I have worked extensively over the years, in leading IGT forward. I believe our skills and experiences are complementary and will serve our stakeholders well. In particular, Vince's vast experience with portfolio companies and capital markets will be valuable as we look to execute on our strategy," said Marco Sala, CEO of IGT.
"IGT is well-positioned for the future, and I am very excited to join the Company as its next CEO. With a seasoned executive team and very talented group of employees across the world, it represents a great opportunity for me to support an industry leader in the next phase of its growth," said Vincent Sadusky.
The board of directors also appointed Maria Pinelli and Ashley Hunter as non-executive directors of the board. Ms. Hunter was also appointed to the Company's Nominating and Corporate Governance Committee and Ms. Pinelli was appointed chair of the Company's Audit Committee, replacing Vincent Sadusky. These changes were effective January 14, 2022.
"We are delighted to have Maria and Ashley join our board. They both bring deep and diverse professional experiences to IGT to enhance our board composition. We are looking forward to their contributions," said Lorenzo Pellicioli, chairperson of IGT.
Executive & Director Biographies
Lorenzo Pellicioli served as chairperson of the IGT Board of Directors from November, 2018 to January, 2022 after serving as vice-chairperson since April 2015. From August 2006 to April 2015, he was chairperson of the GTECH S.p.A. (formerly Lottomatica Group) Board of Directors. He has served as CEO of De Agostini S.p.A. since November 2005. He has also served as a director of IDeA Alternative Investments S.p.A. and as managing director of DeA Factor S.p.A. Mr. Pellicioli serves as chairman of the board of directors of DeA Capital, as a director of Banijay Group SAS and LDH SAS, and he is also a member of the compensation committee and of the appointments and corporate governance committee and director of the board of directors of Assicurazioni Generali.
Marco Sala was CEO of IGT from April, 2015 to January, 2022. In addition to serving on the board of directors for IGT in his role as CEO, in May 2020 he was appointed to the board of directors for De Agostini S.p.A. Prior to April 2015, he served as CEO of GTECH S.p.A. (formerly Lottomatica Group) since April 2009 and was responsible for overseeing all of the Company's segments including the Americas, international, Italy, and products and services. He joined the Company as co-general manager in 2003 and has since served as a member of the board of directors. In August 2006, he was appointed managing director with responsibility for the Company's Italian operations and other European activities. Previously, he was CEO of Buffetti, Italy's leading office equipment and supply retail chain. Prior to Buffetti, Sala served as head of the business directories division for SEAT Pagine Gialle. Earlier in his career, he worked at Magneti Marelli (a Fiat Group company) and Kraft Foods.
Vincent Sadusky was CEO and board member of Univision Communications from 2018 to 2020, the largest Hispanic media company in the US, operating multiple broadcast and cable networks, local TV and radio stations, digital video and audio streaming. Prior to Univision, he was CEO and board member from 2014 to 2017 of Media General, a local TV station and digital media company with more than 50 TV stations and 5,000 employees. From 2006 to 2014, he was CEO and board member of LIN Media, a local TV station broadcaster and digital media company. He also served as CFO of LIN Media from 2004 to 2006 and was CFO of Telemundo Communications from 1999 to 2004. In addition to serving on the IGT board of directors since 2010 and most recently chairing its audit committee, Sadusky has served on the boards of the Paley Center for Media, the National Association of Broadcasters and was the treasurer for the NBC Affiliates Board. Earlier in his career, he worked at Ernst & Young, and co-founded JVB Financial Group and Zeus Financial, fixed-income securities trading firms.
Maria Pinelli is a global C-suite executive who currently serves as a member of the board of directors for Globant and board director and chair of the audit committee for Archer Aviation, Inc. and Clarim Acquisition Corp. She served in a variety of leadership roles at EY from October, 1986 to November, 2020, including consumer products and retail leader, global vice chair – strategic growth markets, global IPO leader, and Americas leader – strategic growth markets. In her role as an advisor at EY, she successfully led more than 20 IPOs in four different countries and more than 25 M&A transactions worldwide. Her experience includes strategic transactions and due diligence advice, Sarbanes-Oxley implementation and stakeholder management. She has served as an advisor to some of the world's most iconic e-commerce, consumer products, and retail brands.
Ashley Hunter has been a lecturer at the University of Texas at Austin School of Information since 2015, and is the founding partner of A. Hunter & Company, a leading risk management advisory firm. Previously she was managing director of HM Risk Group LLC where she assisted many startups and corporations with alternative risk transfer schemes and reinsurance placement, globally. Under her leadership, HM Risk Group became a leader in the development of niche insurance products for the sharing and assistive reproductive technology industry. Prior to founding HM Risk Group in 2006, she worked in various claims and underwriting management positions for State Farm Insurance Companies, The Hartford Insurance Company and AIG Insurance Company.
PS Plus Games For December Announced
The PlayStation Plus (PS Plus) games for December 2022 have been announced, and it's a nice mix of offerings that include action and role-playing games. Mass Effect: Legendary, Biomutant, and Divine Knockout: Founder's edition.
The Mass Effect titles are some of the most beloved in video history, Biomutant is a great RPG alternative set in a post-apocalyptic world, and Divine Knockout is an entirely new title that's being launched through the PS Plus service.
1. Mass Effect: Legendary
The original Mass Effect trilogy is considered one of the greatest trilogies in the seventh generation of video games, and the Mass Effect: Legendary edition repackages all of them in one title.
This role-playing game (RPG) follows the sci-fi adventures of Commander Shepard and his band of misfits on immersive intergalactic missions. The games are still widely loved, and they've never looked better than in the Mass Effect: Legendary version.
The narrative revolves around a distant future where planets and civilizations have been colonized using an ancient technology. There's also a sense of mystery that governs the title with this ancient civilization looking to make a return. Most of the sci-fi tropes that have come to define the genre are included here, and this is enhanced by memorable characters, action-packed missions, and some devastating consequences.
To most video game enthusiasts, Mass Effect remains Bioware's greatest accomplishment and a high-point for epic sci-fi video games. Over 100 hours can be spent learning about this fictional world, and the side missions are also considered some of the best video games have ever offered. The game will only be available to PlayStation 4 users.
2. Biomutant

Biomutant is another RPG title. This game is set in an open post-apocalyptic world, and follows a kung-fu centric world from the perspective of a mammalian warrior. The archetypal 'Tree of Life' observed in many mythologies and religions is the source from which the world and narrative are constructed. Like the Mass Effect series, players can design their own character.
The game is known for its fascinating combat system, which includes melee and long-range shooting attacks. Another interesting aspect of this game is the weapon-building system, and the range of abilities offered to the player.
There are lots of interesting side-quests, and like Mass Effect, the game has a karma system – the story will develop according to the previous actions undertaken by the player. If Mass Effect feels a bit too familiar, Biomutant is a great quirky alternative. The game will be available on PlayStation 4 and 5 consoles.
3. Divine Knockout
Divine Knockout is a PS Plus launch title, and offers something entirely unique. Divine Knockout works as a third-person side scroller, platformer, and fighter game. Players can put themselves into the shoes of mythological figures like Thor, Susano, King Arthur, and Hercules to jump, smash, and dash their way to glory.
Fans of mythology will have a feast with this – it's not often that fans of mythology get to see all their favorite figures from these timeless stories interact with one another. The god-like figures have adorable designs, which adds to its appeal. The game also serves as a great way for kids to get into mythology.
The game is full of color, and has great replay value. Players can play 1v1, 2v2, or multiplayer mode. This game will suit players of all ages, and has the makings of a cult classic. This game is also available on the PlayStation 4 and 5 consoles.
PS Plus Titles From The Previous Month Will Be Available Till December 5
The December selection will be made available to PS Plus subscribers from December 6 to January 2. Users looking to download the PS Plus games for November can do the same until December 5, after which the games will be unavailable.
CDL announces broadcast information, and YouTube is conspicuously missing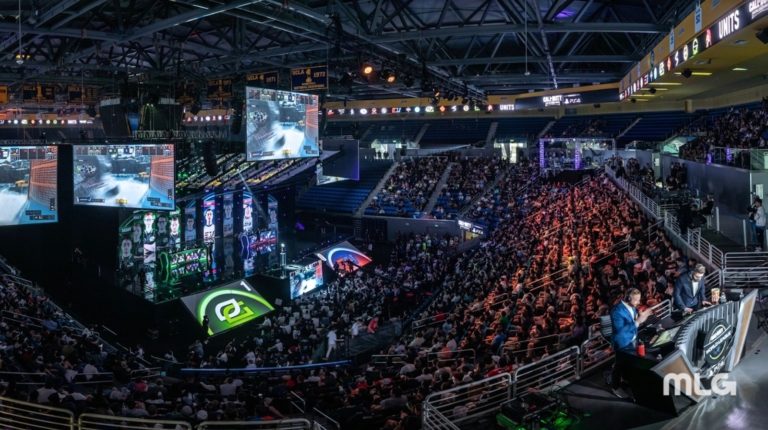 No longer will you watch Call of Duty League on YouTube. You'll have to find it elsewhere, as the streaming platform isn't listed among the accessible websites for the upcoming 2023 season.
The CDL starts on Dec. 2, with Boston Breach against Atlanta FaZe, but fans won't have the luxury of instantly clicking onto YouTube to get their CoD fix for the evening. Call of Duty posted a Tweet regarding the commencement of the league; however, fans noticed a key streaming player missing from the accessible streams.
For this season of the CDL, fans can head to either Twitch or the Call of Duty website to watch all the CoD they could dream of. 
The tweet said "The season starts tomorrow, here's where to watch," leaving its usual streaming service of the last few years out of the mix. Interestingly, no broadcast rights have been announced for the CDL this year as of yet.
YouTube's partnership with Activision Blizzard to broadcast the company's two major esports leagues came to an end after their three-year deal finished earlier this year. The deal commenced in 2020 with the beginning of the Overwatch League's third season, leaving years of Call of Duty on YouTube alongside it for the next couple of years.
The league's deal with YouTube was worth $160 million, but there's now concern over Twitch and YouTube's willingness to place money in a title with "less-than-stellar viewership statistics."
Either way, the CDL will be available to stream on Twitch as soon as it commences, so gear up and prepare for the season ahead.
US Army planned on targeting Twitch viewers for recruitment through Call of Duty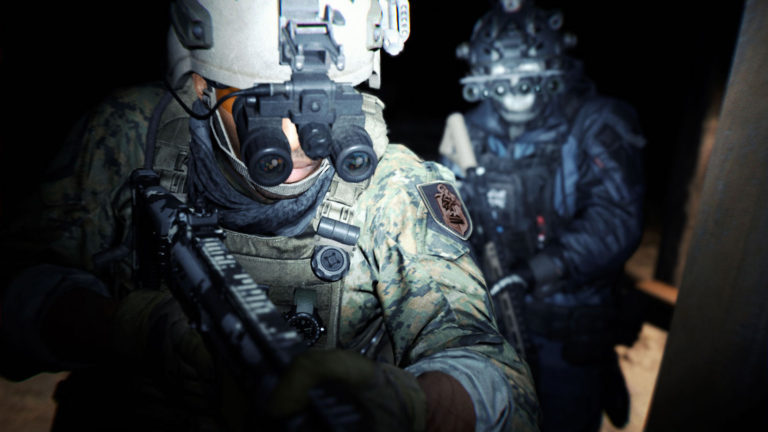 The U.S. Army uses billions of dollars to bolster its already massive military, also spending on advertising and sponsorship in gaming in the effort to bring more soldiers into the fold. Sponsoring events like ESL's CS:GO tournaments doesn't seem to be the last step for the U.S. military in the gaming sphere, however, as streamers were the next choice for the front line of the army's advertising. 
According to Vice, "internal Army documents" shared by Motherboard disclose that the U.S. military planned on sponsoring Call of Duty events, but after recent sexual harassment allegations within Activision, they decided against the sponsorships.
The documents shared the military's target audience, with a primary "focus on the growth target of females, Black & Hispanics" and people aged 18 to 24.
$3.8 million was spread across several different organizations, with WWE, Twitch, the Call of Duty League, and the Paramount Plus Halo television series acquiring large portions of the funds provided.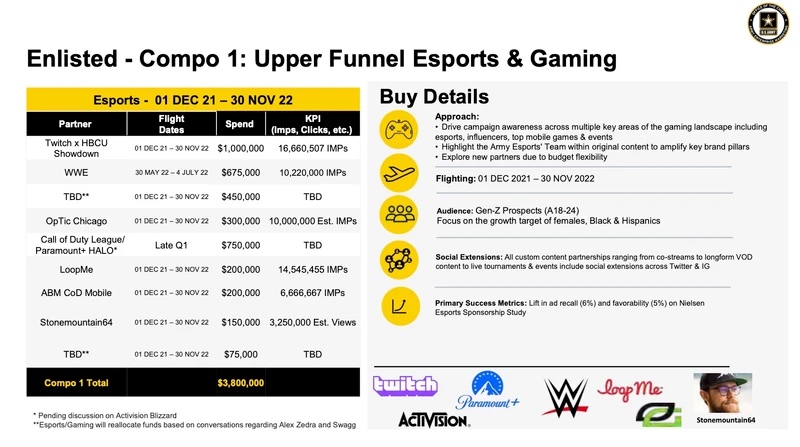 IGN was at the upper end of the allocated funds, with $600,000 being dedicated to the gaming news publication. 
OpTic Chicago and Texas were also on the list of names associated with the funding. A total of $600,000 was allocated from Dec. 1, 2021, to Nov. 30, 2022 for Chicago, and from February to late September 2022 for Texas.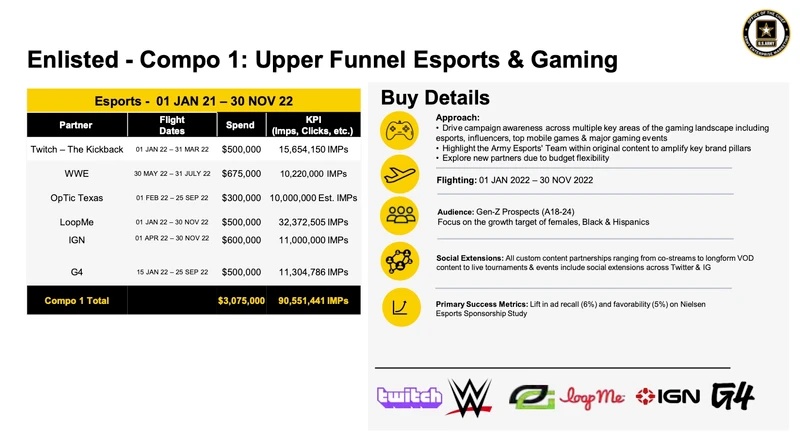 Stonemountain64, a Warzone 2 streamer with 2.32 million subscribers on YouTube, was allocated $150,000. Other streamers like Swagg and Alex Zedra were also mentioned in the documents. Next to Zedra and Swagg's names was an asterisk, highlighting that their allocated funds were "based on conversations" with the streamers. 
While this amount of funding seems like a large sum of money, it's merely a $3 million drop in the $773 billion U.S. defense budget for 2022.