How Video Factory aims to simplify communication through videos
As kids, we all oscillated between different future career paths. One day, we wanted to be journalists, the next day space engineers. But Rashika Jain, Founder, Video Factory, always had a clear goal since the time she was in the sixth or seventh standard – to become an entrepreneur.
After an engineering and MBA degree, Rashika started working at a corporate firm. But two years into it, she decided to take the entrepreneurial plunge. "One fine day I just left it all. All this while, I kept thinking, I'll get an idea, I'll have a venture, and then I will leave my corporate job. But the job is so demanding, you can't do both," she says. In the six months that followed, Rashika had almost a hundred different business ideas, all noted down in an 'Idea Book'. In her quest for finding the right business, she started attending startup events across the country, speaking to startup entrepreneurs, reading startup stories and blogs. It was while speaking to entrepreneurs that she realised they struggled to explain their startup ideas as a result of which they were losing opportunities. This was the gap Rashika eventually set out to bridge with Video Factory.
The beginning
Video Factory, a video production and animation company, was born with the aim to help businesses simplify and enhance the effectiveness of their communication through videos. With a small team, the startup began operations as an explainer video company doing everything, whether it was marketing, sales operations, managing the project or even getting the voiceover artists. "We didn't really need any kind of investment. We bought subscriptions of softwares, which were not very expensive. And we launched our website and YouTube channel," recalls the founder. While her MBA background helped her manage the business side of things, Rashika realised they needed someone to look after the creative side of the business. "That's when I got my sister, a NIFT designer with 10+ years of experience in the creative field, to come on board as a co-founder. Since then there has been no looking back," she says.
A unique edge
Early on, Video Factory realised that while anyone with basic animation skills can make a video, it requires effort to put the right idea across to the client and understanding their requirements. Rashika believes that the startup has always been more than videos; it is a content company that helps businesses outline their goals in an interesting manner. "We are very quick with our deliveries by almost half the industry standards. We devised ways and mechanisms to templatise a lot of things, not in terms of design, but in our internal processes. So, if someone takes three weeks to do something, we can do it in a week, or maybe 10 days," she says. The team has also worked on providing clients with more language options by creating an ecosystem of language experts to work on various projects that require diverse languages.
Today, the team offers marketing or branding videos, which include explainer videos, promotional videos, presentation videos, product videos, manufacturing and store shoots, and corporate videos. They also have another segment for training and e-learning videos. Through these services, Rashika aims to help her clients simplify complex business ideas, save money and time by marketing through digital channels, achieve greater reach, and overcome language and geographical barriers.
Tiding over challenges
Getting the right employees on board was a challenge for Video Factory. "I wondered whether to hire the manpower first, or to start making some money and then get more employees on board. It was like a chicken and egg story. Of course, then we realised that you have to get the people first. When you have people and a fixed expense, you will automatically start earning for it," shares Rashika.
Another challenge was to understand the online medium. While Rashika wanted her business to be online, she didn't have enough knowledge to start work in that direction. To that end, she pursued a digital marketing course and started applying her education to her business's real problems. Despite belonging to a family of entrepreneurs, nobody was in the online space. "They could teach me how to use tally and how to do accounts about business. But this was a totally new domain, the entire online world was new, and to run a business in that was a different ball game altogether," she says.
The team started with very small companies as clients — mostly through Rashika's network of startup entrepreneurs — until eventually they bagged a big name. From there, they got another major brand on their roster, which came with a larger scope of work – 100 videos in a month. Rashika says, "In the entire previous year, we did 200 videos and someone was asking us to do 100 videos in a month. We couldn't say no because it was such a big brand and the videos were very interesting too."
Video Factory explored further opportunities during COVID-19. As the world tried to cope with remote working, online classes, technological adoption, digital promotions and more, businesses had to reimagine strategies. Rashika says that videos for training, social media promotions, presentations in webinars, etc started to really help businesses overcome these new challenges, alongside Video Factory's expertise.
Proudly Indian
Video Factory launched with a website and a YouTube channel. "Obviously our online presence grew with time and today we heavily rely on it for our growth," Rashika adds. The .in domain extension was a representation of the company's roots. "We are a proud Indian company full of young and bright Indian minds. And we are very happy to showcase that through our website. We want our clients, within India and overseas, to know that we have Indian roots," she says.
Elaborating further, Rashika explains how many of their biggest clients started collaborating with them after finding them online. She adds that today many Indian companies are more comfortable working with Indian brands for videos that have an Indian context. "For instance, training of farmers in vernacular languages will be understood and delivered best by an Indian video company. So .in extension helps organisations find the right Indian partner. A lot of overseas businesses also like to outsource their work to Indians and the .in extension helps them identify us," she says.
Another benefit is the ease of getting the name of a company registered with the .in extension and how it helps in quicker ranking on search engines – both directly and indirectly. "A website works better in terms of search engine optimisation and search ads as many of our potential customers are searching for video solution providers online. Having a website not only helps in the rankings but also search," she says.
Like Video Factory, the National Internet Exchange for India (NIXI) is helping hundreds of startups across the country and segments to get a .in or .Bharat domain. Apart from cost-effectiveness, another advantage of getting a domain name from NIXI is that one can choose from 22 languages. This will help businesses be more visible to the right audience.
The way ahead
While Video Factory is consistently scaling up, they are far from satisfied. Rashika wants the company to become an expert in the learning and development segmentas it covers 40-50 percent of their portfolio.
The team also hopes to work with bigger names on bigger projects to further grow in the field. Rashika is currently in the middle of a Stanford programme to gain more business insights, as she and her partner are simultaneously also working on a plan to scale. "Whether it is using digital marketing to scale or expanding internationally, all of these things are being worked upon," she says.
From a three-member team, Video Factory today has grown to 25 members across Kolkata and Bengaluru, delivering over 1,000 videos to 400+ businesses across 15 countries. Rashika says that working with the biggest brands in the world has helped them learn at an exponential rate. "Five years and one pandemic later, we have grown in strength with the public health and development sectors as well. We have supported various organisations by transforming their offline training to online mediums. So in many ways, the online path has chosen us just like we chose it," she signs off.
The 'Shaping India Inc's Online Growth' series chronicles the journeys of startups and SMEs in India and how creating an online presence on the .in or .Bharat domain powered their success stories.
---
Here's how technology and innovation are driving the growth of Arista Vault, India's first smart luggage brand
It was a crisp winter evening in October 2017 when Purvi Roy, an ace designer who studied at Nuova Accademia di Belle Arti in Milan, presented her high fashion fall winter collection – Warriors Alley- at India Runway Week. The collection was powerful and the show was a great success. At the after-party, she crossed paths with Colonel Krishan Kumar Singh and finance expert Atul Gupta.
After a brief conversation with Purvi, the Colonel suggested that maybe it was time for her to do something for the regular masses which would serve a larger purpose. They began brainstorming and after much deliberation, hard work, and perseverance Arista Vault was born.
Arista Vault is an innovative tech company creating concept-based products to make human life easy, simple, and safe. The company is headquartered in Delhi with offices in Gurugram, Bengaluru, Kolkata and Goa. One of their first offerings was a smart wallet with inbuilt anti-theft and anti-loss features, that would keep your most valuable belongings safe and protected while travelling.
"Arista is a Sanskrit word that means 'unhurt' or safest, and vault is a safe. We particularly chose a Sanskrit word for the name because while we go global it will always depict the roots which are Indian; so Arista Vault is a proud Made in India brand," reveals Purvi.
As a D2C brand, it is also India's first smart luggage company having filed six patents with one of them being an internationally published patent. The company is the perfect amalgamation of indigenous technology and in-house design that attempts to make customers feel the luxury as well as the safety of carrying a smart wallet.
Backed by Purvi's years of knowledge and experience as a designer, the wallet while being the best at technology also has the slimmest silhouette which gives it a very luxurious look, making it a great gifting product. Purvi always wanted to make sure that the aesthetics of the product felt opulent, hence it has a jewel packaging with a matte-finished box.
The logo which is a power button inside a hexagon has a touch of gold to it, symbolic of a sense of pride and luxury. So you have a plush feeling when you own an Arista Vault smart wallet along with complete security of your wallet and its belongings.
Making traveller's life hassle-free
If you had a penny for every time your heart skipped a beat while you frantically searched your pockets thinking you had lost your wallet, you'd probably beat Elon Musk's wealth!
While that is a far-fetched reality, safeguarding your wallet is not. Arista's Smart Wallet, with its many features, offers customers the relief to travel hassle-free even in crowded areas like trains and buses. The wallet has a power button which when pressed activates its features.
Its main USP is the anti-loss and anti-theft features. It comes with an abundance of technologies such as an anti-theft alarm, built-in power bank, two-way tracker, remote selfie feature, RFID protection. The wallet also has a 20-meter separation alarm with two-way connectivity to your mobile phone. This way the phone can ring the wallet and vice versa. This feature especially comes in handy if your phone is either lost or stolen.
To enable such a high level of technology in a product as simple as a wallet would mean a dedicated amount of research and development.
"We are backed by the Ministry of Electronics and Information Technology and were incubated at the Electropreneur park and IIITD. We work in two world-class labs – Power lab and Fab Lab, which have state-of-the-art technology where the design, research, and technology integration are done. We also have a dedicated tannery and product design manufacturing unit where the integration of technology is done into the product after three layers of quality control," Purvi says.
Along with technology and design, the co-founders were clear on maintaining the highest level of safety for the smart wallets. Hence all wallets are ISO certified with their privacy policy in compliance with the IT Act of the Government. As of the last quarter of this year, 6,000 smart wallets were sold amounting to Rs 2.6 crore.
Challenges along the way
It's the trailblazing technology that makes the smart wallets of Arista Vault stand out. But this technology was not easy to develop. Purvi says that it took over a year of R&D to develop a prototype finally, but by this time all the seed fund had been exhausted.
"We knew we had a great product but for further research, innovation and product marketing more capital was needed. So all the three founders decided to put their savings and I supported the company with the earnings of my fashion venture that had initially incubated Arista Vault," Purvi adds.
The company ran a pilot of their wallets on Amazon Launchpad and those were all sold out within three days. They used all the feedback received to further improve the product. The turning point in their entrepreneurial journey came in 2019 when the company got funding and support from the Ministry of Electronics & Information Technology under Electronics System Design & Manufacturing (ESDM), with Software Technology Parks of India (STPI) & Electropreneur Park.
Using this support, Arista Vault was able to scale their venture sustainably to build world-class smart wallets that eventually got them recognition from Amazon with the Viewer's Choice award as an Emerging Brand in 2019. In 2021, the company received the prestigious Star award for Most Innovative Brand Year. They were also able to enter the international market by exporting their products to Germany, Chile, Dubai, and other gulf countries and finally to the USA.
This year the company achieved a major milestone in its journey when it became one of the few smart luggage brands in India to raise funding from Germany-based MainStage Angel Network and UK-based Pontaq VC.
Establishing itself in a new segment
Purvi says that while the funding was a great boost both financially and morally, the true journey of the company has begun now. The capital raised is being used to scale the business and establish itself as a market leader in a fairly new segment of smart luggage.
To do this, the company has grown its distribution model and channel partners to cover various cities across the country where Arista Vault products are being sold in a brick-and-mortar model. They have forged partnerships with relevant stakeholders like the Goa government to enter the travel and tourism sector as well, with their smart products.
In October when Prime Minister Narendra Modi launched 5G services in India, Arista Vault was one of the few tech companies to exhibit their smart products. They are also coming up with a series of 5G-implemented products.
Going ahead, the company wishes to build a strong presence in the smart luggage market in a B2B model. For that, they recently launched their Switch2Smart range which has a variety of smart business bags, business trolleys, laptop bags and file holders. These bags have features like GPS live and lost location which makes it almost impossible for them to be lost or stolen. They also have other features like smart charging for mobile phones, geofencing and anti-skimming.
"Nowadays from our homes to watches, everything is smart. So why should our bags be left behind? The Switch2Smart range of Arista Vault will give travellers the luxury to be free and not worry about their luggage," Purvi says. The company has already started generating sales with B2B orders displayed in DIW 2022 Gift Expo.
In FY 2020-2021, the company generated revenue of Rs 3.59 crore and now they are well on their way to achieving Rs 12-15 crore in this financial year showing more than 4X growth in business.
Along with the sales generated on Amazon, Flipkart and their own website, this festive season Arista Vault also got into corporate gifting for occasions like Diwali and has completed bulk orders from companies such as Bharati Cement, Mitsubishi, etc. They also recently started with Amazon.com in the US and UAE.
"Going forward, both B2B and B2C have their specific areas to serve. Our products are innovative and new and require consumer awareness which is possible primarily through B2C. However at a certain level to reach a wider audience, B2B is a preferred mode of business," Purvi adds.
Arista Vault aims to establish itself as a market leader in the smart luggage category by bringing revolutionary technology to wallets, business bags, travel backpacks and much more. In the coming year, they wish to strengthen their brand presence in India as well as abroad by launching another 15 product categories worldwide.
---
Elon Musk Reveals Twitter Will Soon Release a New Feature
Elon Musk continues to reach out directly to Twitter users to get feedback on his newly acquired platform.
In a tweet earlier today, the billionaire/Chief Twit turned his focus on lurkers who consume the content but don't contribute. He politely encouraged these so-called 'doom scrollers' to get involved.
"I meet so many people who read twitter every day but almost never tweet," he wrote. "If I may beg your indulgence, please add your voice to the public dialogue!"
I meet so many people who read twitter every day, but almost never tweet.

If I may beg your indulgence, please add your voice to the public dialogue!

— Elon Musk (@elonmusk) December 1, 2022
Musk has reason to be concerned. According to a study done in 2021, around 25% of Twitter users in the U.S. produce around 97% of all tweets.
His plea to be more active on the platform received nearly 85,000 responses, but he honed in on one in particular from a Twitter user named Rocket_Medic who, perhaps channeling hundreds of thousands of others in the Twitterverse, wrote:
"I reply a lot…no one reads my tweets."
Musk then asked Rocket_Medic if he was aware of Twitter Analytics, which can be surfaced by clicking on the graph icon at the bottom right of all users' tweets. The feature lets you know how many times people have seen, Retweeted, liked, and replied to each tweet.
Musk told Medic that he shouldn't be bothered by the low reply rate since that's not the metric that really matters. "Those who read tweets outnumber those who reply/retweet/like tweets by over 1000%," Musk wrote.
At this point, Musk revealed an upcoming feature that had not yet been discussed publicly.
Twitter will soon start displaying tweet reach metrics up-front on all tweets, just like they do for video views.
Twitter will start showing view count for all tweets, just as view count is shown for all videos. The system is far more alive than it would seem.

— Elon Musk (@elonmusk) December 1, 2022
Musk ghosted?
The reaction to Musk's announcement seemed mostly positive, with over 15,000 likes. But one user was not convinced.
@JamieHutchens4 replied:
"My Tweets get zero reactions. I think that's the case with most people. No reactions give a feeling of being unimportant. Avoiding that feeling is likely why lots do not tweet. Most probably don't even realize that is why they aren't Tweeting."
My Tweets get zero reactions. I think that's the case with most people. No reactions give a feeling of being unimportant. Avoiding that feeling is likely why lots do not tweet. Most probably don't even realize that is why they aren't Tweeting.

— Ibjmeh (@JamieHutchens4) December 1, 2022
To which Musk replied: "How many views do your tweets get?"
At press time, @JamieHutchens4 still had yet to respond to Musk's question.
Ironically, his tweet has been liked over 10,000 times, with nearly 800 replies.
CEO of Amazon Says Platform Won't Stop Selling Anti-semitic Film From Kyrie Irving Tweet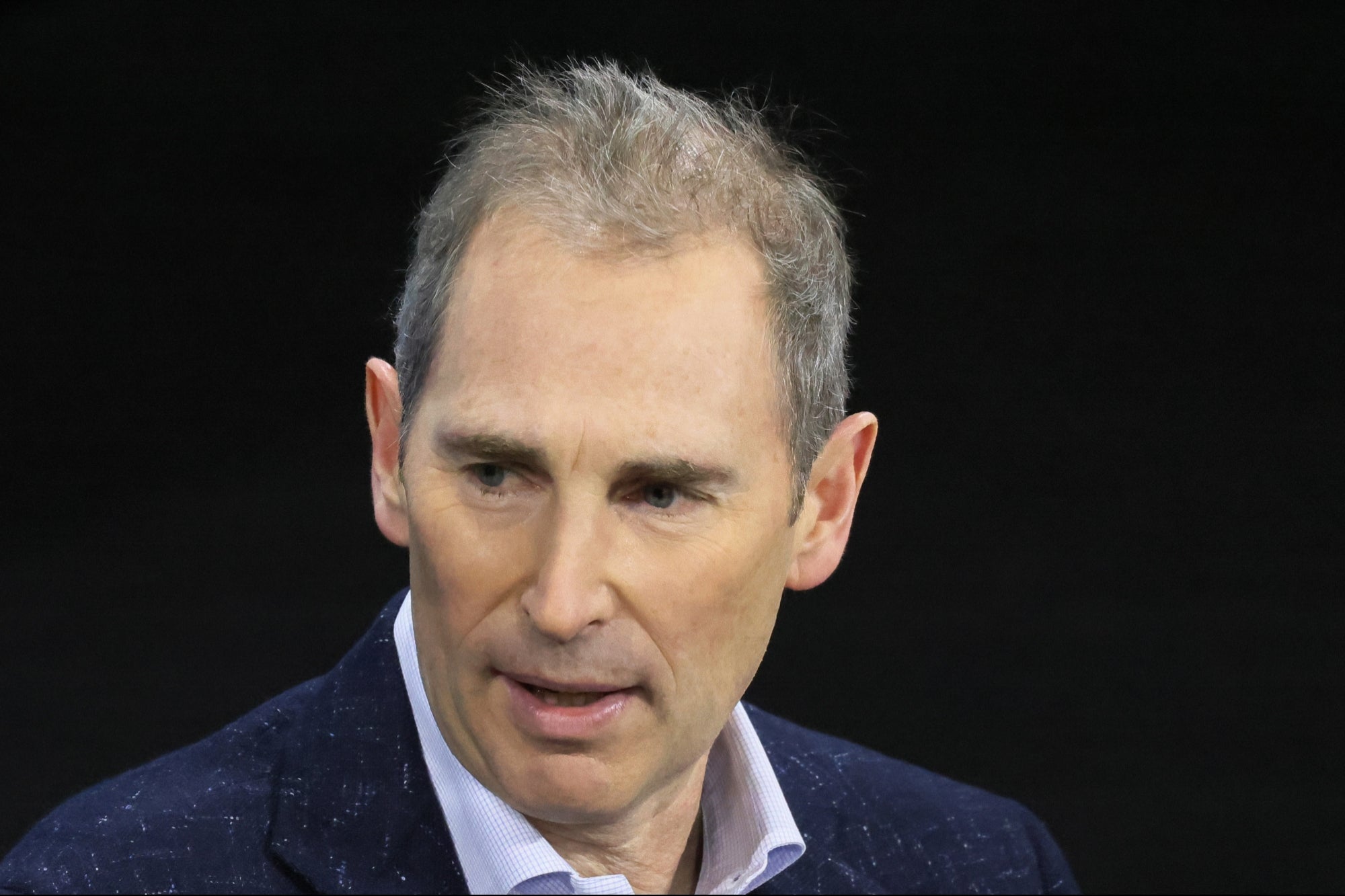 Opinions expressed by Entrepreneur contributors are their own.
On Wednesday, Amazon CEO Andy Jassy said the company would not be removing the antisemitic film Hebrews to Negroes: Wake Up Black America from its streaming service. Jewish groups such as the Anti-Defamation League (ADL) have prodded Amazon to take down the film because it contains antisemitic tropes and allegations that, throughout history, Jews have conspired to oppress Black people.
The video first received widespread attention near the end of October after Brooklyn Nets guard Kyrie Irving shared a link to it on Twitter.
Speaking at the New York Times DealBook Summit, Jassy — who is Jewish — said Amazon should allow access to controversial viewpoints. He continued: "As a retailer of content to hundreds of millions of customers with a lot of different viewpoints, we have to allow access to those viewpoints, even if they are objectionable — objectionable and they differ from our particular viewpoints."
Jassy added that Amazon must be consistent with its policies and take care not to censor content. If the media "actively incites or promotes violence," Jassy said, "or teaches people to do things like pedophilia," the decision to take it down is "more straightforward."
Amazon has "very expansive customer reviews," according to Jassy, and where any kind of media receiving considerable public attention are concerned, "customers do a good job of warning other people." According to the Times, Amazon has indicated that it is considering adding a disclaimer to Wake Up, but Jassy also expressed confidence in customer reviews playing a role in how the video is perceived.