Gaming Monitor vs. TV: Which is better for gaming?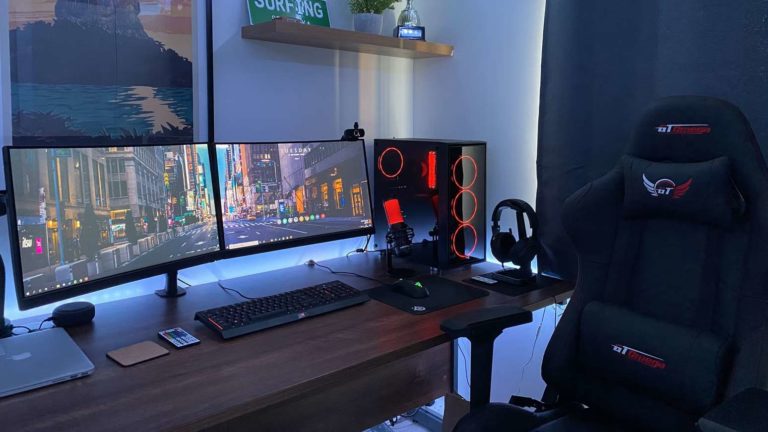 With all the advancements in display technologies, it's a legitimate question: should you game on a traditional gaming monitor, or a bigger, brighter TV?
It's a question that used to have a simple answer. If you were playing on a console, then gaming on a TV was really the only way to go. If you were playing on a PC, you'd never consider playing on anything but a gaming monitor.
But now with the superfast pixel response times of OLED technology, gaming monitors supporting HDR 600, 1000 and higher standards, the superfast refresh rates of 240Hz, 300Hz and 360Hz, and new standards like HDMI 2.1, as well as smaller-size TVs with gaming-centric features, the decision is harder than ever.
Gaming monitor vs. TV: Screen size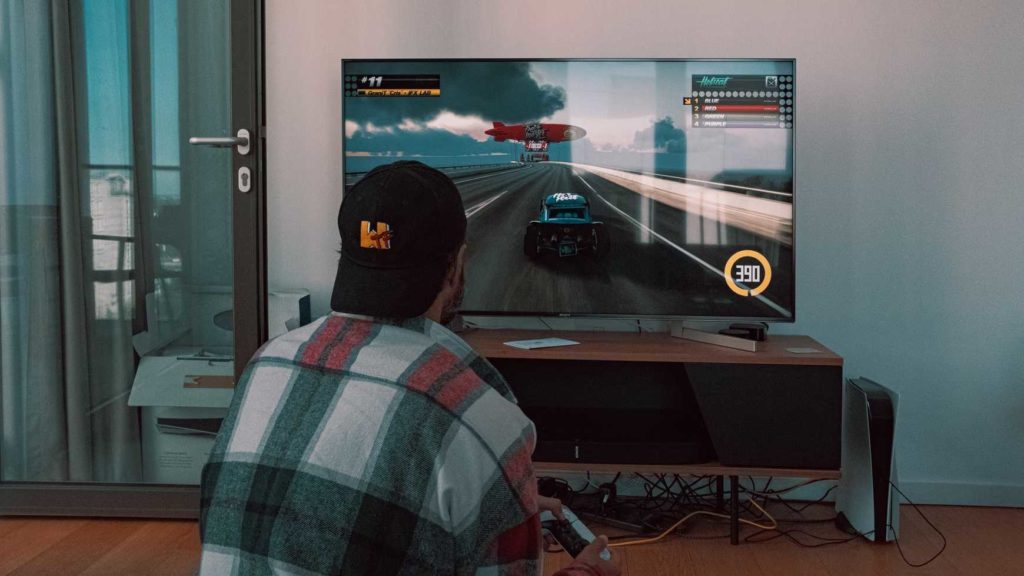 An important factor when buying any TV or gaming monitor is your distance from the screen itself. While it might be nice to fork out for a 85-inch TV, it'll only cause you physical discomfort if you're typing in front of it all day: you won't be able to enjoy the full picture and it'll cause unnecessary eye strain. Similarly, it makes little sense to buy a 32 or 34-inch ultrawide monitor if you have to sit a meter or more away—you won't be able to make out any details.
So size matters—or relative size, at least. Gaming monitors are typically 32 inches and smaller, which is well suited for a desk environment where you're at literal arms length from the monitor. Even smaller-size TVs can be too large for most PC setups. The smallest LG C1 OLED TV, a popular choice among PC gamers for its infinite blacks and fast response times, is still 48 inches. The recommended viewing distance for a screen that size is 1 meter.
If you want a large gaming monitor, there are more and more options, like the 49-inch Samsung Odyssey G9, the 65-inch Asus ROG Swift PG65UQ, or the 55-inch Alienware OLED AAW5520QD. But at that size, the cost of many gaming monitors begins to match or even exceed TVs of a similar size.
Where gaming monitors often have the advantage is with smaller screens. Models like the 25-inch Alienware AW2521HF and the 27-inch LG 27GN950 let players keep all of the action within their field of view. These smaller monitors are also easier to move around, especially if you want to quickly access ports at the back.
Gaming monitor vs. TV: Resolution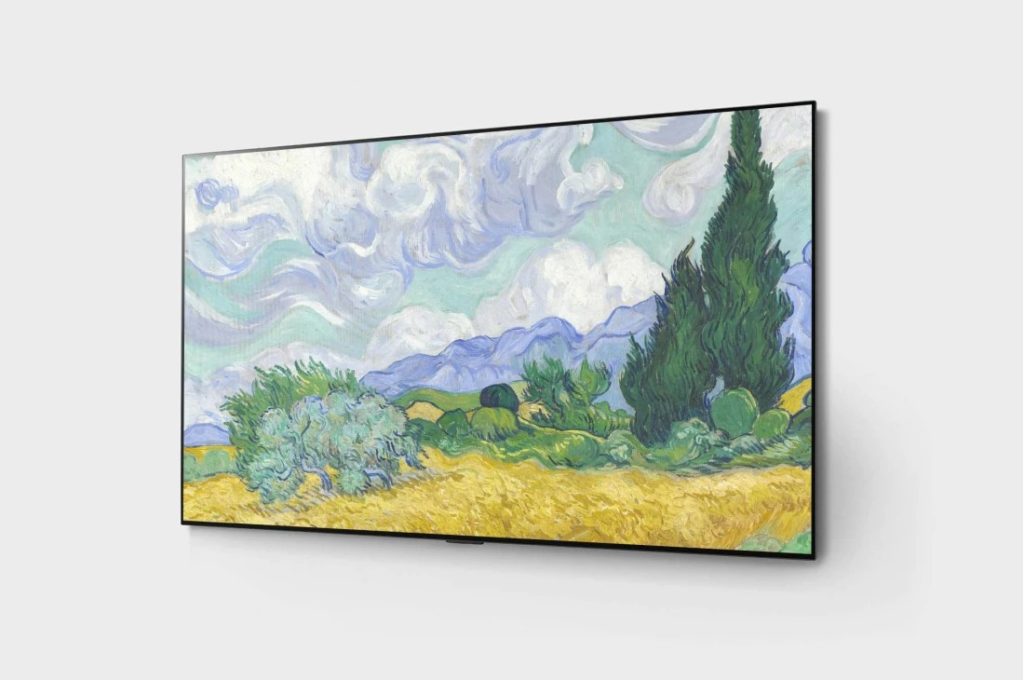 Gaming monitors come in many resolutions like Full HD 1080p, 1440p, and 4K to suit different systems. On the other hand, most TVs are either FHD 1080p or 4K, although 8K TVs have started to become available (even though there is no 8K content available as of yet).
Higher resolutions have better picture sharpness and clarity, but it comes at the cost of performance. The best gaming PCs and laptops on the market have the hardware necessary to run games at 4K with reasonable frame rates, but many others will have a better, smoother experience at 1080p or 1440p due to their hardware.
For many users, it makes sense to get a monitor that best matches their PC's capabilities. On the other hand, it can be viable to get a monitor with the highest resolution possible to have a degree of future-proofing. Monitors can always be run at lower resolutions: you can run Windows for your work and productivity apps on a 4K screen at its native resolution, but you can always manually lower the resolution in individual games for better performance.
Consoles, on the other hand, have set specifications and work with most compatible screens. The Xbox Series X and PlayStation 5 consoles support 1080p, 4K and 8K outputs and should work with any TV or monitor with HDMI 2.0 or HDMI 2.1. The Xbox Series X is the only console that supports 1440p output, however, while the PS5 will automatically downgrade the image to 1080p when connected to a 1440p monitor.
Gaming monitor vs. TV: Refresh rates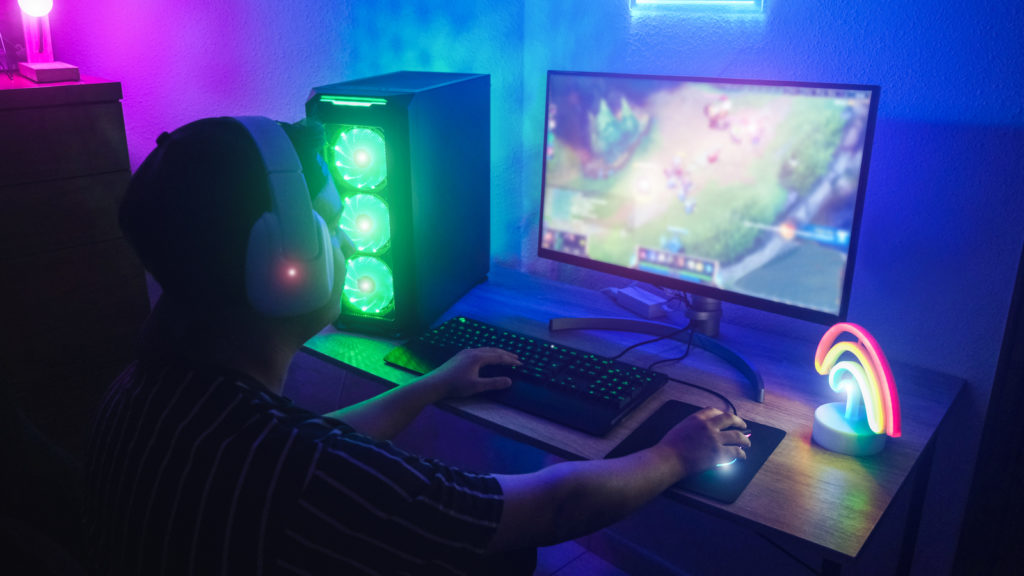 Modern gaming monitors come with refresh rates ranging from 120Hz all the way up to 360Hz, with 144Hz and 240Hz options also very common. The faster refresh rates pair well with esports-centric games like Valorant, League of Legends or Counter-Strike, which typically run at super high frame rates due to their design and age.
Coupled with a high refresh rate monitor, players can often enjoy faster response times and a crisper experience than if they were trying to play the same games through a 4K, 120Hz TV.
But that speed comes at a literal and figurative price, with the highest 360Hz monitors coming at a premium similar to the latest 4K gaming monitors. Their resolution is also quite poor, with 360Hz monitors currently capped at 1080p. While that might be fine for CS:GO, 1080p is typically not ideal for many single-player games, office applications or just enjoying content.
If you are interested in 4K gaming, the highest possible refresh rate right now is 144Hz, as seen in the LG 27GN950. Monitors like this will also support 4K/120Hz through their HDMI inputs, which makes them a suitable option for use with the PS5 and Xbox Series X. Most 4K gaming monitors, however, lack the local dimming zones, contrast ratios and ability to reproduce high dynamic ratio (HDR) content as well as TVs.
Gaming monitor vs. TV: Adaptive Sync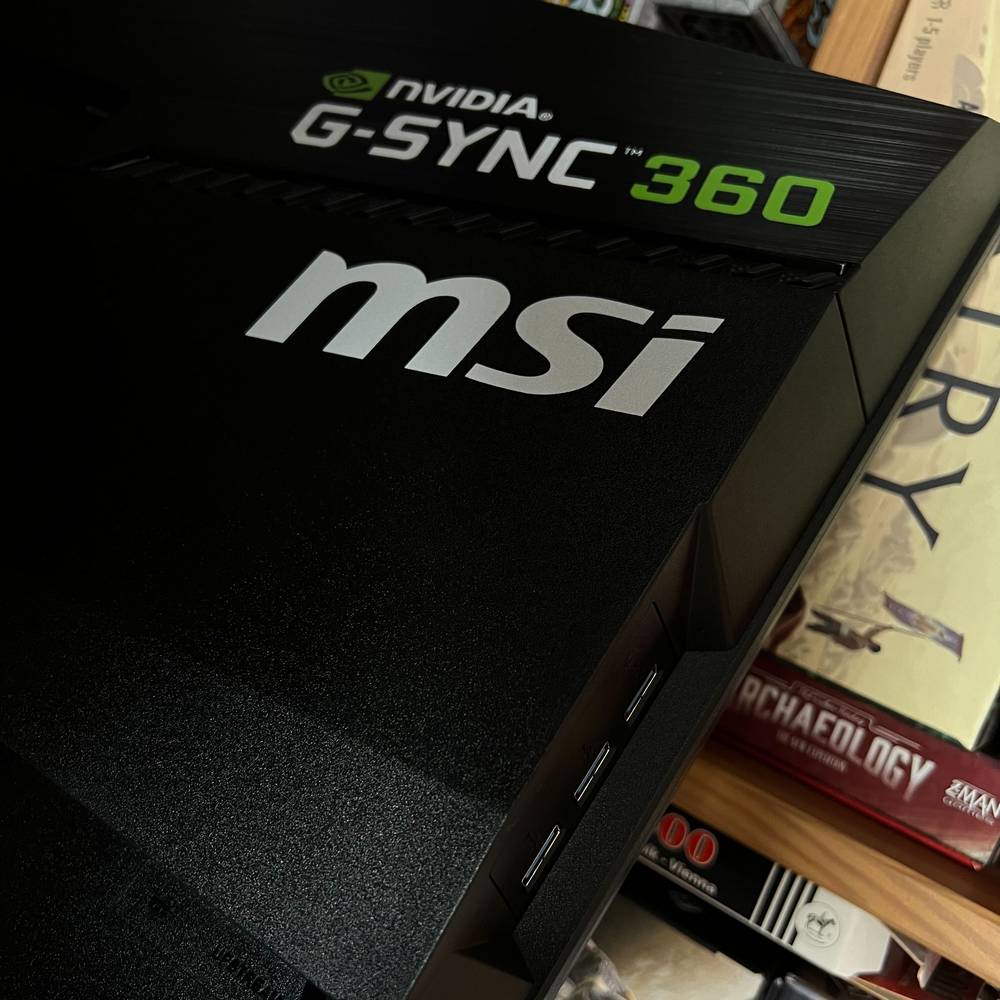 Modern gaming monitors include adaptive sync technology to match the display and GPU framerates to reduce screen tearing. AMD's FreeSync and Nvidia's G-Sync are the two most popular options, with most monitors today shipping with FreeSync or FreeSync Premium support at a minimum.
The new Xbox Series X also supports a version of adaptive sync called Variable Refresh Rate (VRR) that matches the display's refresh rate with its output. Sony's PlayStation 5 doesn't support VRR yet, although it's expected to drop in a future update.
Most TVs don't have adaptive sync, although some manufacturers like LG and Samsung have begun including FreeSync and G-Sync Compatibility in their 2020 and 2021 TVs. Newer TVs like the TCL R635 and LG Nano85 will also ship with the feature installed, although adaptive sync support is much more widespread in gaming monitors.
Gaming monitor vs. TV: Pricing
Pricing can be tricky because TVs and gaming monitors range between budget and premium offerings with different features.
Buyers who prioritize screen size might find TVs to have more value since they can pick up entry-level options at much lower prices than gaming monitors. On the other hand, gaming monitors often have far better features, including faster refresh rates, better response times, and adaptive sync support.
The sweet spot for a lot of gaming monitors is typically around the $399 to $799 range. The Gigabyte M28U, for instance, offers 4K/144Hz gaming with solid features for only $649, while you can get the 32-inch M32U for $749.
That's almost the same amount as the LG A1 OLED — although if you want an OLED that has variable refresh rate support, black frame insertion and better overall brightness, the LG 48-inch C1 starts from $1099. You could invest in a cheaper 4K TV, like the Samsung Q60A 50-inch QLED, but TVs in this price range often don't support 4K/120Hz gaming, have full HDMI 2.1 functionality, and often have greater input latency.
Other factors to consider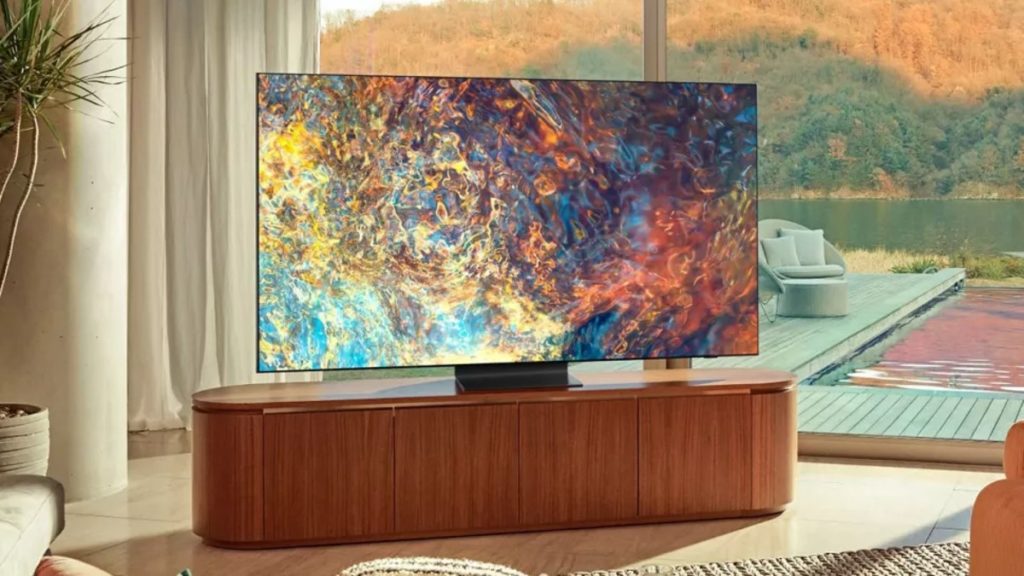 Design – Most TVs come with a rectangular shape optimized for the 16:9 aspect ratio. Players looking for ultrawide displays or aesthetic features like RGB lighting can look at gaming monitors instead.
Connectivity – It's always wise to ensure that your TV or monitor has compatible ports to support your PC or console. HDMI 2.1 ports are a must-have feature for console gamers wanting 4K resolution, and they are found on most current monitors and TVs manufactured from 2021 or later. DisplayPort, meanwhile, isn't found on most TVs because most audio and visual equipment is built around the HDMI standard. Most TVs come with built-in Wi-Fi and an ethernet port for functionality like Smart TV apps, games streaming and more.
Response time – Response time is how long it takes for a pixel on the screen to change from one color to the next and then back again. Gaming monitors have some of the fastest response times with most manufacturers claiming around one millisecond, even though the actual figure is often higher. TVs generally have higher response times than monitors, but buyers can turn on game mode to reduce it when they're playing.
Use – Buyers who are into casual gaming and mainly use their display for streaming shows and other media may be better off with a TV because they won't need so many gamer-centric features. Die-hard gamers who only use their display for gaming should consider a gaming monitor for higher refresh rates and adaptive sync.
---
There's no clear-cut winner, and choosing what's best depends on your requirements and budget.
TVs come in bigger sizes, but most don't support high refresh rates beyond 120Hz. TVs are better for creating an immersive environment, however, and they are better suited for HDR content thanks to advancements like quantum dot layers and OLED panels. And if you're focusing mostly on console gaming, or your PC isn't capable of running games faster than 120 frames per second, then 120Hz may be all you need.
Monitors are often smaller than TVs, but they have faster refresh rates and other optimized features for gaming performance. While they lack the brightness and contrast ratio of many TVs, they often have better response times and can often be far more accessible and affordable.
OpTic Texas Forfeits First CDL Series As Tempers Flare
It was a season debut like no other, and owing to some memorable and somewhat tragic moments, it's one that won't be forgotten for a while. For OpTic Texas, it was a heartbreaking season opener, with a complex and (in the eyes of some) potentially malicious situation bringing about the decision to forfeit the fixture against Minnesota Rokkr. It doesn't matter if you're blaming the stability of the game or the decisions of Rokkr's Cammy, it's a sour situation all-round.
In the closing seconds of the third-round match, a Control on El Asilo, Cammy summoned an SAE – a GA'd killstreak. There's a known bug concerning the SAE at present, and it causes the player to freeze in place upon kicking it off, and that's exactly what happened. There were single-digit seconds left in the game when Cammy called it in and owing to the bug surfacing, the COD League rules determined that the entire round should be replayed.
At that point, OpTic Texas had already won the round.
Controversial, To Say The Least
There are several key pieces of information to take away from this situation. Firstly, given that the SAE killstreak is GA'd, Cammy shouldn't have been running it in the first place. Furthermore, as a top-tier professional competitor, he should have recognised what it was that he was about to deploy, as the in-game menu does allow for a preview. Unfortunately, owing to limitations in the Modern Warfare II platform, once Cammy had set the SAE up, he couldn't remove it again.
For now, there are arguments hailing from all sides of the debate. There is the party that believes Cammy was playing maliciously, deliberately using the SAE to trigger the bug and force a replay, especially considering there was no way that Rokkr could have won at that moment, and triggering the bug did bring a replay order around. There's another party that believes it's an unfortunate series of events made up of several mistakes and shortcomings of the platform.
Fortunately, Cammy was on hand after the match to explain the situation from his perspective:
A Question of Competitive Integrity
This situation has cast a dark cloud around day one of the new season, and it's clear that this will be a year riddled with drama. It could have ended several different ways, but unfortunately, it went the most miserable way imaginable. For instance, OpTic Texas could have agreed to the replay and won the round again, or Rokkr could have respectfully forfeited the map or match owing to the use of the GA'd killstreak, mistake or not.
In actual fact, what has now happened is that Minnesota Rokkr fought tooth and nail for a replay, alienated a portion of its fanbase, and sent OpTic Texas off in a rage. This was easily the juiciest event to come out of the launch of the 2023 season, and it easily overshadowed the fact that Atlanta FaZe lost 1 – 3 to Boston Breach. As the memes targeting the OpTic Texas forfeit situation rolled in thick and fast, the Call of Duty community was sent reeling by what could just be called the latest in a long line of mishaps.
This is going to be a busy year – will Scump have his happily ever after as he heads toward retirement?
---
For more Esports.net Call of Duty news, check out our report on the League streaming exclusively on Twitch in 2023.
Astralis announces new LEC 2023 roster
Another LoL news was introduced as the European League of Legends team, Astralis, has announced its roster for the upcoming LEC season. While keeping mid laner Dajor and the bot lane duo Kobbe and Jeonghoon within the organization, Astralis also acquired Finn from EXCEL and 113 from Karmine Corp.
Ready for the new season
One of the most famous esports organizations especially in the western world, Astralis never had great success in League of Legends. Unlike its success in different gaming titles, Astralis failed to achieve anything worthy in LEC. The team placed ninth in LEC 2021 Spring, 7-8th in LEC 2021 Summer, tenth in LEC 2022 Spring, and lastly, ninth in LEC 2022 Summer.
Despite the disappointing result of the last split, Astralis decided to keep its core within the organization and make a change for the top side of the map. Last split, Vizicsacsi and Xerxe were the top laner and jungler of the lineup but Finn and 113 will replace them in the upcoming LEC season.
As mentioned, Finn will take on the top laner responsibility. The Swedish player started playing professionally under the Magistra roof and player for nine different teams before signing a contract with Rogue to compete at LEC. He attended Worlds 2022 with his team and then signed with Counter Logic Gaming. After a year in North America, Finn made his return to Europe with EXCEL. This year, he will be a part of the Astralis roster.
The new jungler of the organization is the young Turkish player 113. He started career in Turkey, with SuperMassive Academy. After his success with the team and insane solo queue performance, 113 was acquired by Giants Gaming. He spent the last season with Karmine Corp with names like Cabochard and Rekkles and won the EU Masters 2022 Spring Trophy. He recently parted ways with the organization to join Astralis.
The original core remains
Other than the top side of the map, rest of the 2022 Summer Split roster will remain within the organization. The German mid laner Dajor, Danish marksman Kobbe and South Korean support Jeonghoon are going to stick with the team. Looking at the roster from last year, only Vizicsacsi and Xerxe are not going to be a part of the team. Dajor, Kobbe, and Jeonghoon had decent individual performances last year but they failed to show it as a team. Astralis lacked chemistry last year and that is why they failed to qualify for playoffs.
On another note, the organization has not made it to the playoff stages since it was founded. Astralis' success in the European LoL esports world is surely not optimal. However, the organization still tries to form the best roster combining talented players to succeed in the region.
The new Astralis roster will compete against some of the best LoL players as the competition in Europe is pretty tough. With the combination of youngsters and experienced players, Astralis might be a real threat if they can build the chemistry needed. All of the players are very talented on an individual level but their communication and chemistry will decide their performance in the ucpoming LEC season.
Almost caught the captain: KuroKy to lead Nigma in 2023 DPC despite retirement rumors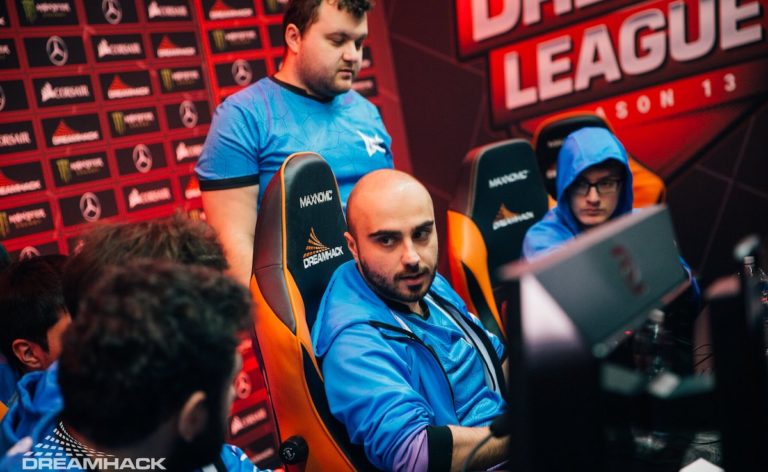 Nigma Galaxy spent the last Dota Pro Circuit season away from the spotlight in the second division of Western European DPC. Despite making it back to the first division, the team's future has been rather foggy; that fog has started to dissolve as the team announced KuroKy will remain at the helm.
Rumors surrounding KuroKy's retirement started to pop up after The International 2022 as the team had been silent for a while. Though Nigma hasn't officially confirmed the rest of its Dota 2 roster, the organization has been hinting that the majority of the roster could stick together for the 2023 DPC season.
At the time of writing, KuroKy is the only confirmed Nigma player for next season. However, Nigma has been posting content that could be seen as a verification for four other members. GH was featured in a YouTube video in early November where he addressed the rumors surrounding the Nigma roster. The position four player said that "everything was fine with the team."
Another social media post by Nigma featured SumaiL and Miracle- shaking hands, meaning four members of the team were confirmed in various ways, only leaving Mind_Control in the dark. Nigma's offlaner has been missing since the roster shuffle season began.
The only official roster change for the team is in the Coach position as rmN- was replaced by ImmortalFaith, formerly of Gaimin Gladiators. Given Nigma's hiatus from the highest level of the competition, a coach with recent TI experience is likely to become one of their greatest strengths in the upcoming season.