G2 Esports creep closer to playoffs spot, eliminate Team BDS from contention in 2022 LEC Spring Split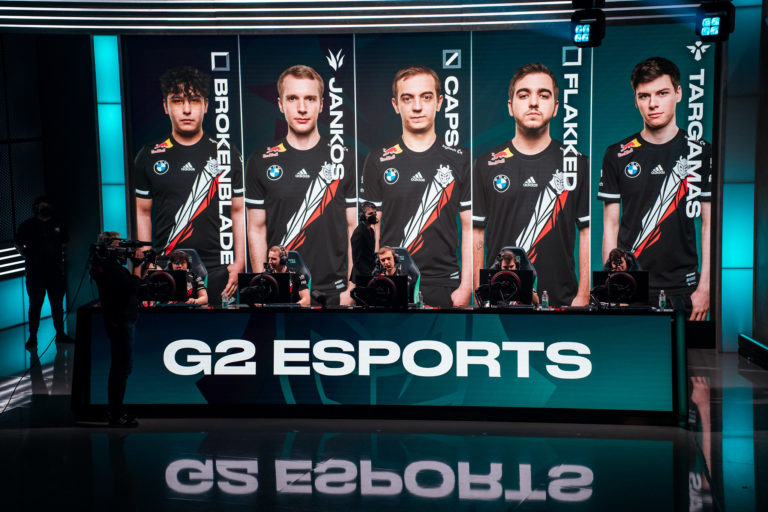 With just one week left in the 2022 LEC Spring Split, the ten teams are quickly approaching their final chances to qualify for playoffs. By making up for yesterday's loss to Misfits, G2 Esports ruined Team BDS' chances of making playoffs in their debut split, themselves now one step closer to returning to yet another playoffs.
BrokenBlade made his presence felt on the Rift from the second he stepped into the lane. As Akshan, not only could he inflict great damage from a distance onto Adam's Sion, but he could swing away without a scratch—even if Cinkrof attempted to gank top and save his laner. This gave him quick access to a Hullbreaker, destroying both top lane towers prior to 20 minutes and forcing Team BDS to have an answer.
NUCLEARINT's Kog'Maw mid, while a surprising answer to his opponent's Sylas, did not seem to be an effective option to help take his team out of their deficit. Ultimately, caPs' Sylas proved to be an incredible part of G2's win, not faltering despite Cinkrof's Baron and drake steals. 
In the last fight for the dragon, caPs threw himself into Cinkrof, xMatty, and Limit, healing himself tremendously and bursting his squishy enemies down, securing himself a quadrakill and the victory for his team. CaPs finished this match sporting a 7/0/2 KDA and a 81.8-percent kill participation.
Team BDS are now out of the 2022 LEC Spring Split playoffs contention and will seek retribution during the Summer Split. During next week's Super Week, they do have the potential to ruin the playoff chances of MAD Lions, should they be on the cusp of elimination by then.
G2 are one step closer to securing their playoffs spot, hoping to join Rogue, Fnatic, and Misfits, who are currently the only teams that have qualified. If Fnatic defeat MAD Lions to close out this weekend, G2 will officially clinch their playoffs spot.
---
Make sure to follow us on YouTube for more esports news and analysis.
Jankos lists 3 LEC teams who will almost certainly reign supreme next season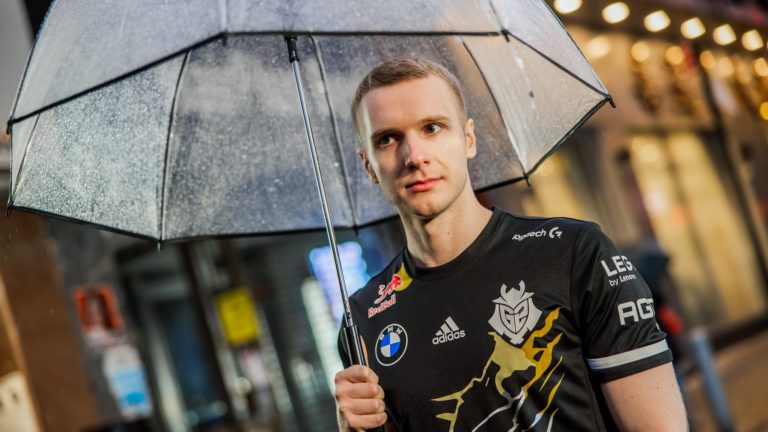 In the eyes of Marcin "Jankos" Jankowski, three teams will be strongest in the coming 2022 LEC season.
In a recent stream, the jungler listed three teams he considers the most formidable contenders for the European throne next year. This was excluding Heretics, for whom Jankos will reportedly play in 2023. G2 Esports, KOI, and Team Vitality will be the teams to watch next season according to the Polish jungler.
"No particular order… G2, technically should be KOI, and maybe Vitality," Jankos said.
When it comes to the last of the three teams, the Pole explained that it depends on "how they match as a team," considering they have multiple nationalities in their squad, which could shake up communication.
As of now, none of the mentioned teams have confirmed their rosters for the upcoming seasons, but there are plenty of rumors regarding them. G2 is reportedly bringing in Steven "Hans Sama" Liv and Mihael "Mikyx" Mehle alongside Martin "Yike" Sundelin, who will fill in the jungle role.
KOI, on the other hand, will keep Rogue's roster except for Andrei "Odoamne" Pascu, who is said to be joining Excel. When it comes to Vitality, however, the team reportedly acquired Matúš "Neon" Jakubčík and Norman "Kaiser" Kaiser, alongside Chinese jungler Zhou "Bo" Yang-Bo and T1 Challengers' top laner Kyeong "Photon" Gyu-tae.
The 2023 LEC season will kick off sometime in January with the inauguration of the 2023 LEC Winter Season, which will be the first of the three splits in the revamped format.
Alpha7 dominate their way into PMGC Finals, heartbreak for Bacon Time
The PUBG Mobile Global Championship (PMGC) 2022 League Stage has ended with the Last Chance wrapping up on Dec. 4. The Last Chance was quite literally the final place for the teams to book their slots in the PMGC Grand Finals.
For teams like Alpha7 Esports and Vampire Esports, it was domination, while the two-day last-chance qualifier spelt heartbreak in the camps of Bacon Time and HVVP.
Brazil's Alpha7 Esports are way ahead of the competition
Brazil hasn't traditionally been a strong region for PUBG Mobile esports – especially against Asian teams. However, Alpha7 Esports has been proving the naysayers wrong in 2022. Firstly, the team placed second in the PMWI earlier this year.
Now, they absolutely dominated in the PMGC League Stage's Last Chance to become one of the favorites going into the PMGC Grand Finals.
Consistency was the name of the game for Alpha7. From the 12 matches, the Brazilian squad got seven top-five finishes, three of which were chicken dinners. To put their domination into numbers, they finished with 163 total points, a whopping 44 points ahead of second-placed Vampire Esports.
Heartbreak for HVVP, Bacon Time, and LGD Gaming
The PMGC is the pinnacle of PUBG Mobile esports – and even the slightest drop in performance can affect your road to the championship. That's exactly what happened for HVVP, Bacon Time, and LGD Gaming
HVVP came into the Last Chance with their heads held high – having placed first in the Survival Stage just the day before. They were up against roughly the same set of teams they faced in the Survival Stage. Thus, just continuing to do what they were already doing would have seen them through to the Grand Finals.
However, the team weren't able to replicate that performance and got back-to-back low-place finishes. They were able to almost make it to the Grand Finals, though, with two great games where they placed first with 14 and 10 kills, respectively. However, a last-match chicken dinner by Brazil's INCO Gaming saw them edge out HVVP to the Grand Finals by just one point.
Thailand and China, on the other hand, are two of the strongest regions for PUBG Mobile esports. Thus, Bacon Time and LGD Gaming were among the favorites to take home the PMGC trophy. The two teams were on a good track to do so as well with great performances in the Group Stage and Survival Stage.
The Last Chance was their kryptonite, though, as the teams appeared as only a fizzle of their usual amazing performances. Bacon Time placed 14th while LGD Gaming came in 12th place – both teams ending their path in the PMGC 2022.
PMGC 2022 Grand Finals: All teams are locked and loaded
The top-five teams from the PMGC Last Chance have made it to the PMGC Grand Finals. Here, they will be amongst the 16 teams competing from Jan. 6 to 8 in Jakarta, Indonesia for the title of world champions. All the 16 teams are as follows:
They will compete across 18 matches (six per day) to determine the winners. You will be able to catch the action live on the PUBG Mobile Esports YouTube channel.
Cloud9 reportedly looking to replace one CS:GO player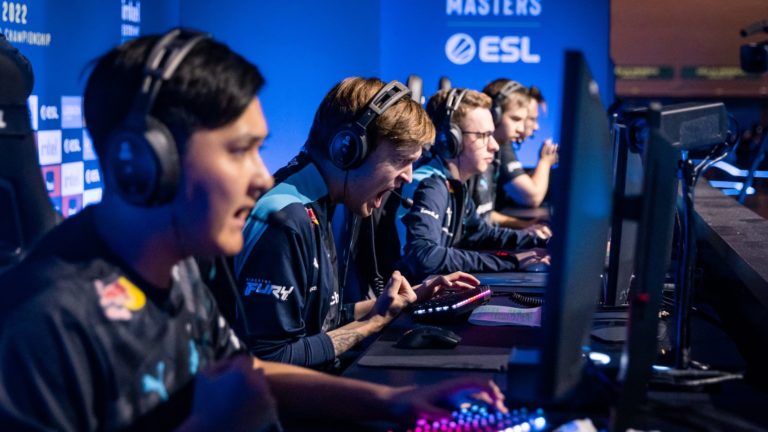 Cloud9 is reportedly poised to make a major change to its CS:GO roster.
The squad is aiming to replace Timofey "interz" Yakushin, according to a report from HLTV today. The information was first made public by CIS leaker Alexey "OverDrive" Birukov and is said to be confirmed by multiple HLTV sources.
The American organization is yet to confirm the change, but it reportedly has a few players in mind that could replace interz. Igor "Forester" Bezotecheskiy, Sanjar "SANJI" Kuliev, and Timur "buster" Tulepov are all candidates.
The former is currently playing under Entropiq's banner, though he was put on a transfer list on Oct. 13. When it comes to SANJI and buster, the duo have been sitting on Virtus Pro's bench after being sidelined in October, and May, respectively. Virtus Pro roster isn't likely to make any changes since the team, playing under the name of Outsiders, recently claimed the IEM Rio Major tile.
If the interz change comes to fruition, it would be the first shift in the lineup since July 2020, when Abay "HObbit" was added to the roster. Since then, the squad played under Gambit Youngsters, Gambit, Players, and most recently, Cloud9.
C9 didn't find much success in the second half of the 2022 season. They reached the semifinals at the ESL Pro League Season 16 but were defeated in the Rio Major's quarterfinals. In the first half, they won IEM Dallas 2022 but fell short in PGL Antwerp Major and other significant events.