Fnatic and Rogue enter Week of Hell
After two weeks of gameplay, the LEC teams are finally settling in. The LEC Week 3 will feature an insane amount of hype matches, from the first-place match between Rogue and Fnatic, to the G2-FNC legendary match!
We will be covering the first two series, so without further ado, let's jump right into it!
Who is the number 1 in EU? – LEC Week 3 Hot Matches
Rogue and Fnatic are currently both first in the standings, with a 5-0 record. We did expect Fnatic to perform well at the start of the split, but we were very surprised to see Rogue succeeding so quickly. Their series is crucial to finally establish the current power rankings in the LEC. After the Rogue vs Fnatic series, the team will have to face another of his big rivals in the following day: G2 Esports. They might not be the top sole dogs of the league, but their series is always guaranteed to be a banger.
Rogue vs Fnatic
Not only the team is winning but they're doing it by playing very cleanly. In the typical Rogue style, the identity of the team hasn't changed much despite the departure of Inspired and Hans Sama. Malrang is actually adapting really well, playing for his teammates with low-econ champions, while Comp is having his way on every single match. He gets most of the resources and proceeds to single-handedly carry his team to victory.
On the other hand, Fnatic put together one of the most explosive rosters in the League. When you put together very strong talents, you expect them to be even stronger than last year. Out of the five members, Wunder is the one to impress the most: his versatility and understanding of how he should play the game are reminiscent of his prime form. We'll see whether he actually becomes the best top laner in the League.
With that being said, I think that the series will be a very close one. I'm slightly more inclined on Fnatic this time, who have the stronger member in almost every role. It will come down to draft, but I think Fnatic has more tools and ways to win this game. While I think Odoamne is good, we haven't seen him play the very best top laners in the meta (Gwen and Gangplank).
Make sure to look at the draft before making your bets. The general idea is that whoever drafts the stronger bot side will likely have control over the dragon. The Rift Herald, instead, will be decided by the supports: who can roam more and better will help the team capture "Shelly". (Rakan will be highly contested)
Below you can find the rest of the LoL odds:
Winner: Fnatic (1.61x)
1st Dragon: Fnatic (1.78x)
1st Herald: Rogue (1.99x)
First Blood: Rogue (2.00x)
First Tower: Rogue (2.08x)
Race to 10 kills: Fnatic (1.76x)
Total kills: under 28.5 (1.79x)
G2 Esports vs Fnatic
I'm very curious to see if G2 can find an opening to what looks like one of the most solid teams in the LEC. If we're looking at the teams individually, I think that Fnatic prevails in almost every lane, aside from BrokenBlade and maybe Caps. I'm convinced that BrokenBlade will give Wunder a hard time, but considering how the Turkish top has been the carry and main damage dealer for the team, I doubt he can get big leads against a player like Wunder.
What I'm worried about the most is the bot lane. I'm pretty sure Fnatic will want to play around Upset and punish G2's botlane. Flakked, in particular, doesn't have very good individual stats, with mid-tier metrics across the board: he will struggle against the best bot lane in the LEC.
With that being said, I really think that G2's only win condition is their top lane. He has played 5 different champions and has excelled in almost every single one of them. I do think that BrokenBlade had some bad luck on S04 last year, but this year he has the chance to redeem the title of the best top laner in the LEC. If G2 wants to have a chance, they need to make sure BrokenBlade has a good matchup.
And if that's not possible (since G2 is blue side and Fnatic will have a counter pick available), then Caps and Jankos will have to play around him even more.
Winner: Fnatic (1.54x)
First Blood: G2 (1.99x)
First Dragon: Fnatic (1.72x)
1st Tower: Fnatic (1.65x)
Total kills: over 25.5 (1.82x)
Total towers: Over 12.5 (2.25x)
The odds and selections for LoL betting this week are courtsey of GG.BET. Read our GG.BET Review to find out more about this provider.
2023 Call of Duty League Major 1 Qualifiers: CDL Scores, Schedule, and Results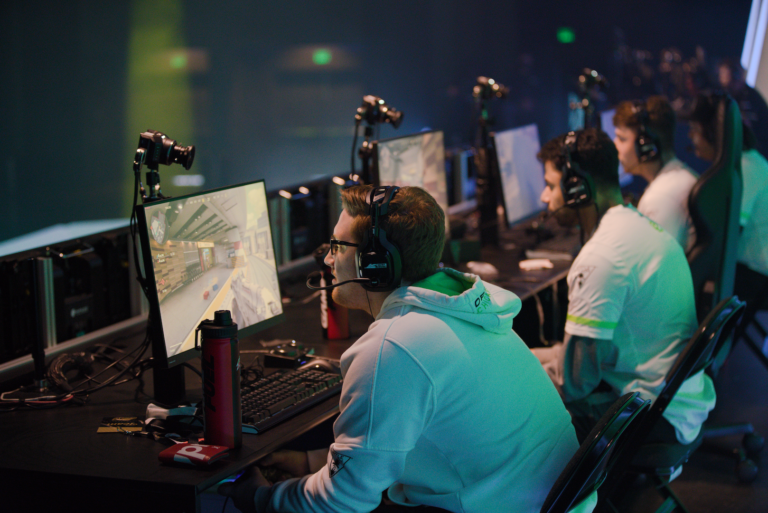 The latest Call of Duty League season is officially starting earlier than ever before.
The 2023 CDL season kicked off on Dec. 2 with the opening qualifier matches for Major One, which will be the first LAN of the Modern Warfare 2 season held in Raleigh, North Carolina from Dec. 15 to 18. The tournament will be a $500,000 pro-am event featuring the 12 CDL franchises and four Challengers teams.
Before Major One, the 12 CDL teams will play two weekends of online qualifying matches to determine the seeding for the LAN event. These matches will be best-of-five series played using the CDL maps, modes, and ruleset.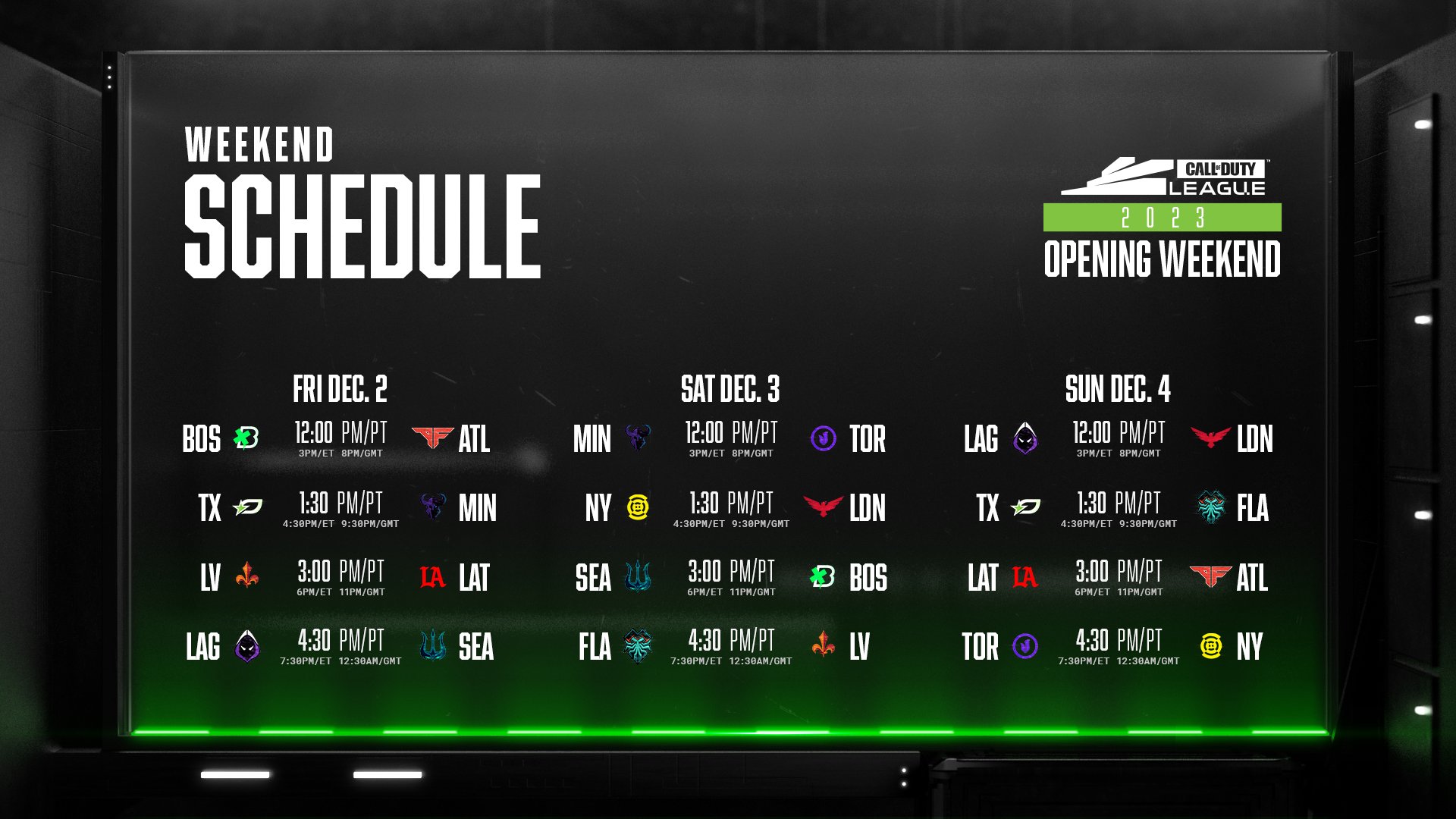 A lot has transpired between now and when the Los Angeles Thieves ended the 2022 CDL season by winning CoD Champs, though. Before we even get into all of the roster changes made this offseason, arguably the most notable announcements were the retirement of Crimsix and the pending retirement of Scump following the 2023 CDL season.
The L.A. Thieves, OpTic Texas, and Seattle Surge retained their starting lineups from 2022. Every other franchise made at least one roster change, including the Atlanta FaZe, who swapped Arcitys for SlasheR. Arcitys will now play for the Los Angeles Guerrillas, while the Boston Breach also made a one-person change by acquiring Owakening from the Florida Mutineers.
The Paris Legion has relocated to Las Vegas and built a roster around Clayster and Temp. And several other organizations, including the Minnesota RØKKR and Toronto Ultra, made multi-player changes heading into the start of professional Modern Warfare 2 action.
Here are the results from the qualifying matches for Major One of the 2023 CDL season.
Saturday, Dec. 3
Toronto Ultra vs. Minnesota RØKKR
Toronto lead 1-0
Embassy Hardpoint: 250-167 Toronto
Friday, Dec. 2
Los Angeles Guerrillas vs. Seattle Surge
Los Angeles win 3-2
Al Bagra Fortress Hardpoint: 250-126 Seattle
Al Bagra Fortress Search and Destroy: 6-5 Los Angeles
Breenbergh Hotel Control: 3-2 Los Angeles
Breenbergh Hotel Hardpoint: 250-91 Seattle
Breenbergh Hotel Search and Destroy: 6-2 Los Angeles
Los Angeles Thieves vs. Vegas Legion
Los Angeles win 3-1
Breenbergh Hotel Hardpoint: 250-204 Los Angeles
Al Bagra Fortress Search and Destroy: 6-2 Vegas
Breenbergh Hotel Control: 3-0 Los Angeles
Mercado Las Almas Hardpoint: 250-198 Los Angeles
OpTic Texas vs. Minnesota RØKKR
Minnesota win 3-1
Zarqwa Hydroelectric Hardpoint: 250-203 OpTic
Embassy Search and Destroy: 6-0 Minnesota
El Asilo Control: 3-2 Minnesota (win via OpTic forfeit of round five)
Al Bagra Fortress Hardpoint: Map wasn't played; Minnesota win via OpTic forfeit
Boston Breach vs. Atlanta FaZe
Boston win 3-1
Embassy Hardpoint: 250-207 Atlanta
Al Bagra Fortress Search and Destroy: 6-3 Boston
Al Bagra Fortress Control: 3-0 Boston
Zarqwa Hydroelectric Hardpoint: 250-203 Boston
---
This article will be updated throughout the Major One qualifiers.
OpTic Texas Forfeits First CDL Series As Tempers Flare
It was a season debut like no other, and owing to some memorable and somewhat tragic moments, it's one that won't be forgotten for a while. For OpTic Texas, it was a heartbreaking season opener, with a complex and (in the eyes of some) potentially malicious situation bringing about the decision to forfeit the fixture against Minnesota Rokkr. It doesn't matter if you're blaming the stability of the game or the decisions of Rokkr's Cammy, it's a sour situation all-round.
In the closing seconds of the third-round match, a Control on El Asilo, Cammy summoned an SAE – a GA'd killstreak. There's a known bug concerning the SAE at present, and it causes the player to freeze in place upon kicking it off, and that's exactly what happened. There were single-digit seconds left in the game when Cammy called it in and owing to the bug surfacing, the COD League rules determined that the entire round should be replayed.
At that point, OpTic Texas had already won the round.
Controversial, To Say The Least
There are several key pieces of information to take away from this situation. Firstly, given that the SAE killstreak is GA'd, Cammy shouldn't have been running it in the first place. Furthermore, as a top-tier professional competitor, he should have recognised what it was that he was about to deploy, as the in-game menu does allow for a preview. Unfortunately, owing to limitations in the Modern Warfare II platform, once Cammy had set the SAE up, he couldn't remove it again.
For now, there are arguments hailing from all sides of the debate. There is the party that believes Cammy was playing maliciously, deliberately using the SAE to trigger the bug and force a replay, especially considering there was no way that Rokkr could have won at that moment, and triggering the bug did bring a replay order around. There's another party that believes it's an unfortunate series of events made up of several mistakes and shortcomings of the platform.
Fortunately, Cammy was on hand after the match to explain the situation from his perspective:
A Question of Competitive Integrity
This situation has cast a dark cloud around day one of the new season, and it's clear that this will be a year riddled with drama. It could have ended several different ways, but unfortunately, it went the most miserable way imaginable. For instance, OpTic Texas could have agreed to the replay and won the round again, or Rokkr could have respectfully forfeited the map or match owing to the use of the GA'd killstreak, mistake or not.
In actual fact, what has now happened is that Minnesota Rokkr fought tooth and nail for a replay, alienated a portion of its fanbase, and sent OpTic Texas off in a rage. This was easily the juiciest event to come out of the launch of the 2023 season, and it easily overshadowed the fact that Atlanta FaZe lost 1 – 3 to Boston Breach. As the memes targeting the OpTic Texas forfeit situation rolled in thick and fast, the Call of Duty community was sent reeling by what could just be called the latest in a long line of mishaps.
This is going to be a busy year – will Scump have his happily ever after as he heads toward retirement?
---
For more Esports.net Call of Duty news, check out our report on the League streaming exclusively on Twitch in 2023.
Astralis announces new LEC 2023 roster
Another LoL news was introduced as the European League of Legends team, Astralis, has announced its roster for the upcoming LEC season. While keeping mid laner Dajor and the bot lane duo Kobbe and Jeonghoon within the organization, Astralis also acquired Finn from EXCEL and 113 from Karmine Corp.
Ready for the new season
One of the most famous esports organizations especially in the western world, Astralis never had great success in League of Legends. Unlike its success in different gaming titles, Astralis failed to achieve anything worthy in LEC. The team placed ninth in LEC 2021 Spring, 7-8th in LEC 2021 Summer, tenth in LEC 2022 Spring, and lastly, ninth in LEC 2022 Summer.
Despite the disappointing result of the last split, Astralis decided to keep its core within the organization and make a change for the top side of the map. Last split, Vizicsacsi and Xerxe were the top laner and jungler of the lineup but Finn and 113 will replace them in the upcoming LEC season.
As mentioned, Finn will take on the top laner responsibility. The Swedish player started playing professionally under the Magistra roof and player for nine different teams before signing a contract with Rogue to compete at LEC. He attended Worlds 2022 with his team and then signed with Counter Logic Gaming. After a year in North America, Finn made his return to Europe with EXCEL. This year, he will be a part of the Astralis roster.
The new jungler of the organization is the young Turkish player 113. He started career in Turkey, with SuperMassive Academy. After his success with the team and insane solo queue performance, 113 was acquired by Giants Gaming. He spent the last season with Karmine Corp with names like Cabochard and Rekkles and won the EU Masters 2022 Spring Trophy. He recently parted ways with the organization to join Astralis.
The original core remains
Other than the top side of the map, rest of the 2022 Summer Split roster will remain within the organization. The German mid laner Dajor, Danish marksman Kobbe and South Korean support Jeonghoon are going to stick with the team. Looking at the roster from last year, only Vizicsacsi and Xerxe are not going to be a part of the team. Dajor, Kobbe, and Jeonghoon had decent individual performances last year but they failed to show it as a team. Astralis lacked chemistry last year and that is why they failed to qualify for playoffs.
On another note, the organization has not made it to the playoff stages since it was founded. Astralis' success in the European LoL esports world is surely not optimal. However, the organization still tries to form the best roster combining talented players to succeed in the region.
The new Astralis roster will compete against some of the best LoL players as the competition in Europe is pretty tough. With the combination of youngsters and experienced players, Astralis might be a real threat if they can build the chemistry needed. All of the players are very talented on an individual level but their communication and chemistry will decide their performance in the ucpoming LEC season.