eBay Stock is Nearing a Bottom
Global digital marketplace platform eBay (NASDAQ: EBAY) stock has sold off to level not seen since June 2021 after having peaked at $81.19 in October 2021. The Company has provided weaker guidance moving forward to set the bar low. Shares are trading at 16X forward earnings and the Company is still set to receive approximately $3 billion from the sale of its eBay Korea division. Despite a slow down in growth, the Company has a fortress balance sheet and a mountain of cash that can afford a reversion in the near term as the iconic Company continues to grow even at a slower pace in the mid-single digits. eBay is synonymous with e-commerce and has rode the digital migration during the pandemic to capitalize on the explosion in premium collectibles ranging from jewelry, sneakers, Funko pops, to cards and comics. It is the world's largest marketplace providing much-needed liquidity and transparency to help transcend the hobby into a business for many collectors. Prudent investors that have been patiently waiting for entry into the premier collector's marketplace can watch for opportunistic pullback levels to gain exposure.
Weak Q4 2021 Guidance
On Oct. 27, 2021, the Company provided mixed guidance for Q4 2021 for EPS coming in between $0.97 to $1.01 versus $1.00 consensus analyst estimates with revenues coming in between $2.57 billion to $2.62 billion versus $2.65 consensus analyst estimates.
Conference Call Takeaways
eBay CFO Steve Priest commented on the fiscal Q3 2021 conference call, "A number of factors influenced the growth differential between the U.S. and our international markets during the quarter. My abilities back to pre-COVID levels in many of our largest international markets, diminishing the volume tailwinds we benefited from in third quarter. Changing consumer behavior, including uptake in leisure activities and travel, also might have impacted e-commerce guides internationally. Additionally, category mix varies in our international markets, which have lower exposure to certain fast-growing verticals like collectibles. A higher concentration of items from cross-border trade that are more difficult to source amid the ongoing supply chain disruptions. Finally, our focus category rollouts on more nations in our international markets. However, as our innovation playbook expands to more categories and countries, we are confident our international growth trajectory will increase. In the U.S., GMV grew 22% versus GMV of 2019. Growth in our domestic marketplace was driven by strong execution against our strategic pillars, big growth within e-commerce. Residential mobility improved in the U.S. and continues to trail Europe markets. While leisure activities and travel increased in line with normalcy, including the lingering impact of government stimulus and [Indiscernible] The precise [Indiscernible] About likely a net positive contributor to U.S. growth in the near-term. And aggregate numerous puts and ties between regions, but we remain encouraged by the modestly positive underlying growth in our business." He concluded, "Given our fortress balance sheet and strong underlying free cash flow, we are updating our share buyback plan for 2021 from $5 billion to $7 billion, which implies approximately $3 billion of repurchases during the fourth quarter. Over all, our capital allocation objectives remain unchanged. We'll preserve financial flexibility to execute on strategy and drive long-term value creation. We aim to drive organic growth in our business, and will look for opportunities to supplement that growth, with disciplined acquisitions and investments. We will optimize our financial flexibility, access to debt, and cost of capital, and we'll continue to deliver meaningful returns to shareholders — to share repurchases and dividends."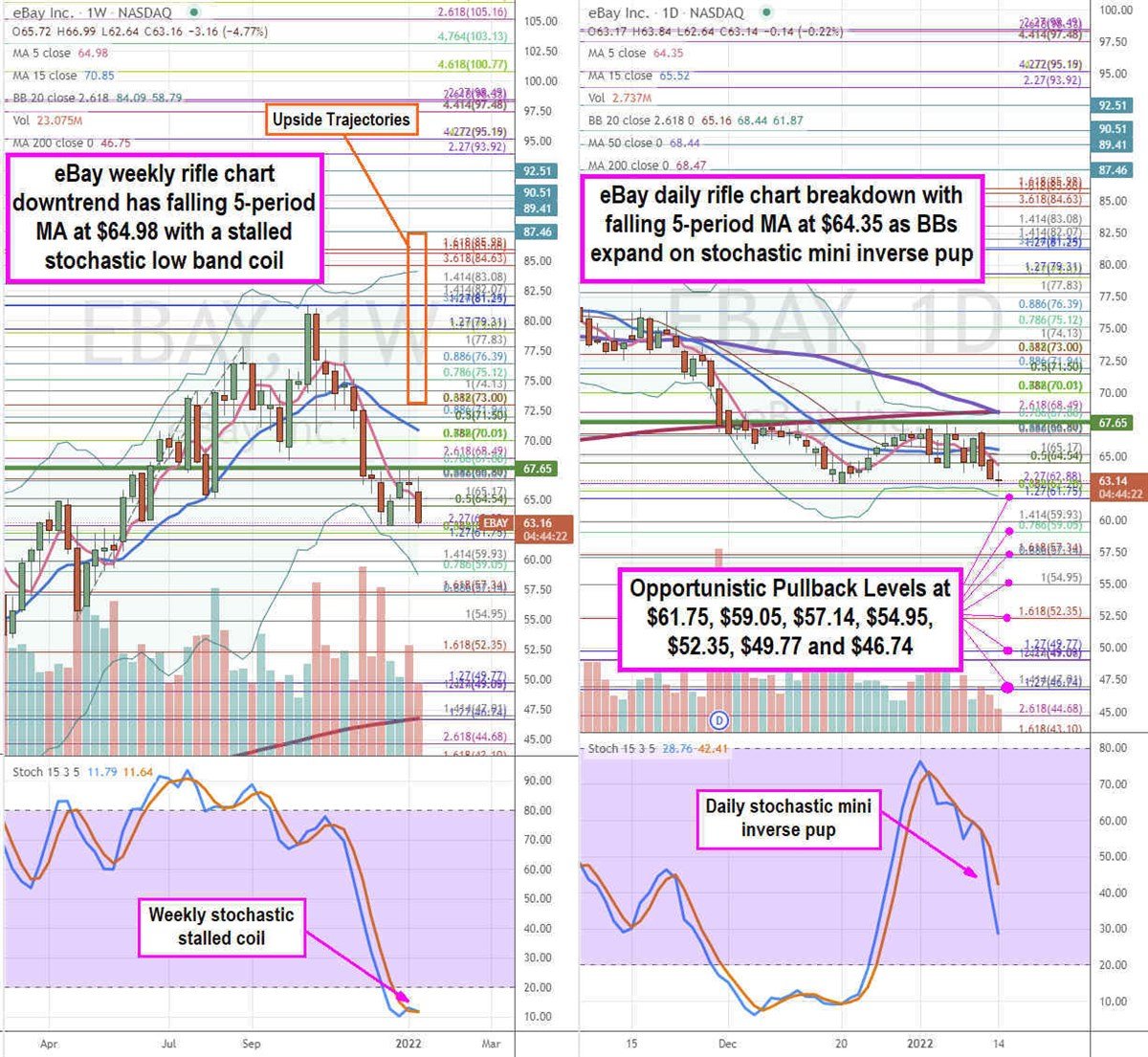 EBAY Opportunistic Pullback Levels
Using the rifle charts on the weekly and daily time frames provides a precision near-term view of the price action landscape for EBAY stock. The weekly rifle chart had a pup breakout that peaked in the $80.96 Fibonacci (fib) level. Shares collapsed on earnings reaction to bottom out quickly at the $70.77 fib before coiling back up to test the 5-period moving average (MA) at $76.57. The quick reversion caused the weekly stochastic to form a bullish mini pup stochastic as it nears the 80-band. The weekly upper Bollinger Bands (BBs) sit at $82.42. The daily rifle chart formed a market structure high (MSH) sell signal on the breakdown below $78.40. The falling 5-period MA sloped back up as EBAY bounced off the daily lower BBs to form a make or break with a rising 5-period MA at $75.70 which needs to crossover up through the 15-period MA at $76.41. The daily  market structure low (MSL) buy signal triggered on the bounce above $74.99.    Prudent investors can watch for opportunistic pullback levels at the $74.98 fib/daily MSL trigger, $73.77 fib, $72.44 fib, $71.28 fib, $69.33 fib, $67.96 fib, and the $66.58 fib level. Upside trajectories range from the $80.96 fib up towards the $89.32 fib level.
Identity in the metaverse: Creating a global identity system
With the advent of the metaverse, the need for a global identity system has become apparent. There are many different ways to create an identity in the metaverse, but no single system is universally accepted. 
The challenge is usually two-fold: first, how to create an identity that is accepted by all the different platforms and services in the metaverse, and second, how to keep track of all the different identities a person may have.
There are many proposed solutions to these challenges, but no clear consensus has emerged. Some believe that a single, global identity system is the only way to ensure interoperability between different platforms and services. Others believe that multiple identities are necessary to allow people to maintain their privacy and security.
The debate is ongoing, but it is clear that the need for a global identity system is becoming more urgent as the metaverse continues to grow.
Event
Intelligent Security Summit
Learn the critical role of AI & ML in cybersecurity and industry specific case studies on December 8. Register for your free pass today.
In this article, we will explore the various options for creating a global identity system in the metaverse. We will discuss the pros and cons of each option, and try to identify the best solution for the future.
Option 1: A single global identity
The simplest solution to the problem of identity in the metaverse is to create a single, global identity system. This would be a centralized system that would be responsible for managing all identities in the metaverse. 
The advantages of this approach are obvious: It would be much easier to keep track of identities, and there would be no need to worry about different platforms and services accepting different identities. In addition, a centralized identity system would allow for better security and privacy controls, as well as the ability to track identity theft and fraud.
However, this approach also has several disadvantages. First, it would be very difficult to create a global identity system that is accepted by everyone. Also, a centralized system would be vulnerable to attack and could be used to track people's movements and activities. Third, it would be difficult to protect the privacy of users in a centralized system.
Option 2: Multiple identities
Another solution to the problem of identity in the metaverse is to allow each person to have multiple identities. This would mean that each person could have one or more identities that they use for different purposes. 
One of the main advantages of this approach is that it would allow people to maintain their privacy and security. Each person could choose which identity to use for each situation, and they would not have to worry about their entire identity being exposed. In addition, this approach would be more resilient to attack, as it would be much harder to take down multiple identities than a single one.
The limitations of such an approach would be that it could be difficult to keep track of all the different identities, and there would be no guarantee that different platforms and services would accept all of them. In addition, multiple identities could lead to confusion and could make it more difficult for people to build trust with others.
Option 3: A decentralized identity system
A third solution to the problem of identity in the metaverse is to create a decentralized identity system. This would be an identity system that is not controlled by any one centralized authority but rather is distributed among many different nodes. 
This might seem like the ideal approach, since decentralization is a common theme in the metaverse. However, there are still some challenges that need to be overcome. For instance, it would need to be ensured that all the different nodes in the system are properly synchronized and that the system as a whole is secure. In addition, it might be difficult to get people to adopt such a system if they are used to the more traditional centralized approach.
One solution would be to get the nodes in the system to be run by different organizations. This would help to decentralize the system and make it more secure. Another advantage of this approach is that it would allow different organizations to offer their own identity services, which could be more tailored to their needs.
Another would be to incorporate an edge computing solution into the system. This would allow for more decentralized processing of data and could help to improve performance. It would also make the system more resilient to attack since there would be no centralized point of failure.
The best solution for the future of identity in the metaverse is likely to be a combination of these approaches. A centralized system might be necessary to provide a basic level of identity services, but it should be supplemented by a decentralized system that is more secure and resilient. Ultimately, the goal should be to create an identity system that is both easy to use and secure.
The ideal identity standards of the metaverse
Now that we have explored the various options for identity in the metaverse, we can start to identify the ideal standards that should be met by any future global identity system. 
It is no easy task to create a global identity system that meets all of the criteria, but it is important to strive for an ideal solution. After all, the metaverse is still in its early stages, and the decisions made now will have a lasting impact on its future. 
Current iterations of the metaverse have used very traditional approaches to identity, but it is time to start thinking outside the box. The ideal solution will be one that is secure, private, decentralized, and easy to use. It will be a solution that allows people to maintain their privacy while still being able to interact with others in the metaverse. 
Most importantly, it will be a solution that can be accepted and used by everyone. Only then can we hope to create a truly global identity system for the metaverse.
The bottom line on identity in the metaverse
The question of identity in the metaverse is a complex one, but it is an important issue that needs to be addressed. 
The challenges associated with creating an implementation that is secure, private and decentralized are significant, but they are not insurmountable. For one, it will be important to get buy-in from organizations that have a vested interest in the metaverse. These organizations can help to promote and support the adoption of identity standards. 
It is also important to keep in mind that the metaverse is still evolving, and the solution that is ideal today might not be ideal tomorrow. As such, it will be critical to have a flexible identity system that can adapt as the needs of the metaverse change. 
Ultimately, the goal should be to create an identity system that is both easy to use and secure. Only then can we hope to create a truly global identity system for the metaverse.
Daniel Saito is CEO and cofounder of StrongNode
How to Eliminate Scheduling Inefficiencies in Your Business
What do salons, consultancies, and home service providers all have in common? This question may seem like the prime setup for a joke, but there's no punchline to look forward…
Why You Should Start a Business Only While You Have a Job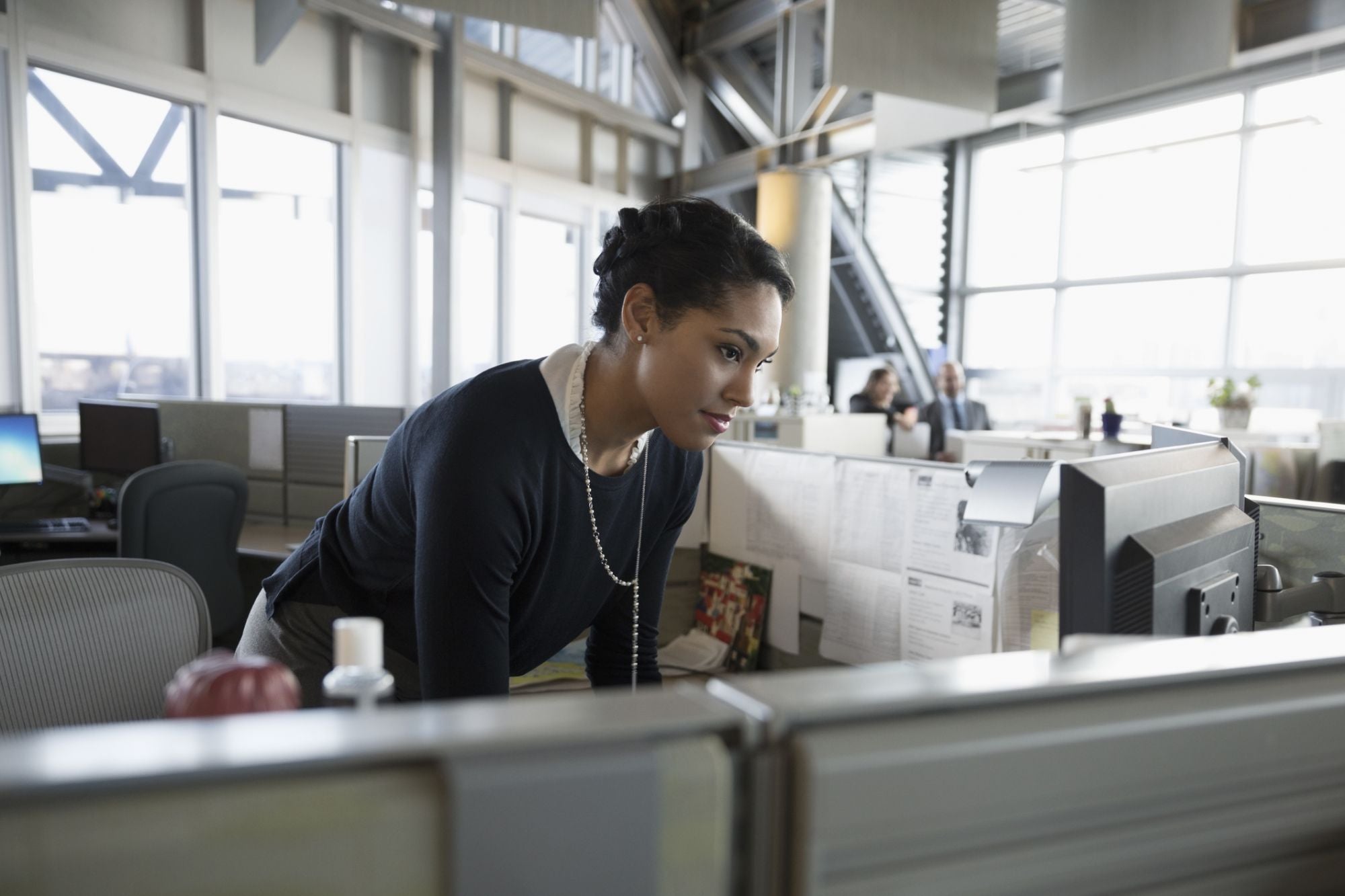 Opinions expressed by Entrepreneur contributors are their own.
Many people that I meet tell me that they dream of starting their own business. I always ask them, "Then why don't you?" They typically respond by saying that they have so many financial and personal responsibilities, that they can't just quit their job to start a company, etc. Then I tell them my story …
Related: How to Use Your Current Job to Start Your Next Business