Discovery Education Introduces Free Augmented Reality App for Students and Educators — THE Journal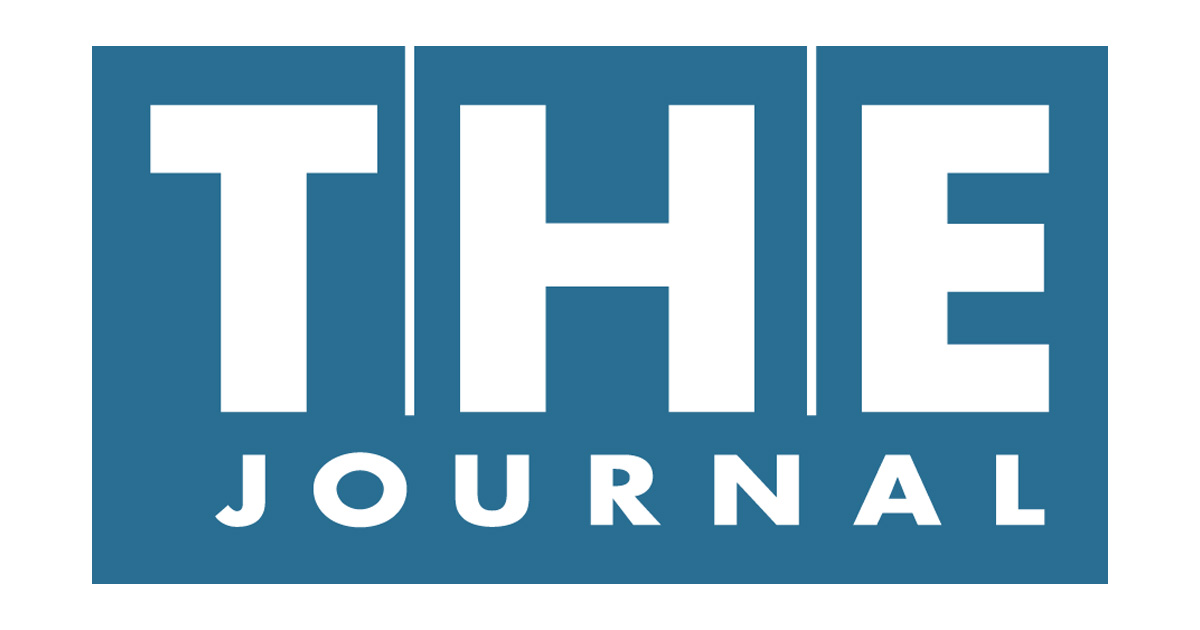 Immersive Learning Tools
Discovery Education Introduces Free Augmented Reality App for Students and Educators
Sandbox AR Lets Users Create Virtual Worlds or Augment Their Own — All Linked to Real World Knowledge
By Kristal Kuykendall
01/25/22
Discovery Education today introduced its new Sandbox AR iPad app, giving students and educators no-cost access to an immersive learning tool using augmented and virtual reality to create interactive learning experiences that unlock students' natural curiosity.
By superimposing virtual images and data on a user's view of the real world, AR allows learners to visualize and interact with complex topics and heightens student engagement with digital content. The Sandbox AR app empowers students and teachers to create, share, and even inhabit virtual environments; users can create virtual "scenes" and populate those scenes with any of the hundreds of built-in unique objects from history, science, nature, and more, Discovery Education said.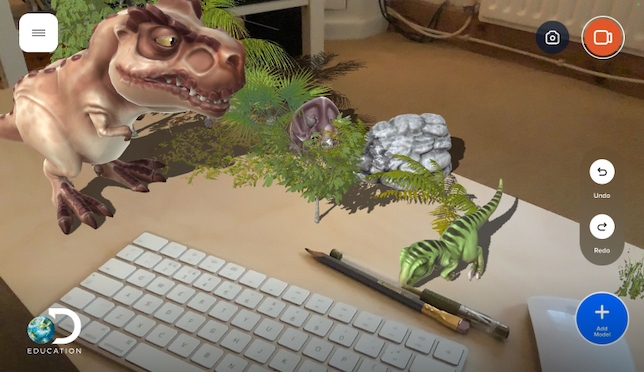 The app also has a mode allowing users to scale up and inhabit their own environments in a virtual setting, using their iPad to take photos of what's around them; that virtual world or scene can then be filled with the app's built-in objects to create a scene mixing virtual and augmented reality, Discovery Education told THE Journal recently. The objects within the app each connect to information about its history (such as the Great Pyramid at Giza), its origins in the natural world (such as an African elephant), and so forth.
Once a user has their Sandbox AR scene built to their satisfaction, they can take photos or record a video walkthrough with their own voiceover, to introduce their classmates or their teacher to what they created or what they learned, for example.
To help educators leverage the power of AR wherever learning takes place, Discovery Education has made the Sandbox AR iPad app available now in the Apple App Store.
"We know educators and students love augmented reality," explained one of the app's developers, Phil Birchinall, Discovery Education's senior director of immersive content. "Sandbox gives students the ability to control and have some agency over that augmented reality."
Sandbox adds multiple laters of data over the scene users create, using built-in links attached to each object within the app to teach users "real world" information about each object they're seeing in their "virtual world," he explained.
"Sandbox AR gives students the ability to immerse themselves in whatever scene or topic they're learning and really show their knowledge," said Jason Ediger of Discovery Education. "This app will have a real impact in the classroom and on learning outcomes. Highly engaging content is important, but giving kids a sense of ownership — underpinned by proper learning concepts — is the key."
Sandbox AR has pre-made scenes such as ancient Egypt, Mayan ruins, road construction worksites, space exploration, and more, as well as hundreds of individual objects that students or educators can use to build their own scenes. Each scene and object links to learning materials, or for teachers using the app, each links to instructional materials.
"It's critical for teachers to understand the power of this tool for them and their students, so we've included lessons for educators on how to use this in their teaching," Ediger said. "The uses of this are endless — students can inhabit an AR world they build and truly experience it; it could be part of a mindfulness meditation, or a game" or a lesson on endangered species like the African elephant.
Birchinall, a former teacher himself, said his team created the Sandbox AR with purpose, not just to bring cool tools to the classroom. "We know AR has a huge impact on learning," he said. "Tools like these amplify the power, depth, and speed of student learning."
Discovery Education first entered the education technology world over two decades ago, digitizing educational video content previously brought into classrooms on VHS tapes and media carts, and then introducing digital textbooks.
"While 2021 marked Discovery Education's 20th year of providing innovative digital learning solutions to educators worldwide, it also began a new chapter in the company's history," said Discovery Education Chief Executive Officer Scott Kinney. "Sandbox AR and resources we make available to educators today are just the beginning of what will be a number of powerful new resources Discovery Education plans to provide students and educators in 2022 and beyond."
Discovery Education also introduced DE Originals today. Produced by Discovery Education's curriculum team, DE Originals are streaming videos featuring former teachers presenting assorted topics to students in a "fun and engaging fashion," the companys aid. DE Originals are exclusively available to subscribers of Discovery Education's K-12 learning platform. 
The more than 100 new DE Originals kick off with the DEmystfied series, which explains complex science concepts through fun, funny, short, digestible, and standards-aligned videos. Combining Discovery Education's signature storytelling style with creative graphics, DEmystfied helps students ask and answer questions about the world around them. Discovery Education users can access DEmystfied through the DE website.
For more information about Sandbox AR, educators can view the Sandbox AR quick start guide or check out a free Sandbox AR lesson. To learn about Discovery Education's digital learning resources, visit www.discoveryeducation.com.
Leaked Apex Legends Hardcore mode could break recycled LTM trend—but players already doubt it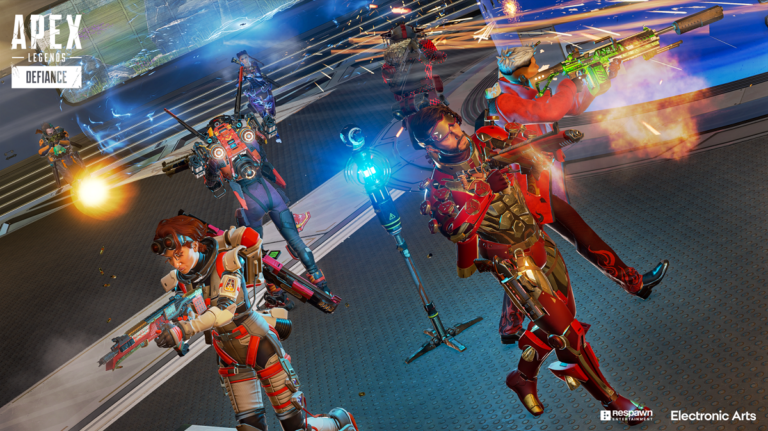 While the Wintertide event succeeded in bringing in a season 15 high player peak on Steam for Apex Legends, it didn't do much to address players' criticisms of the game using recycled and reused limited-time modes. This go-round for the Winter Express is the fourth year in a row that some version of the LTM has appeared in Apex, and the general sentiment on its return has been middling.
So it's not exactly a surprise that a recent leak from ThordanSmash caught the attention of the community. The popular content creator and insider teased a new mode that might be coming to Apex: Hardcore battle royale.
According to Thordan, the new mode will be one where players will be eliminated much more quickly and will put significant value on game knowledge. There won't be any HUD, the highest armor available will be the base white body shields, and bullets will do more damage than they do in the base game. There also won't be any Gold rarity items except for weapon hop-ups. That means items like Gold helmets that make abilities recharge faster and Gold backpacks that allow players to carry more health items won't be used in the mode.
In addition to these changes, there will be fewer health items, according to Thordan. This will make for an extremely fast time to kill (TTK) that should have players thinking and rethinking every single rotation and move they make on the battlefield.
Whether this is another LTM on the way or the new mode inhabits a more Control-esque role, a popular mode that commonly returns and feels more akin to Arenas than most LTMs, players are already split on whether a Hardcore mode in Apex is a good idea at all.
There are players who seem excited about the prospect of a Hardcore mode, but several others have brought up how the idea feels like an accelerated version of the standard non-ranked battle royale mode, with no incentive for players to take the mode seriously. That would most likely result in incredibly short games or long stretches where teams that decide not to hot drop don't see any fights. 
There's also some precedent in Apex for players not loving a significantly shorter TTK: the much-maligned nerf to all body shields in season six, where all body shields got 25 less health. The player outcry on the change was strong enough that Respawn reverted the change a few weeks into the season since players didn't enjoy the shorter TTK that the shield change enabled.
The new Hardcore mode sounds like Apex with a more Call of Duty-style TTK, and it's debatable whether any Apex players actually want that. A new LTM is certainly welcome, but if an Apex mode feels more like a different game, what's stopping players from just going and playing Modern Warfare 2 instead?
Thordan also mentioned that other LTMs like Team Deathmatch and some other previously-leaked game modes are still in the works. This year has been a fairly successful one for breaking up the LTM cycle compared to 2021, with both Control and Gun Run being popular LTMs in the community. But the response to the newest leaked LTM has been decidedly lukewarm and it remains to be seen if a Hardcore mode will inspire much new interest in Apex.
Get a Discount on Training Courses to Help You Finally Master Excel
Opinions expressed by Entrepreneur contributors are their own.
Just about everybody in the business world claims to know Microsoft Excel. A fraction of them actually know just how much Excel can do. Therefore, if you're looking for a practical gift for yourself or someone else this year that is actually useful, look no further than The 2022 Complete Microsoft Excel Expert Bundle.
The bundle includes 12 courses from StreamSkill (4.4/5-star instructor rating), part of the Simon Sez IT family that has taught more than one million students over the past 15 years.
Here, you'll start out with the basics of Excel 2021, learning what's new and how to navigate the Excel 2021 interface. You'll start learning useful keyboard shortcuts, understand how to format cells and use conditional formatting, analyze data using charts, and more. As you progress through the courses, you'll explore advanced formulas in Excel, touch on macros, and much more.
There are several courses on some of Excel's more unique tools, too. You'll learn how to use the VBA editor, VBA syntax, keywords, and more. You'll discover how to define and manage variables, set up subroutines, and create functions to automate your most repetitive and frustrating tasks. Additionally, you'll get started with Power Query, learning how to connect Excel to multiple workbooks to crunch numbers across sheets. You'll learn how to set up and manage data relationships in a data model, create PivotTables to display your data, and use functions like CALCULATE, DIVIDE, and DATESYTD in DAX. Before you know it, you'll have a business analyst education that will help you in all of your business ventures.
It's about time you finally learned Excel. Right now, you can get this Microsoft Excel Expert Bundle on sale for just $24.99 (reg. $4,788).
Prices subject to change.
Ocho wants to rethink (and rebrand) personal finance for business owners • TechCrunch
When Ankur Nagpal sold Teachable for a quarter of a billion dollars, he felt lucky. Then, he quickly felt lost when trying to navigate the financial systems of a country he wasn't born in and learn the institutional language often only spoken fluently by the historically wealthy.
It would be a few years of self-employment, and building a venture firm later, before Nagpal returned to the moment as one of the early catalysts for his newest startup, Ocho. The company, launching publicly today, wants to make it easier for business owners to set up and manage their own 401(k) retirement accounts.
Personal finance is hard – and that's a tale as old, and difficult to disrupt, as time. And while Nagpal agrees that there's no "north star" company that has shown how to tackle finance literacy at scale, he's hoping that Ocho's 10-person team may just have a not-so-boring wedge that changes that.
Ocho is joining the several fintech companies out there that aim to modernize, and really rebrand, the retirement account away from traditional providers like Charles Schwab or Fidelity, or expensive solutions like lawyers and consultants.
"I've started exploring the space, and we realize everyone – like Robinhood to Coinbase – is just spending unsustainable amounts of money to acquire customers, but are making no money themselves and continually sort of need these large funding rounds just to exist," Nagpal said. "I'm actually expecting there to be a very rough 6, 12 or 18 months for fintech companies specifically."
Ocho's twist from competition, he thinks, is in its market focus. "There's so many companies targeting startup founders and their wealth – there's literally a new one launching every month or two all backed by big name VCs, but no one is focused on the business owner that is otherwise doing well but is not a startup founder or a startup employee," he said.
Instead, Ocho is leaning into Nagpal's background of working with creators when he was building Teachable. Teachable helped creators build revenue streams, Ocho wants to help those same creators take their earnings and invest, harvest and scale them in a smart way.
"At Teachable, we helped these people make money online and now there's lots of places for creators, freelancers and entrepreneurs to make money online – but how do we help them think about building wealth?" Nagpal said. The long-term vision for Ocho is to offer products, beyond solo 401(k)s, that help business owners build wealth.
Human Interest is one of Ocho's closest competitors; raising $200 million at a $1 billion valuation last year. Nagpal says that Ocho differentiates itself because its focused more on individuals, freelancers and creators, instead of Human Interest's target of small and medium-sized businesses.
For now, Ocho is charging a flat $199 annual fee to help individuals start their retirement account. It takes about 10 minutes to set up, and 48 hours to get final confirmation.
The big challenge for the startup is getting the right solopreneurs to care about their retirement accounts. Its look for people who have income-generating businesses, but don't have any full-time employees. If you have a side gig alongside your full-time job, you can create a 401(k) just for the side hustle, but can't put full-time income into the retirement account.
Nagpal thinks he can nail early adoption through smart education material and outreach, referring to personal finance trends on TikTok as an example of consumer demand for more information. He says that 40% of the Ocho staff is working on marketing or education, and that the balance will be retained even as the company scales.
If education is so important to getting Ocho to work, one may wonder why it's launching with a fintech product. The answer is simple: deadlines. Users need to make a retirement account by December 31, 2022, if they want one for 2023 – which puts the fintech in a relevant, but time pressed, position.
Nagpal isn't worried about the seasonality of the 401(k) product because of the upcoming product roadmap, which includes the education product, investment flows into the retirement product like being able to invest in startups and ETFs, and even HSAs, often described as a 401(k) for healthcare.
To power that ambitious product spree, Ocho has raised $2.5 million from Nagpal's own venture firm, Vibe Capital. The entrepreneur says that he raised the $60 million debut fund for Vibe Capital with the idea that he would incubate a startup or two out of the firm, which materialized today now that it owns 20% of Ocho.
Nagpal admitted that the idea of a founder using his own venture firm to seed his own startup may appear to be the "mother of all conflicts of interest" but reasoned that it was everything but. He emailed all LPs in his fund about the investment, got a unanimous yes, and ended up raising at a much lower price for the startup than if they had gone out into the fair market. It's still uncommon to see founders sell a company, start a venture firm and then use that same venture firm to seed their next company.
Perhaps the unique connection between Nagpal's first company, to his firm, to his newest startup, could hint at what his approach to personal finance may be: diversify across multiple vehicles, redefine what a supercharged investment could look like, and keep on learning.