Cana Technology raises glass to new capital as it readies beverage printer for market – TechCrunch
Following nearly four years in the prototype phase, Cana Technology is unveiling what it calls the "world's first molecular beverage printer" after securing $30 million in funding from venture foundry The Production Board.
If you're wondering exactly what this might be, it's basically a SodaStream meets a computer printer. The smart connected device is about the size of a toaster, sits on your kitchen counter and can produce an infinite variety of beverages, from juice to coffee to cocktails, by recombining it with water in your home, all from one "printer" cartridge, by using a touch screen.
Here's where the "molecular" technology comes into play: Cana focused on identifying the basic set of ingredients, basically deconstructing beverages to figure out what makes it taste like a certain drink, Lance Kizer, Cana's chief science officer, told TechCrunch.
Once you remove the water, there is a small volume of drink that you are actually consuming, around 5% to 10%, so Cana concentrated those ingredients and loaded them into a cartridge that can hold more than 100 different beverages. The company has partnered with certain brands for drinks and also created their own combinations.
"It is all of the same ingredients that you consume in drinks, so we are not recreating them," Kizer said. "Quality is important, and we are focusing on making beverages in a novel way, and we have now created hundreds of them."
Not only do you have hundreds of drinks at your fingertips, you also can customize them to your taste: add more sugar or less sugar, and for the alcoholic drinks, more or less alcohol. While learning about the device, I was able to try a few of the drinks — cold brew coffee, root beer and a black cherry mojito — and thought the flavors were more bold than their traditional counterparts and the overall taste had a smooth finish.
Each cartridge holds one to three months' worth of beverages, and the device senses when the cartridge is low and automatically reorders. The cartridges are designed to be sent back for recycling, Kizer added
Cana's goal is to rebuild the $2 trillion beverage industry while also saving waste from going into landfills and excessive water being used at the same time. CEO Matt Mahar explained that Cana's prototype would save the typical American household roughly 100 beverage containers per month. At scale, Cana could reduce the use of plastic and glass containers, water waste and the CO2 emissions of the global beverage manufacturing complex by more than 80%.
The new funding is being heavily invested into the supply chain and continued technology development, Mahar said. The company currently has 35 employees, and he expects to double that this year.
Mahar said the company is still working on the device's price point, but that it will be cheaper than retail prices per use. By the end of February, he expected to have full data on both pricing and when people will be able to begin purchasing the device.
Bharat Vasan, president and COO of The Production Board, said the venture foundry has invested in a number of companies in the food space, and says the Cana team was attractive due to their ambitious outlook on technology and the way they combined hardware, software and science in an entirely new way of making something.
To him, Cana's device "feels like the Netflix of beverage experiences," and the same concentration technology used for drinks could be used for a number of other products, like perfume and cosmetics.
"It's about changing the way things are made and shipped out," he said. "Distributed manufacturing is made in one place and then shipped out to retailers. Now there is a different system of delivery that is directly to your house that can bypass supply chain constraints. The beverage printer is one manifestation."
Better together: Offsetting cybersecurity's labor challenges with API integrations
The labor challenges afflicting cybersecurity teams far and wide are no secret. A razor-tight hiring market coupled with surging demand and an accelerating threat landscape has created a perfect storm of complexity, resulting in a widening skills gap that is driving higher levels of burnout and human error across the sector. In fact, Verizon's independently commissioned 2022 Data Breach Investigations Report found that 82% of breaches today involve some degree of human error. Whether it's an unsuspecting end user or a bleary-eyed analyst, the vulnerabilities caused by cognitive overload shouldn't be overlooked.  
Take the recent high-profile Uber data breach. A malicious actor, posing as an internal IT administrator, used digital collaboration channels to trick an Uber employee into giving up their VPN credentials, leading to a total compromise of the rideshare giant's network infrastructure. The breach exemplified the consequences of a social engineering attack targeting the always-on hybrid workforce. And with the rate of such attacks accelerating in volume and velocity, it's clear that more visibility of these threats is needed for security teams to effectively remediate them.
Many organizations are investing in a plethora of new, best-in-class security products in response to staffing shortages. However, reactive patchwork spending on the industry's latest niche products shouldn't be viewed as the answer, as the tool sprawl often creates additional complexity that hurts organizations more than it helps. Enterprises, on average, have 60 to 80 different security monitoring tools in their portfolio, many of which go unused, underutilized or forgotten. Forcing security teams to master a myriad of tools, consoles and workflows shifts priorities from managing risk to managing technology.
An integrated cybersecurity framework
The companies best positioned to offset cybersecurity's labor challenges are those adopting best-of-breed security tools and platforms that offer a deep library of API and third-party integrations. Above all, an integrated framework empowers organizations to effectively navigate their unique environments by consolidating tools and reducing human error through the following three processes:
Event
Intelligent Security Summit
Learn the critical role of AI & ML in cybersecurity and industry specific case studies on December 8. Register for your free pass today.
Improved protection via security intelligence and threat sharing: This enables rapid recognition and response to incoming threats via machine learning analytics tools, strengthening a human analyst's ability to formulate swift and comprehensive cyberdefense measures.
Improved efficiency via automation: This enables offloading of repetitive and mundane manual tasks to AI-enabled tools, streamlining human workflows by accelerating and improving key facets of incident response and vulnerability management.
Improved prevention via sharing and consolidating tool data: This enables complete, real-time visibility into an organization's entire security environment to promote the creation of targeted alerts that uncover unknown threats.
In collaborating with a wider range of security vendors, organizations leveraging API integrations benefit from the combined knowledge of all integrated platforms to greatly improve overall security posture. The extensive access to timely threat intelligence allows security teams to align prevention, investigation and response plans across multiple security controls, as well as increase the speed of their detection and remediation efforts.
Amid the widespread adoption of cloud-based hybrid work environments, it's increasingly clear that organizational security architectures must consist of scalable, tightly integrated solutions that combine the right balance of automated prevention, detection and response capabilities to effectively protect data across its lifecycle.
Enhancing detection and increasing cybersecurity efficacy
An open API integration framework is the embodiment of unlocking strength in numbers. It stitches together the critical functions and processes performed by foundational security tools — email security, endpoint security, web security, NDR, data security — into a single meshed framework that operates in unison and shares centralized threat intelligence data across its ecosystem. By connecting all the pieces of the puzzle, organizations gain the resources to enhance their prevention and detection capabilities in complex environments.
In one scenario, an API framework could enable automated processes to continuously flow between an email gateway and security service edge (SSE) to corresponding SIEM/XDR systems. This would allow security teams to share rich logging, metadata, indicators of compromise, malicious URLs, user activity, data movement and machine learning analytics in real time. The AI-powered SIEM platform automates the analysis of that threat data, sifting through the noise to generate actionable alerts with contextual information for security teams. Meanwhile, the real-time contextual insights provide simplified guidance for analysts to alleviate potential threats and, if needed, formulate a swift response to an attack.
With access to a wider range of threat data touchpoints, cybersecurity teams can also create customized scripts within the overarching API library. This gives them "targeted capabilities" that more directly align with their specific needs and skillsets. For instance, the team could create a script that simultaneously analyzes email security logs from Vendor A, data protection logs from Vendor B, web security click logs from Vendor C, and spam filter logs from Vendor D, based on which intel is most relevant to their specific use case. Filtering the exceedingly high volumes of incoming alerts enhances the efficiency of the entire team, empowering analysts to identify needles in the haystack by prioritizing the right alerts at the right times for maximized protection.
Automating manual processes and workflows
Despite the growing number of innovative, best-in-class products available on the market today, it's important to remember that a multi-vector social engineering attack is exceedingly difficult for hybrid security teams to combat regardless of the tools in their stack. Quick and agile responses are non-negotiable in these situations, but with resources stretched thin and employees working from multiple locations, executing swift corrective action free of human error is easier said than done. Even the most experienced and skilled security teams are susceptible to mistakes while trying to remediate an attack. Therefore, identifying how to automate well-defined processes wherever possible is imperative for tightening these response durations and ensuring security teams can remediate quickly and effectively.
With access to an open API library, organizations can integrate the capabilities of additional AI/ML security tools into their existing security architecture to automate the repetitive steps of protection, detection, response, mitigation and intelligence sharing. Whether it's informing an endpoint security provider of an emerging alert, or securely moving data from one storage solution to another, API-driven automation can handle the routine, error-prone tasks cybersecurity teams perform every day. Streamlining these otherwise human-centric workflows allows overstretched analysts to instead focus on more critical threat assessments requiring extensive time and attention. That, on a macro level, strengthens the security posture of the greater organization.
There's no magic bullet that will completely reverse cybersecurity's labor challenges in the immediate future. But there are proactive steps organizations can take now to provide the critical support their security teams need today. For effectively navigating a complex threat landscape, there's no better place to start than with the applied adoption of a deep API integration framework.
After all, cybersecurity is a team sport. Why defend alone when you can defend together? 
Joseph Tibbetts is senior director for tech alliances and API at Mimecast.
This Top-Rated PDF Solution Is 66% Off Now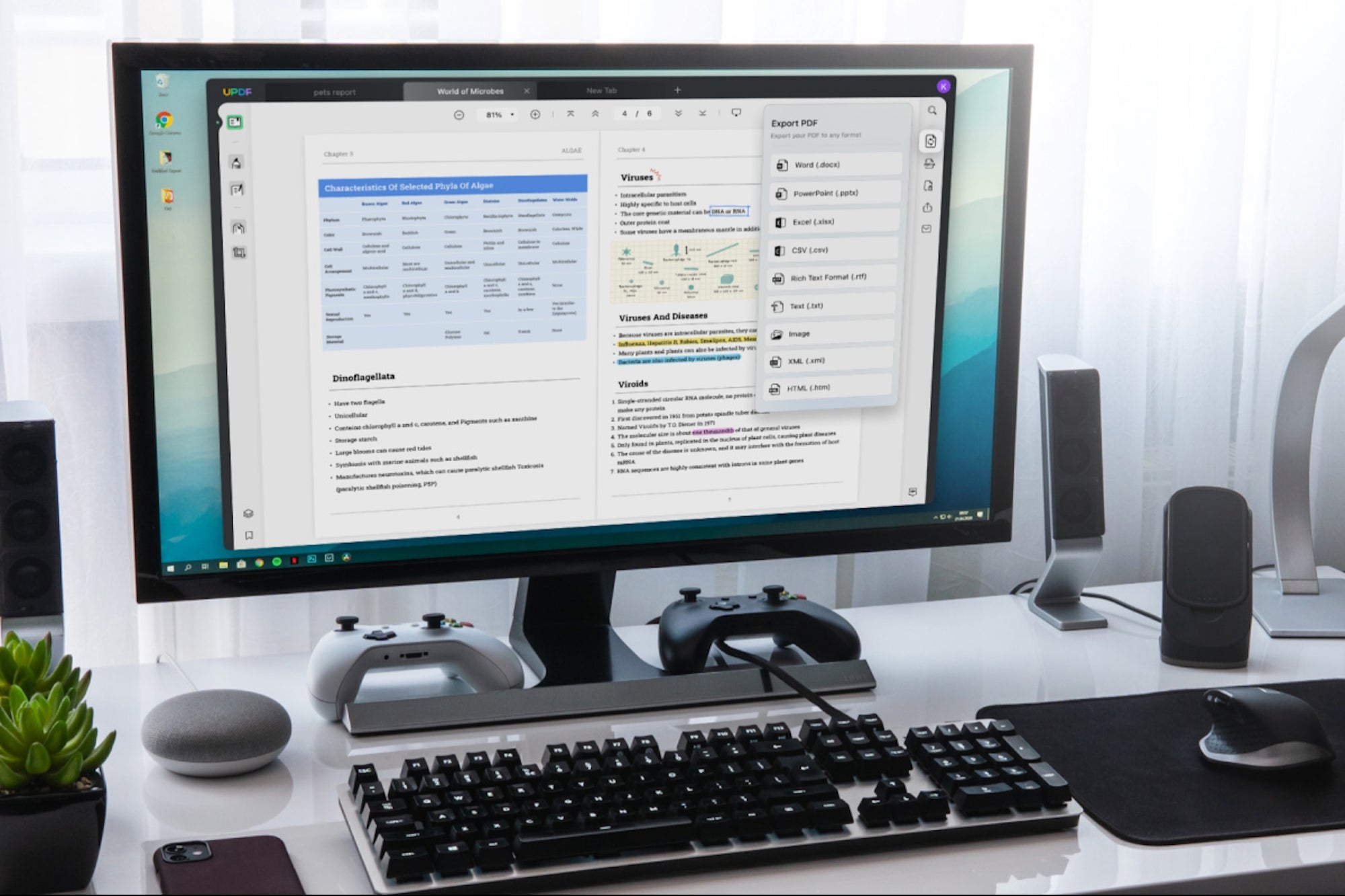 Opinions expressed by Entrepreneur contributors are their own.
Paper has made its way largely out of business, but that doesn't mean you don't still work with documents regularly. Instead, we're just working with them differently: with the dreaded PDF. These static files can be great if you're positive that a document is ready, but a serious nightmare when you have to make changes. When you're working with a lot of PDFs, you need a quality digital solution.
We've got a deal you'll like. For a limited time, you can get a lifetime subscription to UPDF Pro for 66% off.
UPDF Pro is one of the top-rated PDF solutions on the market. Geeky Gadget writes, "UPDF is a potent PDF editor and PDF converter designed to stay up with advanced technologies. It ensures that whichever features you use are up to date. UPDF not only converts PDF to Word but can perform many advanced editing." Fossbytes adds, "UPDF doesn't have a boring interface like other PDF software. The design is stunning and eye-catching. On top of it, it is convenient to use. You wouldn't be bothered with a complex design that is very time-consuming."
These are just the tip of the iceberg of positive reviews for this all-in-one PDF solution for individuals and businesses. With it, you can edit any PDF document across Windows, Mac, iOS, and Android devices, adding or deleting text, editing fonts and color, and much more. The tool allows you to add, crop, rotate, replace, extract or delete images, watermark documents, and password-protect them for elevated confidentiality. You can also easily annotate PDFs, highlight, underline, or strike out text, add shapes and notes, and much more. Finally, it's even easy to convert any PDF to Word, Excel, PowerPoint, and a ton of other file types in just a click.
Working with PDFs has never been easier than with a lifetime subscription to UPDF Pro. Grab it on sale for 66% off $149 at just $49.99, the best price you'll find online.
Prices subject to change.
Using data to boost event ROI
Events are essential to any marketing strategy. Because they have the power to bring people together, events offer a unique opportunity to engage and deeply connect with a target audience while enriching a sales pipeline for the business. 
During the pandemic, events went through a transformation. In addition to navigating drastic changes to how and where we met, event experience leaders employed new technologies to facilitate connections. In so doing, they learned more about improving event experiences for all attendees, speakers and sponsors. The most significant change to events: Technological advancements enable event organizers to act on data insights before, during and after an event to optimize outcomes.
As we enter a new era of events, it's more critical than ever to know how to capture the right data — and use it meaningfully. According to a recent survey of more than 200 event organizers, 85% plan to host at least three in-person events in 2023, with 35% planning to host at least 10. The opportunity is ripe to unleash the power of event data to maximize business impact. 
In-person events, reimagined with better data 
With event professionals producing in-person events again, they bring the lessons learned from more than two years of constant upheaval and technological transformation. Event experience leaders at all organizations are tackling the "event impact gap": The disparity between event organizers' aspirations to produce impactful experiences and their ability to execute those goals with available technology.
Event
Intelligent Security Summit
Learn the critical role of AI & ML in cybersecurity and industry specific case studies on December 8. Register for your free pass today.
While the role of event organizer has been evolving for many years, the pandemic quickly accelerated the change. In addition to planning and logistics expertise, event organizers now bring a host of other skills to the table: data analysis, marketing operations and digital production. But even with their enhanced skillsets, organizers continue to wrestle with outdated event software that keeps them from accessing and activating their data. That obstacle hinders organizers' ability to design and execute personalized experiences and truly connect with their audiences. 
Better data activation empowers marketers to personalize outreach and drive engagement at scale, incorporating events deeper into their demand generation strategies. This fosters attendee engagement, driving increased revenue and ROI. 
Leveraging data to accelerate pipeline
In-person events possess enormous data potential waiting to be unlocked. Events stand out as a prime opportunity to understand how your target audience behaves, where their interests lie and what engages them deeply. When you're onsite, you have an unparalleled window into the content, peers and exhibitors that appeal to your audience and how the audience is connecting to your brand. These insights inform both your future event strategy and your broader marketing strategy.
Use data to engage attendees
It's one thing to decide what data to collect and another to be strategic about what you'll do with the data. Event organizers' experience executing virtual events showed that having access to data is half the battle. The real value of your data lies in your ability to turn it into something actionable and use it to your advantage. How do you bring the behavioral and engagement data you collect into the extended marketing fold? You need technology that enables your teams to use your data instantly and easily to personalize post-event content and communications. 
With the knowledge of whom an attendee interacted with, the sessions they liked and the type of content they downloaded, you'll craft more effective outreach. This extends the value of your event for your attendees and your demand generation efforts. Rather than sending the same message to every attendee, with their name appended to the beginning of an email, you can use data to rouse your attendees' interests and keep them meaningfully engaged. 
Understanding how engagement translates to leads  
The same data you use to customize an attendee's event experience can enrich and accelerate your sales pipeline. By capturing insights into attendee activity — the polls attendees participated in, the sessions they checked into and the exhibitors they spent time with — you can use robust event experience technology to assign engagement scores to each attendee. From there, you can segment attendees by their levels of engagement and personalize your post-event follow-up.
In addition, equipping sales teams with the data needed to prioritize the most engaged leads lets them focus their time and efforts on maximizing conversion success. And because of the rich data you've collected about each attendee, sales teams can discern whether a correlation exists between an attendee's high engagement levels and their likelihood of becoming an opportunity, enabling better future strategies.
Using data-enabling technology to refine experiences
Data-enhanced experimentation isn't limited to your sales team. Events of all formats offer ample opportunities to experiment, iterate and improve experiences and business outcomes — before, during and after an event. 
Ensure you collect data corresponding with your event format. For instance, an in-person event with a virtual component requires data collection strategies for both audiences. Customize questions to speak to the distinct experiences of virtual and in-person attendees. And use event software that supports audience engagement measurement both on the floor and through the screen.
Maximize the value of behavioral data 
Use registrants' behavioral data to build personalized session tracks and networking opportunities. Collecting behavioral data at in-person events can feel daunting compared to virtual events, but it doesn't have to. Event experience leaders are leveraging new solutions like wearable technology to gain insights.
Today's wearable event technology has the power to offer attendees more personalized networking and session experiences while simultaneously giving organizers unmatched data capture. Your budget may not permit wristbands, high-tech badges and other wearables as must-haves for every event, but they function as a powerful data source. When attendees wear these devices, they automatically provide information to help you optimize future events. Depending on the technology you employ, you'll gain: 
Advanced analytics, such as dwell time.
Records of touchless contact exchanges.
Event gamification for attendees.
Lead collection for sponsors.
Integrated tracking and reminders for session check-ins.
The behavioral data you collect, combined with pre- and post-event surveys, deepens event insights and facilitates more personalized opportunities for attendees, speakers and sponsors. 
Experiment and follow the data 
Data empowers event experience leaders to test new ideas and follow where the data leads. 
Experimentation can apply to anything from registration forms and email marketing subject lines to in-session polling strategies and other event messaging. Start small, and choose three to five key metrics to test based on past event data. Once you put an experiment out into the world, evaluate the results. Then plan for your next experiment based on what you learned and pivot your event strategies as needed to keep refining your efforts. 
Data maturity powers advanced insights 
Actionable data not only enables better event experiences, it also empowers CMOs and marketing leaders to demonstrate the impact of events. Prioritizing a data maturity model ensures you can effectively communicate the value of your event experience program to all stakeholders, especially as organizations navigate economic uncertainty. Rather than evaluating data in a vacuum, a data maturity model connects each event touchpoint, providing insights that allow you to align event strategy against key success metrics.
Four steps comprise data maturity: 
Data capture: Accessing your data is the first tactic. Your organization needs the ability to gather data holistically, including granular information like session attendance and demographics. 
Data integration: Connecting the data you capture to your business systems enables you to take action in the future. 
Data utilization: Use the integrated data to offer the audience more valuable event experiences. Identify and curate precise data points to help achieve personalized experience goals, such as customized communications, to help increase conversion and attendance rates. 
Data translation: Take what you've learned from past events and act. Using actionable data insights from past events to inform decision-making results in a virtuous cycle, constantly renewing and improving event experiences.  
When you can access, integrate and activate your event data, your teams will maximize ROI by optimizing the attendee experience, driving lead generation and contributing to overall marketing goals in measurable ways.
Attendee expectations continue to evolve, and rather than trying to return to business as usual, event experience leaders must leverage data to direct and inform event decisions. There's never been a more exciting time to collect onsite and virtual data, experiment and iterate on data findings, personalize event experiences and take your sales pipeline to the next level. 
Alon Alroy is CMO and cofounder of Bizzabo.