Best Set 6 TFT 12.2 comps to climb with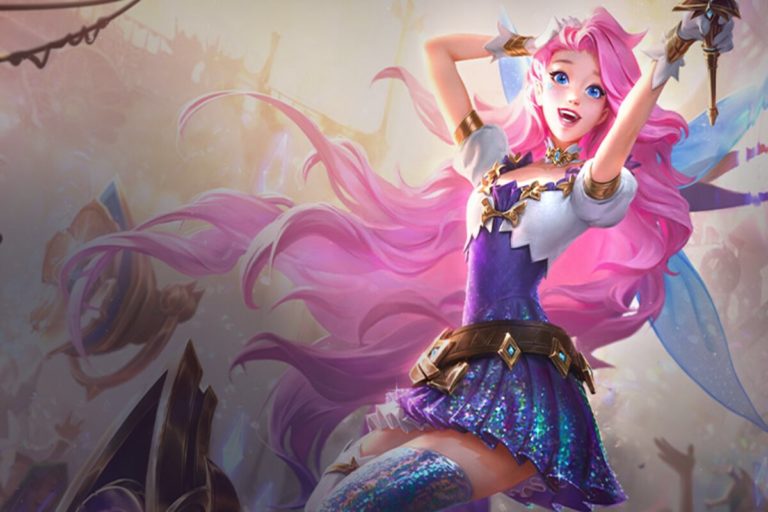 Balance changes made within the Teamfight Tactics 12.2 update left several comps at top-tier status while creating room for new ones to emerge. 
Patch 12.2 applied slight nerfs to Talon and Shaco with little to no effect on their playability within Syndicate and Imperial comps with Assassins. Attack damage comps continue to reign supreme with Ability power builds taking a back seat. Hextech trait Augments continue to improve within Patch 12.2, providing several builds the power needed to succeed. Melee Jayce was slightly buffed, making the five-cost a solid late-game addition, while Chemtech Urgot with a solid secondary carrier continues to hold down its S-tier status. 
From Imperial Swain reroll to the Fiora and Yone Challenger build, here are the best TFT Patch 12.2 meta comps according to bunnymuffins, wrainbash, and results from the NA Zaun Cup. 
Chemtech Urgot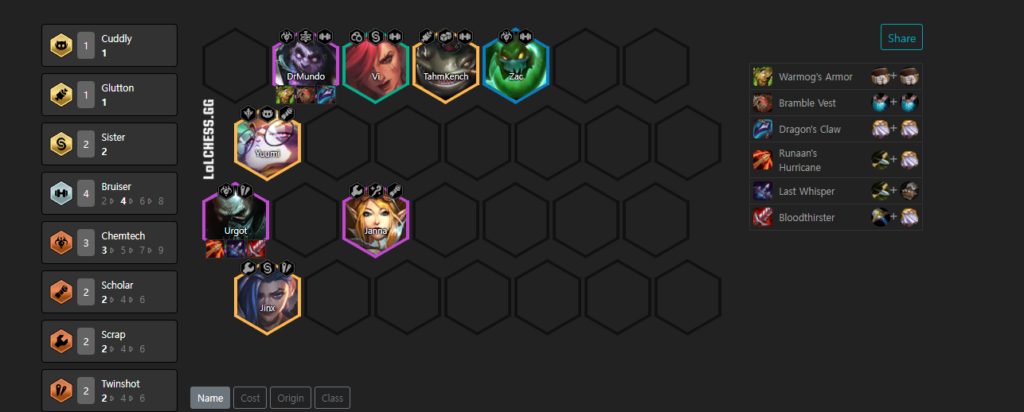 The Chemtech Urgot TFT comp continues to rank at S-tier status, but it isn't a guaranteed win within the 12.2 meta. Urgot needs a strong frontline to protect him and the build requires a solid secondary carry, else it might place within the bottom four. Urgot still pumps out damage with items like Runaan's Hurricane and Last Whisper, leaving some flexibility for a third item that depends on the lobby meta. 
Strong secondary carriers are typically Dr. Mundo and Jinx as a five-star late-game addition. Lissandra is a solid carrier that can hold for Jinx, providing the most damage when equipped with Morellonomicon. Dr. Mundo wants defensive items like Warmog's Armor and Bramble Vest while Jinx can use support items like Quicksilver and Hand of Justice. Trait Augments for Bruiser and Chemtech traits are ideal, along with Item Grab Bag and Knife's Edge. 
Assassin comps (Shaco and Talon)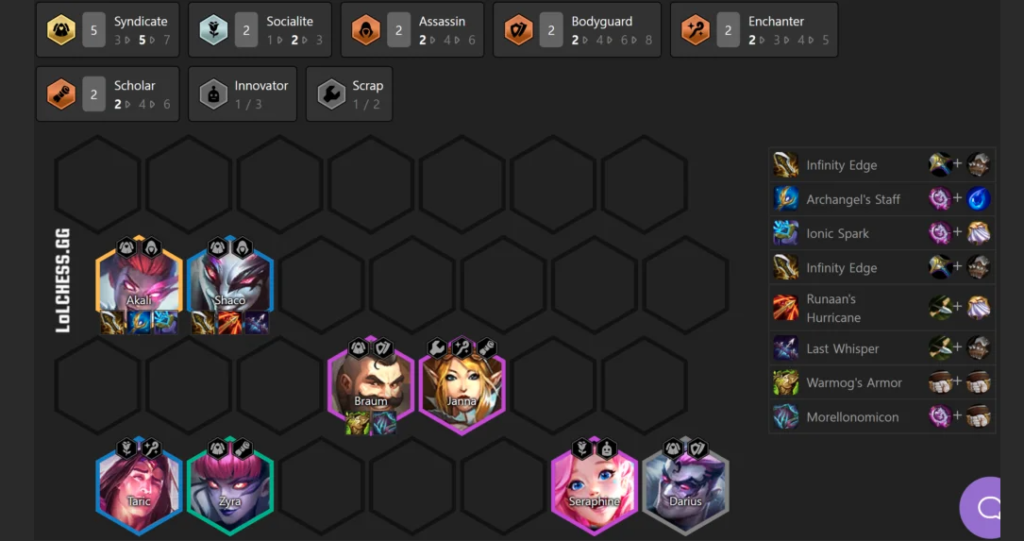 Assassin comps are on the rise with Shaco and Talon reroll sharing the spotlight. Syndicate Shaco works best with five Syndicate and four Assassin but can still perform well with two Assassin. Ideal items on Shaco as the main carrier are Infinity Edge, Runaan's Hurricane, and Last Whisper in conjunction with Hextech Augments like Knife's Edge. 
The Bodyguard trait provides a strong frontline with CC via Braum as a secondary carrier with Defensive items. And Adding Akali during the late game helps improve the comp towards a top-two finish. Hextech Augments to look for include Syndicate and Assassin Augment traits, along with Binary Airdrop and Knife's Edge.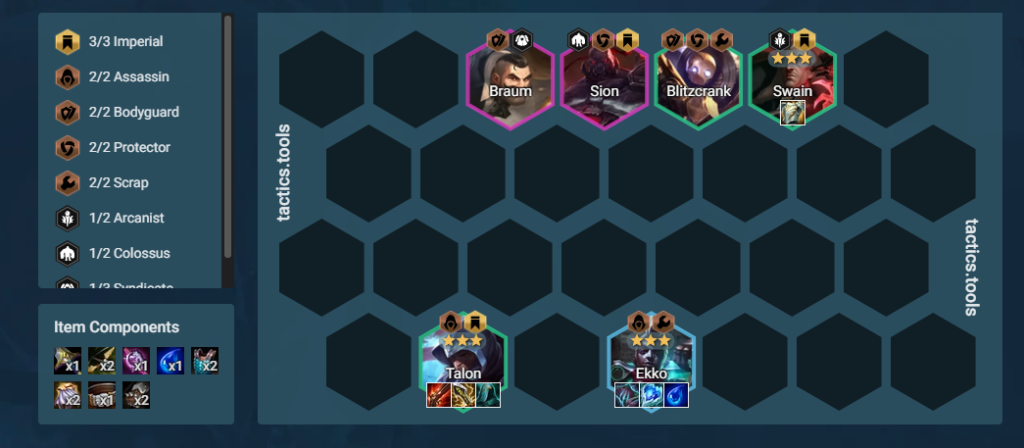 Talon Assassin is the best reroll TFT comp at the moment, supported by five Imperial and two Assassin. Ideal items on Talon are Rapid Firecannon and Infinity Edge. The third slot can work with Quicksilver or Hand of Justice depending on the lobby meta. Sion is a solid frontline choice, equipped with defensive items, along with Ekko as the third carrier. 
Swain Imperial reroll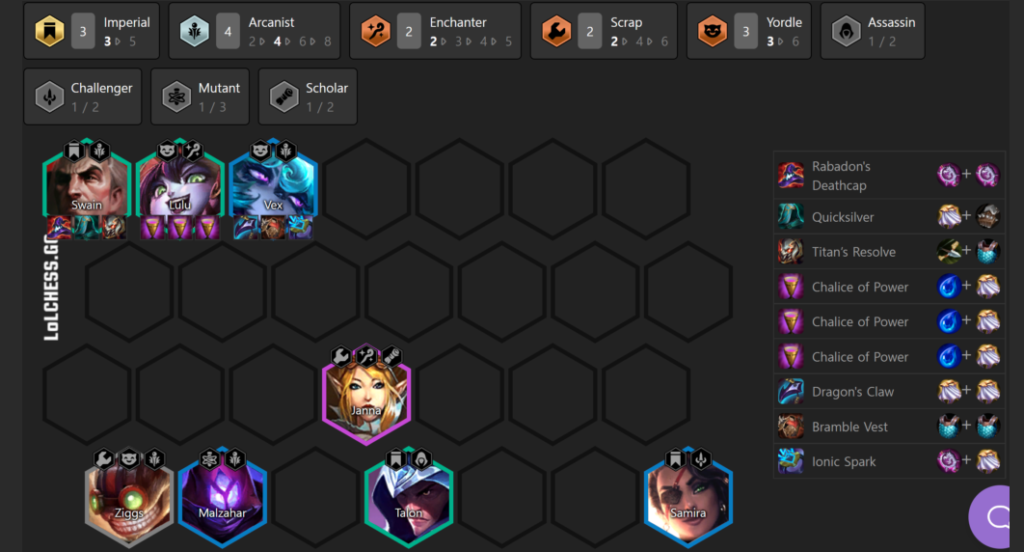 Swain is a solid secondary carry within an Assassin reroll build that can also thrive as a TFT reroll comp on his own when Talon and Assassin units are contested. The Noxian general needs a Deathcap on him to truly pop off and is best when supported with four Arcanist and two Enchanter units. Swain needs an abundance of AP power, provided via Chalice of Power, and Quicksilver helps keep the general pumping out damage. 
Fiora and Yone Challenger

The Yone and Fiora Challenger build popped off during the TFT Zaun Cup, earning multiple first-place lobby finishes. Fiora is a strong carry best equipped with an Academy emblem, Bloodthirster, and Guardian Angel. Yone's best-in-slot items are Runaan's Hurricane, Last Whisper, and Quicksilver. 
Four Challenger units in conjunction with two Bodyguard units on the frontline and two Enforcer Set Six champions during the late game stages are ideal for placing within the top four of a lobby. Defensive items should go on Braum. Running six Challenger is possible is preferred. 
Hextech Augments that support the Challenger TFT comp are Knife's Edge, Binary Airdrop, Thrill of the Hunt, and Celestial Blessing. A late-game Kai'Sa with Morellonomicon can also help tear through healing from an opponent's team. 
Seven Innovator Jayce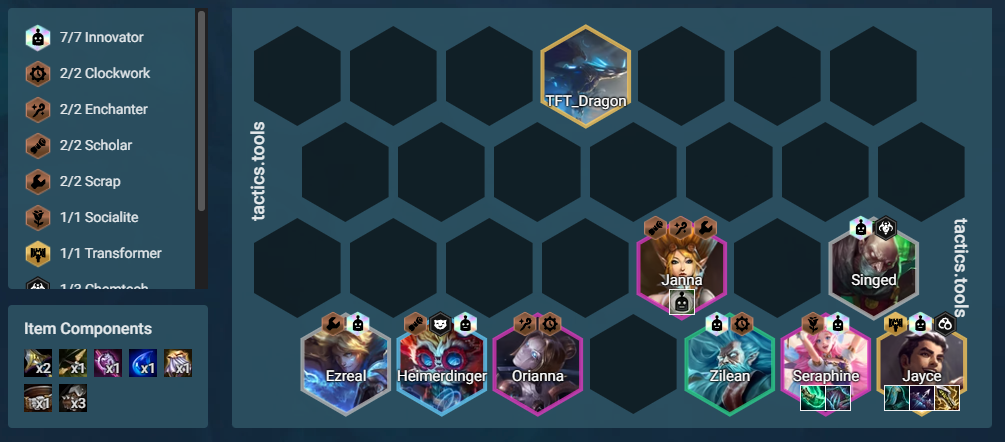 Rising to S-tier status during the TFT Zaun Cup was Seven Innovator with Jayce as the main carrier, possible with Hextech Augments Innovator Heart and Soul. Jayce can shred through an opponent's team with items like Last Whisper, Infinity Edge, and Giant Slayer. Orianna is the secondary carry, supporting the team via Chalice of Power. Other ideal items on the four-cost support unit are Archangel's Staff and Statikk Shiv. 
Seraphine and Heimerdinger are solid third carriers. A Morellonomicon on Seraphine will help burn through an opponent's team while providing healing to your own board, and Heimerdinger with a Blue Buff and Deathcap can output a significant amount of damage. 
OpTic Texas Forfeits First CDL Series As Tempers Flare
It was a season debut like no other, and owing to some memorable and somewhat tragic moments, it's one that won't be forgotten for a while. For OpTic Texas, it was a heartbreaking season opener, with a complex and (in the eyes of some) potentially malicious situation bringing about the decision to forfeit the fixture against Minnesota Rokkr. It doesn't matter if you're blaming the stability of the game or the decisions of Rokkr's Cammy, it's a sour situation all-round.
In the closing seconds of the third-round match, a Control on El Asilo, Cammy summoned an SAE – a GA'd killstreak. There's a known bug concerning the SAE at present, and it causes the player to freeze in place upon kicking it off, and that's exactly what happened. There were single-digit seconds left in the game when Cammy called it in and owing to the bug surfacing, the COD League rules determined that the entire round should be replayed.
At that point, OpTic Texas had already won the round.
Controversial, To Say The Least
There are several key pieces of information to take away from this situation. Firstly, given that the SAE killstreak is GA'd, Cammy shouldn't have been running it in the first place. Furthermore, as a top-tier professional competitor, he should have recognised what it was that he was about to deploy, as the in-game menu does allow for a preview. Unfortunately, owing to limitations in the Modern Warfare II platform, once Cammy had set the SAE up, he couldn't remove it again.
For now, there are arguments hailing from all sides of the debate. There is the party that believes Cammy was playing maliciously, deliberately using the SAE to trigger the bug and force a replay, especially considering there was no way that Rokkr could have won at that moment, and triggering the bug did bring a replay order around. There's another party that believes it's an unfortunate series of events made up of several mistakes and shortcomings of the platform.
Fortunately, Cammy was on hand after the match to explain the situation from his perspective:
A Question of Competitive Integrity
This situation has cast a dark cloud around day one of the new season, and it's clear that this will be a year riddled with drama. It could have ended several different ways, but unfortunately, it went the most miserable way imaginable. For instance, OpTic Texas could have agreed to the replay and won the round again, or Rokkr could have respectfully forfeited the map or match owing to the use of the GA'd killstreak, mistake or not.
In actual fact, what has now happened is that Minnesota Rokkr fought tooth and nail for a replay, alienated a portion of its fanbase, and sent OpTic Texas off in a rage. This was easily the juiciest event to come out of the launch of the 2023 season, and it easily overshadowed the fact that Atlanta FaZe lost 1 – 3 to Boston Breach. As the memes targeting the OpTic Texas forfeit situation rolled in thick and fast, the Call of Duty community was sent reeling by what could just be called the latest in a long line of mishaps.
This is going to be a busy year – will Scump have his happily ever after as he heads toward retirement?
---
For more Esports.net Call of Duty news, check out our report on the League streaming exclusively on Twitch in 2023.
Astralis announces new LEC 2023 roster
Another LoL news was introduced as the European League of Legends team, Astralis, has announced its roster for the upcoming LEC season. While keeping mid laner Dajor and the bot lane duo Kobbe and Jeonghoon within the organization, Astralis also acquired Finn from EXCEL and 113 from Karmine Corp.
Ready for the new season
One of the most famous esports organizations especially in the western world, Astralis never had great success in League of Legends. Unlike its success in different gaming titles, Astralis failed to achieve anything worthy in LEC. The team placed ninth in LEC 2021 Spring, 7-8th in LEC 2021 Summer, tenth in LEC 2022 Spring, and lastly, ninth in LEC 2022 Summer.
Despite the disappointing result of the last split, Astralis decided to keep its core within the organization and make a change for the top side of the map. Last split, Vizicsacsi and Xerxe were the top laner and jungler of the lineup but Finn and 113 will replace them in the upcoming LEC season.
As mentioned, Finn will take on the top laner responsibility. The Swedish player started playing professionally under the Magistra roof and player for nine different teams before signing a contract with Rogue to compete at LEC. He attended Worlds 2022 with his team and then signed with Counter Logic Gaming. After a year in North America, Finn made his return to Europe with EXCEL. This year, he will be a part of the Astralis roster.
The new jungler of the organization is the young Turkish player 113. He started career in Turkey, with SuperMassive Academy. After his success with the team and insane solo queue performance, 113 was acquired by Giants Gaming. He spent the last season with Karmine Corp with names like Cabochard and Rekkles and won the EU Masters 2022 Spring Trophy. He recently parted ways with the organization to join Astralis.
The original core remains
Other than the top side of the map, rest of the 2022 Summer Split roster will remain within the organization. The German mid laner Dajor, Danish marksman Kobbe and South Korean support Jeonghoon are going to stick with the team. Looking at the roster from last year, only Vizicsacsi and Xerxe are not going to be a part of the team. Dajor, Kobbe, and Jeonghoon had decent individual performances last year but they failed to show it as a team. Astralis lacked chemistry last year and that is why they failed to qualify for playoffs.
On another note, the organization has not made it to the playoff stages since it was founded. Astralis' success in the European LoL esports world is surely not optimal. However, the organization still tries to form the best roster combining talented players to succeed in the region.
The new Astralis roster will compete against some of the best LoL players as the competition in Europe is pretty tough. With the combination of youngsters and experienced players, Astralis might be a real threat if they can build the chemistry needed. All of the players are very talented on an individual level but their communication and chemistry will decide their performance in the ucpoming LEC season.
Almost caught the captain: KuroKy to lead Nigma in 2023 DPC despite retirement rumors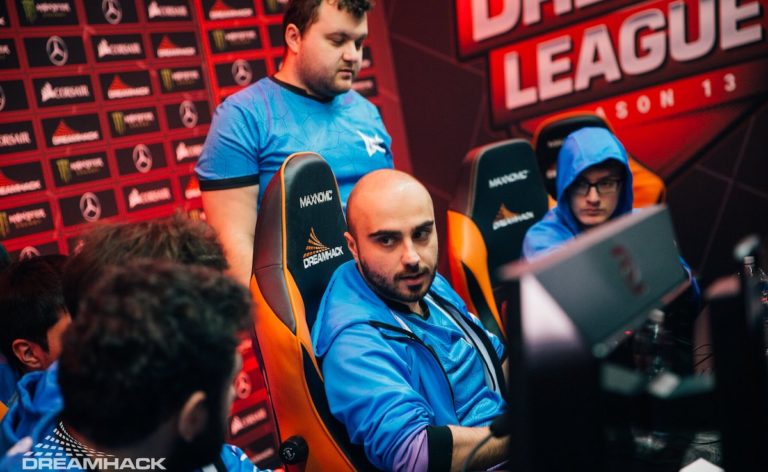 Nigma Galaxy spent the last Dota Pro Circuit season away from the spotlight in the second division of Western European DPC. Despite making it back to the first division, the team's future has been rather foggy; that fog has started to dissolve as the team announced KuroKy will remain at the helm.
Rumors surrounding KuroKy's retirement started to pop up after The International 2022 as the team had been silent for a while. Though Nigma hasn't officially confirmed the rest of its Dota 2 roster, the organization has been hinting that the majority of the roster could stick together for the 2023 DPC season.
At the time of writing, KuroKy is the only confirmed Nigma player for next season. However, Nigma has been posting content that could be seen as a verification for four other members. GH was featured in a YouTube video in early November where he addressed the rumors surrounding the Nigma roster. The position four player said that "everything was fine with the team."
Another social media post by Nigma featured SumaiL and Miracle- shaking hands, meaning four members of the team were confirmed in various ways, only leaving Mind_Control in the dark. Nigma's offlaner has been missing since the roster shuffle season began.
The only official roster change for the team is in the Coach position as rmN- was replaced by ImmortalFaith, formerly of Gaimin Gladiators. Given Nigma's hiatus from the highest level of the competition, a coach with recent TI experience is likely to become one of their greatest strengths in the upcoming season.