Analysing Team Liquid's MMO moves by acquiring Limit Guild
International esports organisation Team Liquid has announced its acquisition of MMORPG raiding guild Limit Guild.
The acquisition rebrands Limit Guild, most famous for its World of Warcraft (WoW) raids, under the Liquid banner, becoming Liquid Guild and installs a new vertical in Team Liquid's esports rosters — Liquid MMO. The new division will position the org into MMORPG titles such as WoW, Final Fantasy XIV Online as well as Riot Games' upcoming MMO title.
RELATED: Microsoft agrees to acquire Activision Blizzard for $68.7bn
According to a release, Guild Leader Max 'Maximum' Smith has received an equity position in Team Liquid and will become a minority owner. As such, he will oversee the organisation's present and future MMO efforts. Smith joins other recently announced Team Liquid athletes and creators in the organisation's co-ownership structure.
"When Team Liquid enters a new space, we do so intending to be the best," said Steve Arhancet, Co-CEO of Team Liquid in a release. "We maintained that philosophy with MMOs — wanting to work with the best to achieve competitive greatness.
"With Max [Smith] and Limit, we found not only an excellent team with a proven track record, but an authentic group of individuals who pursue greatness with integrity, aligning perfectly with Team Liquid's values as an organisation."
Limit Guild's 40+ person operation joins Team Liquid as athletes, coaches and staff of the newly formed Liquid MMO. The organisation will host and broadcast an in-person LAN operation as the guild looks to reclaim its World First glory by attempting Mythic Sepulcher of the First Ones.
RELATED: World of Warcraft esports in 2021: Does it have a future?
For those unfamiliar, WoW's Race to World First (RWF) competition is a bi-annual event showcasing the game's top-tier guilds, or player organisations, as they compete to be the first to complete the newest instalment of endgame content: Mythic Dungeons. The first guild to succeed is awarded the global 'World First' in-game achievement.
Rather than the strictly PVP nature of the majority of esports competitions, RWF is a unique blend of highly coordinated multiplayer speed-run attempts combined with a simultaneous race to compete the same achievement.
Leading up to the competition, guilds spend countless hours workshopping and fine-tuning complex raids attempts, some of which stream the progress on platforms like Twitch to massive audiences. This unlocks the potential to offer sponsors air-time activations and provide fans with behind-the-scenes live content on how top-tier guilds coordinate.
"Couldn't be happier to join Team Liquid," commented Guild Leader Smith. "From the start, everyone at TL impressed us with their professionalism, their commitment to winning, their global presence and vision for expansion in MMOs. They've entrusted me with minority ownership of the company, a huge honour and responsibility I won't take for granted."
This isn't the first time an esports organisation has dipped into the MMO space. In October 2019, the former Limit Guild joined North American organisation Complexity, competing as Complexity Limit. The guild brought the World First title back home to NA for the first time since 2012 with February 2020's clear of Mythic Ny'alotha, followed by December 2020's clear Mythic Castle Nathria.
RELATED: Complexity Gaming launches Complexity Stars celebrity division
Complexity Limit relinquished its World First title in July 2021's raid of Mythic Sanctum of Domination to the rival Echo Guild. In December 2021, Limit and Complexity parted ways.  Fans speculated whether Team Liquid, Cloud9 or 100 Thieves would pick up where Complexity left off, as seen in a teaser video on Smith's Twitter.
"As someone with a history in this genre, it's amazing to see Liquid MMO finally take flight," said Mike Milanov, Chief Business Development Officer for Team Liquid. "We have been evaluating this for many months from a brand, commercial and athletic perspective. 
"Bringing on board Max [Smith] and team involved a sizable long term investment into a whole new ecosystem for Liquid and we are excited to grow this venture as we race for world firsts in World of Warcraft and new titles on the horizon."
Distinct from the organisation's LVTH-N tactical shooter banner and LQD clothing range — Liquid MMO has set itself to lean more into its fantasy roots, perhaps as a homage to its Lord of The Rings-inspired identity. Detailed in the release, Liquid MMO's visual identity and design philosophy is 'inspired by fantasy worlds, incorporating elements that might be found in the skylights of The Crystarium or on the gates of Silvermoon.'
RELATED: Team Liquid and Coinbase strike four year partnership
With Claire Hungate's appointment as Team Liquid's President and COO last September, the organisation has taken a vocal stance on its diversity, equity, inclusion, belonging, accessibility, and justice values, as Hungate shared during a panel at ESI London 2021 in November.
In the release, Hungate commented: "Team Liquid places a high premium on diversity, equity, inclusion, belonging and justice in the esports and gaming space, and we're going to apply those values throughout Liquid MMO.
"We have a tremendous opportunity to elevate marginalized voices by creating safer, more empathetic communities within the MMOs we enter. It's a priority for Team Liquid to lay the groundwork for more women to earn top flight competitive opportunities, and at the very least, play in a space free from harassment and toxicity."
Limit's Azorea was announced as Liquid MMO General Manager and will 'spearhead the creation of an advisory council of women in the space, aimed at developing resources and strategies that enable more women to grow as expert players'.
As part of her role, Azorea will help Team Liquid 'identify cutting edge raiding guilds led by women to shine a light on their communities, offer mentorship and create safer spaces for women to thrive'.
"I have always been passionate about diversity and inclusion in the Warcraft community," said Azorea. "It's so exciting to now have the opportunity and resources to make a significant impact in a space that means so much to me!"
Esports Insider says: Coming off the heels of Microsoft's intent to acquire Activision-Blizzard, the mergers and consolidation of the industry we predicted in our end-of-year ESI Digest episode seem to be coming to a head rapidly. Team Liquid moving into MMOs is an incredible blue ocean opportunity for not only the organisation but the development and awareness of MMO esports. Interestingly enough, RWF is an un-sanctioned competition, meaning that publisher Blizzard isn't involved in its operation at any level, which stands to reason that there's an untapped potential for esports infrastructure to move into the space if Team Liquid can find success.
PS Plus Games For December Announced
The PlayStation Plus (PS Plus) games for December 2022 have been announced, and it's a nice mix of offerings that include action and role-playing games. Mass Effect: Legendary, Biomutant, and Divine Knockout: Founder's edition.
The Mass Effect titles are some of the most beloved in video history, Biomutant is a great RPG alternative set in a post-apocalyptic world, and Divine Knockout is an entirely new title that's being launched through the PS Plus service.
1. Mass Effect: Legendary
The original Mass Effect trilogy is considered one of the greatest trilogies in the seventh generation of video games, and the Mass Effect: Legendary edition repackages all of them in one title.
This role-playing game (RPG) follows the sci-fi adventures of Commander Shepard and his band of misfits on immersive intergalactic missions. The games are still widely loved, and they've never looked better than in the Mass Effect: Legendary version.
The narrative revolves around a distant future where planets and civilizations have been colonized using an ancient technology. There's also a sense of mystery that governs the title with this ancient civilization looking to make a return. Most of the sci-fi tropes that have come to define the genre are included here, and this is enhanced by memorable characters, action-packed missions, and some devastating consequences.
To most video game enthusiasts, Mass Effect remains Bioware's greatest accomplishment and a high-point for epic sci-fi video games. Over 100 hours can be spent learning about this fictional world, and the side missions are also considered some of the best video games have ever offered. The game will only be available to PlayStation 4 users.
2. Biomutant

Biomutant is another RPG title. This game is set in an open post-apocalyptic world, and follows a kung-fu centric world from the perspective of a mammalian warrior. The archetypal 'Tree of Life' observed in many mythologies and religions is the source from which the world and narrative are constructed. Like the Mass Effect series, players can design their own character.
The game is known for its fascinating combat system, which includes melee and long-range shooting attacks. Another interesting aspect of this game is the weapon-building system, and the range of abilities offered to the player.
There are lots of interesting side-quests, and like Mass Effect, the game has a karma system – the story will develop according to the previous actions undertaken by the player. If Mass Effect feels a bit too familiar, Biomutant is a great quirky alternative. The game will be available on PlayStation 4 and 5 consoles.
3. Divine Knockout
Divine Knockout is a PS Plus launch title, and offers something entirely unique. Divine Knockout works as a third-person side scroller, platformer, and fighter game. Players can put themselves into the shoes of mythological figures like Thor, Susano, King Arthur, and Hercules to jump, smash, and dash their way to glory.
Fans of mythology will have a feast with this – it's not often that fans of mythology get to see all their favorite figures from these timeless stories interact with one another. The god-like figures have adorable designs, which adds to its appeal. The game also serves as a great way for kids to get into mythology.
The game is full of color, and has great replay value. Players can play 1v1, 2v2, or multiplayer mode. This game will suit players of all ages, and has the makings of a cult classic. This game is also available on the PlayStation 4 and 5 consoles.
PS Plus Titles From The Previous Month Will Be Available Till December 5
The December selection will be made available to PS Plus subscribers from December 6 to January 2. Users looking to download the PS Plus games for November can do the same until December 5, after which the games will be unavailable.
CDL announces broadcast information, and YouTube is conspicuously missing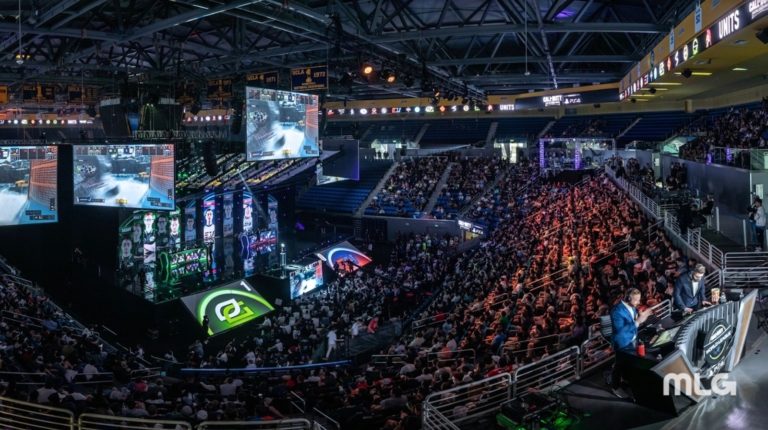 No longer will you watch Call of Duty League on YouTube. You'll have to find it elsewhere, as the streaming platform isn't listed among the accessible websites for the upcoming 2023 season.
The CDL starts on Dec. 2, with Boston Breach against Atlanta FaZe, but fans won't have the luxury of instantly clicking onto YouTube to get their CoD fix for the evening. Call of Duty posted a Tweet regarding the commencement of the league; however, fans noticed a key streaming player missing from the accessible streams.
For this season of the CDL, fans can head to either Twitch or the Call of Duty website to watch all the CoD they could dream of. 
The tweet said "The season starts tomorrow, here's where to watch," leaving its usual streaming service of the last few years out of the mix. Interestingly, no broadcast rights have been announced for the CDL this year as of yet.
YouTube's partnership with Activision Blizzard to broadcast the company's two major esports leagues came to an end after their three-year deal finished earlier this year. The deal commenced in 2020 with the beginning of the Overwatch League's third season, leaving years of Call of Duty on YouTube alongside it for the next couple of years.
The league's deal with YouTube was worth $160 million, but there's now concern over Twitch and YouTube's willingness to place money in a title with "less-than-stellar viewership statistics."
Either way, the CDL will be available to stream on Twitch as soon as it commences, so gear up and prepare for the season ahead.
US Army planned on targeting Twitch viewers for recruitment through Call of Duty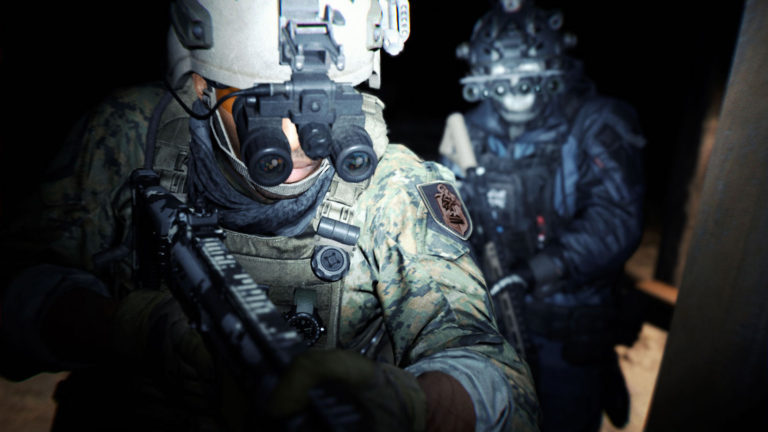 The U.S. Army uses billions of dollars to bolster its already massive military, also spending on advertising and sponsorship in gaming in the effort to bring more soldiers into the fold. Sponsoring events like ESL's CS:GO tournaments doesn't seem to be the last step for the U.S. military in the gaming sphere, however, as streamers were the next choice for the front line of the army's advertising. 
According to Vice, "internal Army documents" shared by Motherboard disclose that the U.S. military planned on sponsoring Call of Duty events, but after recent sexual harassment allegations within Activision, they decided against the sponsorships.
The documents shared the military's target audience, with a primary "focus on the growth target of females, Black & Hispanics" and people aged 18 to 24.
$3.8 million was spread across several different organizations, with WWE, Twitch, the Call of Duty League, and the Paramount Plus Halo television series acquiring large portions of the funds provided.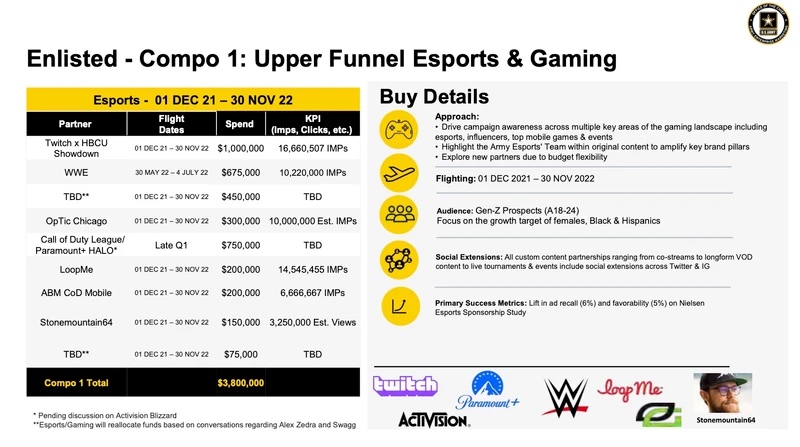 IGN was at the upper end of the allocated funds, with $600,000 being dedicated to the gaming news publication. 
OpTic Chicago and Texas were also on the list of names associated with the funding. A total of $600,000 was allocated from Dec. 1, 2021, to Nov. 30, 2022 for Chicago, and from February to late September 2022 for Texas.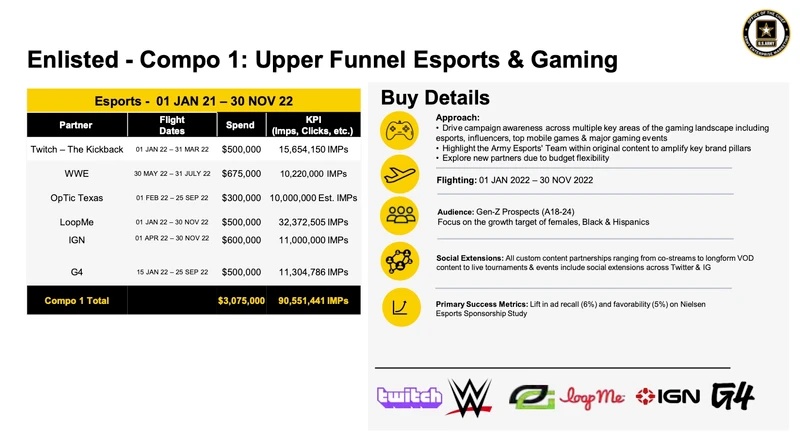 Stonemountain64, a Warzone 2 streamer with 2.32 million subscribers on YouTube, was allocated $150,000. Other streamers like Swagg and Alex Zedra were also mentioned in the documents. Next to Zedra and Swagg's names was an asterisk, highlighting that their allocated funds were "based on conversations" with the streamers. 
While this amount of funding seems like a large sum of money, it's merely a $3 million drop in the $773 billion U.S. defense budget for 2022.