A CISO's playbook for responding to zero-day exploits – TechCrunch
SolarWinds, Colonial Pipeline, MSFT Exchange — these names have become synonymous with infamous cybersecurity events. We keep calling every new zero-day exploit a "wake up call," but all we have been doing is collectively hitting the snooze button.
But the discovery of the newest widespread critical vulnerability, Log4Shell, ruined the industry's holiday season. It's the biggest cybersecurity threat to emerge in years, thanks to the near ubiquity of Java in web applications and the popularity of the Log4j library. Due to its unprecedented scale, compounded by the fact that it is not easy to find, getting rid of this bug from your IT environment isn't a "one and done" activity.
Security teams across the globe are once again racing to remediate a software flaw, even as attackers have begun targeting the low-hanging fruit — public web servers — at a recently reported rate of 100 attempts per minute. A mere seven days after its discovery, more than 1.8 million attacks had been detected against half of all corporate networks.
Are you awake now?
I've participated in many urgent Log4Shell briefings with Qualys customers (who include 19,000+ enterprises worldwide, 64% of Forbes Global 100), and it's clear that dealing with a constant barrage of zero-day vulnerabilities is one of the greatest challenges faced by today's security teams.
Just like inventorying, gathering and analyzing threat intelligence is crucial to provide the necessary foundation for security teams to take calculated and intentional steps.
It can be overwhelming to prioritize fixes and patches when responding to a zero-day exploit like Log4Shell. Here are a few steps to respond to security threats that we have learned and cataloged over the years:
Establish a standard operating procedure
Create a detailed standard operating procedure that includes step-by-step activities tailored to the vulnerability type.
For a zero-day response, the following information must be included:
Process flow for responses. If you need help, the U.S. Cybersecurity & Infrastructure Security Agency (CISA) has created an excellent guide.
Categorize the vulnerability by the type, severity and required response times. There should be a specific category for critical zero-day vulnerabilities.
Pre-determined service-level agreements for each response team.
Procedure for declaring and communicating an incident (this could be a reference to the incident response standard operating procedure).
Steps for tracking, reporting, and concluding the incident and returning to normal operations.
Akros Technologies, an AI-powered asset management platform, raises funding from Z Holdings • TechCrunch
Artificial intelligence is taking over almost every industry. The investment and finance industry is no exception. In Deloitte's 2019 report, the firm reveals that AI is transforming the financial ecosystem to reduce costs and make operations more efficient by providing automated insights and alternative data, analysis and risk management.
Technology such as AI has digitized the finance sector, ranging from payments and remittances to lending. However, asset management is still in the nascent stage of digitization, according to the chief strategy officer and co-founder of Akros Technologies, Jin Chung.
Akros Technologies wants to disrupt the current asset management industry via its AI-driven asset management software platform that mines market data for stocks. Akros just raised $2.3 million from Z Venture Capital, the corporate venture capital wholly owned by Z Holdings, which also owns the Japanese messaging app Line and internet portal Yahoo Japan.
Akros intends to strengthen strategic ties with Z Holdings via strategic investment, the startup said. The latest funding, which brings Akros's total amount raised to $6.1 million since its 2021 inception, will help Akros to scale its software platform and asset management products and ramp up its users, including local and global financial institutions and fintech companies.
The outfit is already in discussions with potential partners to expand its AI-powered product called portfolio management as a service, or PMaaS, an all-in-one operating system for portfolio management. Chung explained to TechCrunch that PMaaS "enables B2B clients such as financial institutions, fintech startups and robot-advisors to launch their own exchange-traded funds (ETFs) without having to set up ETF teams and infrastructure."
He added that it expects to secure more than five B2B clients in the first quarter of 2023.
The startup claims that its AI-powered portfolio management platform can reduce "the overall cost structure [of] the traditional fund development," including management fees and unnecessary fees involved in the investment process, by more than 80%. The outfit aims to maximize the finance management performance of data-driven ETFs and offer a portfolio management solution via the PMaaS for Akros's users to help them compete with global ETF institutions like Vanguard or JPMorgan.
In August, Contents Technologies launched Korean pop music, also known as K-pop, and Korea Entertainment ETF, on the NYSE Arca Exchange under the ticker KPOP, using Akros's PMaaS solution to develop the ETFs. In addition, Akros listed an AI-driven target income ETF, called Akros Monthly Payout ETF (ticker: MPAY), on the NYSE in May with monthly distributions at an annualized target rate of 7%, according to the startup.
To build a slew of investment strategies that lower the cost of portfolio modeling and generate scores of investment portfolios, Akros applies a generative AI model based on a decision transformer, which predicts future actions through the sequencing model, Chung said, adding the company also employs GPT-3 natural language processing (NLP) to analyze unstructured language data.
Akros plans continuously to enhance its engineering technology by bolstering its business to disrupt the asset management market and attract new partners across the globe, including Japan, Singapore and the U.S., co-founder and chief executive officer Kyle Moon said in a statement.
Founded by CEO Moon, CSO Jin and chief marketing officer Justin Gim, Akros employs seven people.
Moon previously worked for Qraft Technologies as head of AI research and CSO and had experience listing four ETFs on NYSE. Before co-founding Akros, Gim had more than nine years of experience in the asset management industry; Chung did research work for Bayesian deep learning in autonomous driving cars at Oxford Robotics Institute.
In March, Akros raised $3.75 million in funding from PeopleFund, a South Korean peer-to-peer lending platform. The company declined to provide its valuation when asked.
Sammy Hagar and Guy Fieri Reveal The Two Key Ingredients of Entrepreneurial Success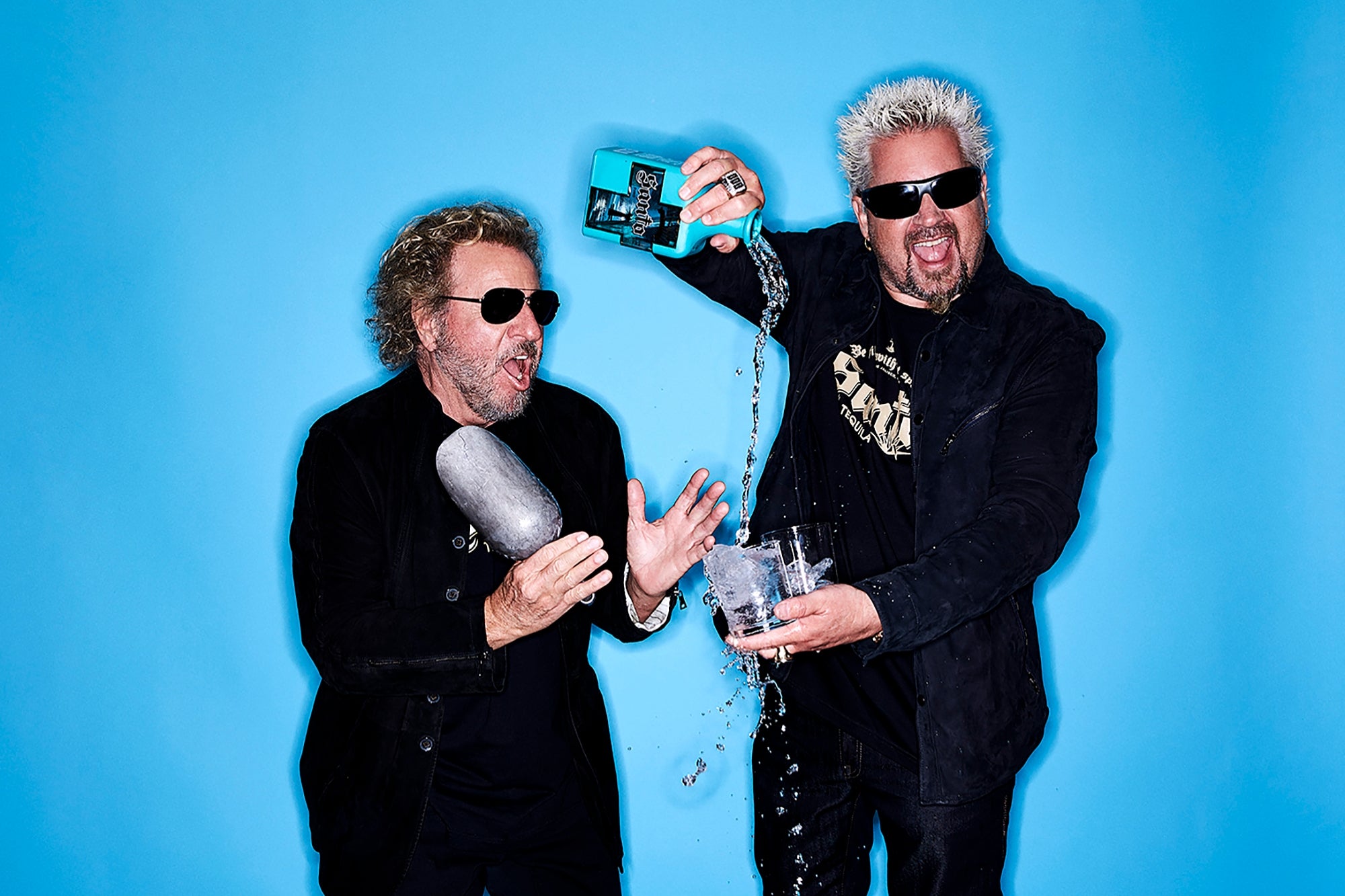 Opinions expressed by Entrepreneur contributors are their own.
There was John and Paul and then John and Oko. Chris Tucker and Jackie Chan. Will Smith and Tommy Lee Jones. Sure, we've had great pairings on the screen, in the recording studio, and on stage, but mixing sectors is taking on a whole new life and energy.
Rocker Sammy Hagar never plays second-fiddle to anyone unless you're a bleach-blonde, larger-than-life flavor junkie who hunts down good times like it's a profession. We're, of course, talking about Guy Fieri.
Hagar and Fieri, both from small towns in California, share a love of entertainment and experience and are continuing to bring that to consumers with more offerings from the company Santo Spirits.
Entrepreneur spent time with the duo to dig deeper into the roots of their partnership and, more importantly, friendship.
Known affectionately as the "Godfather of Tequila," Hagar has been on the spirits scene long before Ryan Reynolds, George Clooney, Conor McGregor, Bryan Cranston, or Charles Barkley cashed in on the distillery run that has made billions worldwide.
Hagar attributes much of his success in the spirit industry to the gritty and comforting roots of his rearing in the lettuce fields of Salinas, California. "We grew up poor, but we always had a garden. My grandma and my mom canned everything. We ate good tomatoes all year round," he says. Hagar remembers the smell wafting yards away from his artisanal chef and grandfather's trailer-turned Italian-bistro. "He made his own cheese, pasta and olive oil. He even made his own wine! I would walk towards his trailer, and it was like a deli — it smelled so damn good!"
Related: 'No One Believed' This Black Founder Was the Owner of a Liquor Brand in 2012. He Launched to Great Acclaim — Then Lost It All. Here's How He Made a Multi-Million-Dollar Comeback.
The romanticism of his relationship with food and family emanates in his description and experience of flavors today. He didn't plan on a spirits biz, but good taste pulled him in like many things in his life. Hagar leans into the quality of the food and spirit industry, maybe because he only first experienced a restaurant at the ripe age of 24.
Wine was Hagar's first love, and through a few unexpected and global turns, he found himself in Jalisco, Mexico sipping tequila. What started with Cabo Wabo eventually expanded into new ventures. "Good tequila tastes like the earth with salt and citrus. Overtones, fruity, herbaceous, time and limit are all involved. Santo Tequila Blanco, you can drink it by itself. There are so many notes in it."
"Fieri grows peaches all around the distillery, and you can taste and smell the peaches in there. It's such a wonderful agave spirit. Out of a Blanco tequila, I can name 15 different things that I smell in ours because there's nothing else in it. Others might smell like sugar or honey because they try to bring it up with agave syrups. A lot of tequila is not as pure as it should be anymore."
Before tequila, Fieri was drinking the Kool-Aid
Years before Fieri was smashing flavor profiles on our screens, he was selling Kool-Aid in his neighborhood. Known for rolling his sleeves up, Fieri literally dipped his youthful arm into pitchers of the iconic 80's beverage until his father noticed. "My dad kicked me out of the Kool-Aid business after he caught me with a purple arm. I'd lost my stirring stick, my dog took it, and my dad busted me. He said, 'That's it, you're out.'"
The budding beverage king learned a valuable lesson as an up-and-coming entrepreneur. "I always had a couple of businesses going as a kid. I was a budding entrepreneur growing up in the angelic town of Ferndale, California. I always had businesses, and tourists were always coming through. I'd buy penny candy from the candy store and sell it for a nickel across the street with my own little booth made out of cardboard. People couldn't believe this little kid was making money." While his entrepreneurial Kool-Aid days are behind him, it wasn't the only time Fieri would go on to make a profit selling beverages (albeit of the alcoholic variety).
Enter the dream team
When Hagar sold Cabo Wabo, Fieri was crushed — his restaurant self-reported selling more Cabo Wabo than any restaurant in the country.
They talked. Hagar was ready to chill and enjoy the well-earned sips that had solidified his place as an entrepreneur. Fieri wanted to partner up to build a spirits company with Hagar, who was reticent. Call me in a decade, and maybe I'll be ready, Hagar replied.
Fieri was ready even if the decade bloated a couple of years before circling back with Hagar. This time it was Hagar doing the calling, and Santo Spirits was born.
Bandmates
For decades Hagar has approached life and business, aiming to be the best. "Quite honestly, when I joined Van Halen, I thought if I couldn't sing better than the previous guy [David Lee Roth], I wouldn't have joined the band." By all accounts, Hagar has found a bandmate in Fieri that embodies a key element of success for entrepreneurs — complementary skills and a matched passion for winning.
Fieri provides advice for entrepreneurs in something he adlibs the 25/8 rule. "If you don't have spark, you don't have sh-t. But it takes hard work. It's one of the things this country was founded on and the sacrifices our veterans made. Get the 40-hour workweek out of your mind. You've got to work 24/7, and in my book, it's more like 25/8. But it's important to remember that you also live 25/8. Don't make work and life separate, make it the same thing, and put it all together."
Hagar realized corporate success through gates of established fame and beliefs that allowed him to bring passion over profits to his pursuits outside of music. "I came through music and had more success, fame, and fortune than anyone could ever want in their lives. When I started doing business deals, it was strictly out of passion and creativity, with a strong connection to music." It's become personal for Hagar, who finds peace and reward in his Hagar Family Foundation, providing services for kids and families in need. Hagar remembers being poor and sees his job as assisting communities and giving back.
Hagar's mother, if not for an unexpected supporter, was given typing classes that resulted in an office job and away from day-labor work in the fields. Hagar repeatedly shares, "What if? What if she wasn't so lucky?"
Don't make the mistake of thinking a little tequila can knock these two back. Hagar and Fieri have discovered the entrepreneurial recipe that celebrates friendship, revenue and a splash of legacy to personalize the business of experience.
Most entrepreneur "how to" books scoff at friends going into business together. I guess spirits and rock-n-roll are just a tad bit more exciting than widgets. Hagar and Fieri will be rocking the sipping industry while most of us are rocking our email and spreadsheets. Salud!
Airtable lays off 250+ as CEO cites importance of 'being a lean organization' • TechCrunch
To get a roundup of TechCrunch's biggest and most important stories delivered to your inbox every day at 3 p.m. PDT, subscribe here.
Hello, Happy Thursday. There is a lot of news today, much of it posting as I write this — for example, the Federal Trade Commission is now suing to block Microsoft from buying Activision. So less chatter, more banter. — Christine
The TechCrunch Top 3
Let's give 'em something to talk about: Given all of the ChatGPT popularity in the news lately, it is no surprise that a related company would be top news today. Instead of taking screen grabs, Ivan writes, ShareGPT creates a link to your ChatGPT conversations that you can grab instead.
Get your Frappuccino with a side of NFTs: Starbucks opened its blockchain-based loyalty program and NFT community to its first set of beta testers, Sarah reports. "Journey Stamps" will unlock new experiences beyond the free drinks and food that frequent drinkers can get from Stars.
Flying the friendly skies of capital: Something's in the air up there. TripActions secured $400 million in credit facilities from Goldman Sachs and Silicon Valley Bank in a move that comes less than two months after the travel expense management company announced a $9.2 billion valuation. Mary Ann has more.
Startups and VC
Moving, starting a new job and getting married in a short span of time is the trifecta of stress for anyone (I know from personal experience). In the startup world, that trifecta might be what happened to marketing technology startup Banzai. Ingrid writes that the company acquired Hyros, raised $100 million and went public via SPAC. Congrats?
Meanwhile, France is having a good venture capital run. Mike reports on a few new funds, including IRIS Capital, which had a first close of €110 million as it works to reach a target of €150 million for its new venture fund.
Want more? Here's five more:
To prepare for a downturn, build a three-case model
Startups that develop case models are better equipped to deal with potential setbacks. Visualizing exactly how potential market shifts can impact your business is a great way to prepare for the unexpected.
A three-case model attempts to predict best-case, down-case and base-case scenarios, writes Matt Barbieri, partner-in-charge at accounting firm Wiss & Co.
"Typically, the base-case scenario falls between the extremes. For example, in financial modeling, you might say that Peloton experienced both its 'best case' and 'down case' scenarios within a year."
Four more from the TC+ team:
TechCrunch+ is our membership program that helps founders and startup teams get ahead of the pack. You can sign up here. Use code "DC" for a 15% discount on an annual subscription!
Big Tech Inc.
All of the tech layoffs prompted Airtable to put out a memo earlier this week promoting its tools for job seekers. Now it is Airtable's own employees who might need to use them. Natasha M reports that the company, which was last valued at $11 billion for its no-code software, laid off over 250. And not only that, but it seems that the move also included some executive departures, including the chief revenue officer, chief people officer and chief product officer.
And here's another five for you: