3 Sales & Earnings Growth Winners
This story originally appeared on Zacks
With thousands of companies about to report their quarterly results as a new earnings season begins, let's take a look at the Sales & Earnings Growth Winners screen. It starts with Zacks Rank #1s (Strong Buys) and Zacks Rank #2s (Buys), but also seeks out companies with effective management through ROE and good liquidity.
The companies that pass this screen have a history of earnings and sales growth, which makes them likely to continue such success as they go to the plate in the next few weeks. Here are three names on the list right now: 
FedEx Corp. FDX
FedEx Corp. (FDX) and the holiday season is a combination that goes together like peanut butter & jelly; buy & hold; Hall & Oates, etc. It's a match made in market heaven, which was on display in its fiscal second quarter report from mid-December.
You know what FDX does. Every time you hear a beeping sound, its either an Amazon or FedEx truck. The company provides customers and businesses worldwide with a broad portfolio of transportation, e-commerce and business services.
It operates through the following segments: FedEx Express, TNT Express, FedEx Ground and FedEx Freight. As part of the Transportation – Air Freight and Cargo space, FDX is in the top 4% of the Zacks Industry Rank.
Shares surged more than 12.5% in December as it took advantage of the holiday shopping season despite supply chain disruptions and a challenging labor market.
Fiscal second-quarter earnings per share of $4.83 beat the Zacks Consensus Estimate by more than 14%. Revenue of nearly $23.5 billion jumped 14.2% year over year while also exceeding our expectations by nearly 4.2%.
The company thinks the fiscal second half is looking pretty good, so FDX raised its outlook. Analysts followed suit and increased their estimates over the past 30 days.
The Zacks Consensus Estimate for this fiscal year (ending May 2022) is now up to $20.82, which marks a 7% advance over the past 60 days. Expectations for next fiscal year (ending May 2023) is now $23.22, which advanced 2.9% in the same time and suggests year-over-year improvement of approximately 11.5%.
Another sign of second-half optimism was FDX authorizing a new $5 billion share repurchase program. FDX repurchased about $750 million of its common stock fiscal year to date and ended the fiscal second quarter with $6.8 billion in cash.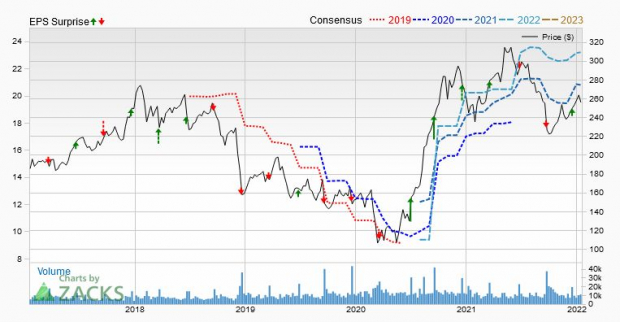 Image Source: Zacks Investment Research
D.R. Horton DHI
Home is a good place to be during this pandemic, both literally (for safety) and financially (for big bucks in your portfolio). Robust housing market conditions have been a boon for the space, including major players like D.R. Horton (DHI).
This Zacks Rank #2 (Buy) homebuilder builds and sells single-family houses for entry level and move-up markets. It operates through three segments… and you'd probably never guess that Homebuilding is the biggest piece with nearly 97% of total revenues in fiscal 2020. The other segments are Forestar and Financial Services. Shares are up more than 45% over the past 12 months.
DHI reports again on Feb 2, when it will be going for a 12th straight quarter with a positive earnings surprise. In its fiscal fourth quarter report, earnings per share of $3.70 beat the Zacks Consensus Estimate by 8.8%. Total revenues of $8.1 billion improved 27% year over year and beat our expectation by more than 4%. Homebuilding revenues accounted for $7.63 billion and were up 23.9% year over year.
As for all of fiscal 2022, DHI expects consolidated revenue between $32.5 billion and $33.5 billion. Homes closed is expected at 90K to 92K.
DHI has been successfully dealing with severe disruptions in its supply chain, including restricting the pace of its sales orders. Analysts believe that the company's upward trajectory should continue, given its industry-leading market share; solid acquisition strategy; well-stocked supply of land, lots and homes; and affordable product offerings across multiple brands.
Over the past 60 days, the Zacks Consensus Estimate for this year (ending September 2022) advanced 2.3% to $14.50. Next year increased in that time by 2.2% to $15.50. Therefore, the year-over-year improvement is currently expected at nearly 7%.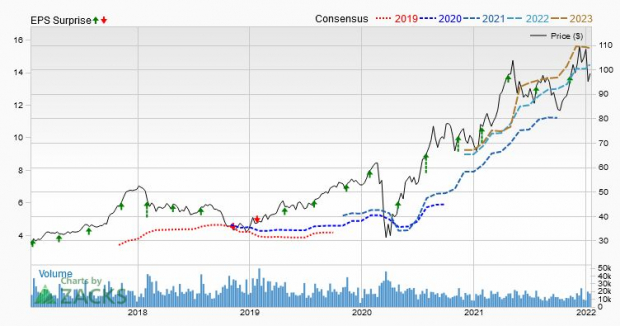 Image Source: Zacks Investment Research
Keysight Technologies KEYS
Our dependence on semiconductors and electronics accelerated dramatically during this pandemic… and it won't be slowing down anytime soon. In fact, the demand will continue growing exponentially into the future, so we better make sure this stuff works!
That's what Keysight Technologies (KEYS) is all about. This provider of electronic design and test instrumentation systems is part of the electronics – measuring equipment space, which is in the top 5% of the Zacks Industry Rank.
It's two segments are the Communications Solutions Group (accounting for 74% of non-GAAP revenues in fiscal 2020) and the Electronic Industrial Solutions Group (26%). Shares of KEYS are up approximately 28% over the past year.
The company topped the Zacks Consensus Estimate for six straight quarters now. Most recently, it reported fiscal fourth quarter earnings per share of $1.82, which beat expectations by 10.3%. Revenues of $1.29 billion improved 6% year over year.
Furthermore, orders increased 21% to $1.49 billion. Revenues at CSG rose 2% year over year to $919 million due to strength in 5G and aerospace, defense and government end-markets. EISG revenues jumped 18% to $375 million thanks to demand for semiconductor measurement solutions and next-generation automotive and energy technologies.
The company attributed the momentum to its software-centric solutions strategy that allows it to capitalize on long-term secular growth trends in its markets. KEYS expects to continue delivering above-market growth moving forward.
Analysts obviously agree as they have raised earnings estimates over the past 60 days. The Zacks Consensus Estimate for this year (ending October 2022) are up 3.1% to $6.91, while the advance for next year (ending September 2023) is 4.3% to $7.54. The expected year-over-year improvement is more than 9% at the moment.
KEYS is in a good position to continue capitalizing on the investment in next generation process technologies by semiconductor companies. The acceleration of 5G deployments and the defense technology modernization are also avenues for growth moving throughout 2022 and beyond.
For its fiscal first quarter, KEYS expects revenues of $1.225 billion to $1.245 billion with non-GAAP earnings between $1.50 and $1.56.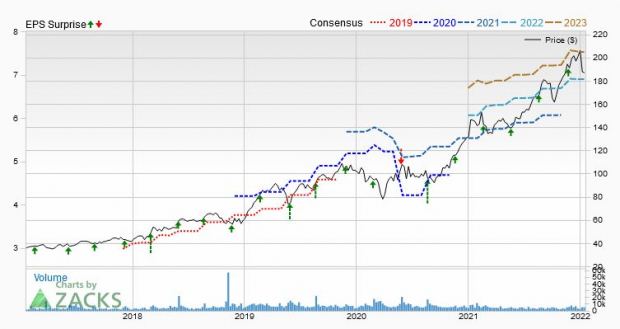 Image Source: Zacks Investment Research
Infrastructure Stock Boom to Sweep America
A massive push to rebuild the crumbling U.S. infrastructure will soon be underway. It's bipartisan, urgent, and inevitable. Trillions will be spent. Fortunes will be made.
The only question is "Will you get into the right stocks early when their growth potential is greatest?"
Zacks has released a Special Report to help you do just that, and today it's free. Discover 7 special companies that look to gain the most from construction and repair to roads, bridges, and buildings, plus cargo hauling and energy transformation on an almost unimaginable scale.
Download FREE: How to Profit from Trillions on Spending for Infrastructure >>
Want the latest recommendations from Zacks Investment Research? Today, you can download 7 Best Stocks for the Next 30 Days. Click to get this free report
 
FedEx Corporation (FDX): Free Stock Analysis Report
 
D.R. Horton, Inc. (DHI): Free Stock Analysis Report
 
Keysight Technologies Inc. (KEYS): Free Stock Analysis Report
 
To read this article on Zacks.com click here.
 
Zacks Investment Research
8 Ways You Can Save Yourself and Others From Being Scammed
Opinions expressed by Entrepreneur contributors are their own.
Statistics on the number of scam websites that litter the internet are disturbing. During 2020, Google registered more than 2 million phishing websites alone. That means more than 5,000 new phishing sites popped up every day — not to mention the ones that avoided Google's detection. In 2021, the U.S. Federal Bureau of Investigation (FBI) reported nearly $7 billion in losses from cybercrime that is perpetrated through these sites.
What exactly are scam websites? Scam websites refer to any illegitimate website that is used to deceive users into fraud or malicious attacks. Many scammers operate these fake websites and will download viruses onto your computer or steal passwords or other personal information.
Reporting these sites as they are encountered is an important part of fighting back. In other words, if you see something, say something. Keeping quiet, even if you avoid falling prey, allows the scammers to aim at another target.
Perhaps you've received a suspicious link in an email? Or maybe a strange text message that you haven't clicked on. Fortunately, there are many organizations out there that have launched efforts aimed at reducing the threat that they pose. In general, these organizations put scam websites on the radar by collecting and sharing information about them. In some cases, they prompt an investigation into the scammers behind the sites.
Related: Learn How to Protect Your Business From Cybercrime
It's free to report a suspicious website you've encountered, and it takes just a minute. Here are eight ways you can report a suspected scam website to stop cyber criminals and protect yourself and others online.
1. The Internet Crime Complaint Center
The IC3, as it is known, is an office of the FBI that receives complaints from those who have been the victims of internet-related crime. The IC3 defines the internet crimes that it addresses to include illegal activity involving websites. Complaints filed with the IC3 are reviewed and researched by trained FBI analysts.
2. Cybersecurity and Infrastructure Security Agency
CISA, which is an agency of the U.S. Department of Homeland Security, targets a wide range of malicious cyber activity. It specifically requests reports on phishing activity utilizing fraudulent websites. Information provided to CISA is shared with the Anti-Phishing Working Group, a non-profit focused on reducing the impact of phishing-related fraud around the world.
3. econsumer.gov
The econsumer.gov site, run by the International Consumer Protection and Enforcement Network, is for reporting international scams. It is supported by consumer protection agencies and related offices in more than 65 countries. A secure version of their site is used by law enforcement agencies to share info on scams.
4. Google Safe Browsing
While Google does not have a mechanism for reporting all varieties of website scams, there is a form for reporting sites that are suspected of being used to carry out phishing. Reports made via the form are managed by Google's Safe Browsing team. Google's Transparency Report provides information on the sites that it has determined to be "currently dangerous to visit."
Related: Is That Instagram Email a Phishing Attack? Now You Can Find Out.
5. PhishTank
This service was founded by Cisco Talos Intelligence Group to "pour sunshine on some of the dark alleys of the Internet." Phishtank includes an ever-growing list of URLs reported as being involved in phishing scams. To date, it has received more than 7.5 million reports of potential phishing sites. It says that more than 100,000 of the sites are still online.
Related: 6 Ways Better Business Bureau Accreditation Can Boost Your Business
6. Antivirus Apps
Antivirus providers such as Norton, Kaspersky, and McAfee have forms that can be used to identify pages that users feel should be blocked. Scam sites would definitely fall under that category. With some antivirus platforms, reporting forms can only be accessed by registered users. Norton's is open to anyone.
7. Web host
There is a chance that the DNS service hosting the scam site will take action to shut it down. There are a variety of online resources that can help you to find the DNS of a particular site. Once you identify it, send a message to their customer service reporting the site in question and the experience that you had.
8. Share your experience on social media
This is actually more like sounding an alarm than filing a report, but it might protect one of your connections who stumbles upon the same site or is targeted by the same type of scam. At the very least, it could draw attention to the fact that scam sites affect real people. A post on Facebook about a close call you had with a scam might better equip your network to avoid any dangerous entanglements. If it does, they'll thank you.
LastPass hacked, OpenAI opens access to ChatGPT, and Kanye gets suspended from Twitter (again) • TechCrunch
Aaaaand we're back! With our Thanksgiving mini-hiatus behind us, it's time for another edition of Week in Review — the newsletter where we quickly wrap up the most read TechCrunch stories from the past seven(ish) days. No matter how busy you are, it should give you a pretty good idea of what people were talking about in tech this week.
Want it in your inbox every Saturday morning? Sign up here.
most read
Instafest goes instaviral: You've probably been to a great music festival before. But have you been to one made just for you? Probably not. Instafest, a web app that went super viral this week, helps you daydream about what that festival might look like. Sign in with your Spotify credentials and it'll generate a promo poster for a pretend festival based on your listening habits.
LastPass breached (again): "Password manager LastPass said it's investigating a security incident after its systems were compromised for the second time this year," writes Zack Whittaker. Investigations are still underway, which unfortunately means it's not super clear what (and whose) data might've been accessed.
ChatGPT opens up: This week, OpenAI widely opened up access to ChatGPT, which lets you interact with their new language-generation AI through a simple chat-style interface. In other words, it lets you generate (sometimes scarily well-written) passages of text by chatting with a robot. Darrell used it to instantly write the Pokémon cheat sheet he's always wanted.
AWS re:Invents: This week, Amazon Web Services hosted its annual re:Invent conference, where the company shows off what's next for the cloud computing platform that powers a massive chunk of the internet. This year's highlights? A low-code tool for serverless apps, a pledge to give AWS customers control over where in the world their data is stored (to help navigate increasingly complicated government policies), and a tool to run "city-sized simulations" in the cloud.
Twitter suspends Kanye (again): "Elon Musk has suspended Kanye West's (aka Ye) Twitter account after the latter posted antisemitic tweets and violated the platform's rules," writes Ivan Mehta.
Spotify Wraps it up: Each year in December, Spotify ships "Wrapped" — an interactive feature that takes your Spotify listening data for the year and presents it in a super visual way. This year it's got the straightforward stuff like how many minutes you streamed, but it's also branching out with ideas like "listening personalities" — a Myers-Briggs-inspired system that puts each user into one of 16 camps, like "the Adventurer" or "the Replayer."
DoorDash layoffs: I was hoping to go a week without a layoffs story cracking the list. Alas, DoorDash confirmed this week that it's laying off 1,250 people, with CEO Tony Xu explaining that they hired too quickly during the pandemic.
Salesforce co-CEO steps down: "In one week last December, [Bret Taylor] was named board chair at Twitter and co-CEO at Salesforce," writes Ron Miller. "One year later, he doesn't have either job." Taylor says he has "decided to return to [his] entrepreneurial roots."
audio roundup
I expected things to be a little quiet in TC Podcast land last week because of the holiday, but we somehow still had great shows! Ron Miller and Rita Liao joined Darrell Etherington on The TechCrunch Podcast to talk about the departure of Salesforce's co-CEO and China's "great wall of porn"; Team Chain Reaction shared an interview with Nikil Viswanathan, CEO of web3 development platform Alchemy; and the ever-lovely Equity crew talked about everything from Sam Bankman-Fried's wild interview at DealBook to why all three of the co-founders at financing startup Pipe stepped down simultaneously.
TechCrunch+
What lies behind the TC+ members-only paywall? Here's what TC+ members were reading most this week:
Lessons for raising $10M without giving up a board seat: Reclaim.ai has raised $10 million over the last two years, all "without giving up a single board seat." How? Reclaim.ai co-founder Henry Shapiro shares his insights.
Consultants are the new nontraditional VC: "Why are so many consultant-led venture capital funds launching now?" asks Rebecca Szkutak.
Fundraising in times of greater VC scrutiny: "Founders may be discouraged in this environment, but they need to remember that they have 'currency,' too," writes DocSend co-founder and former CEO Russ Heddleston.
Building global, scalable metaverse applications
Previously we talked about the trillion-dollar infrastructure opportunity that comes with building the metaverse — and it is indeed very large. But what about the applications that will run on top of this new infrastructure?
Metaverse applications will be very different from the traditional web or mobile apps that we are used to today. For one, they will be much more immersive and interactive, blurring the lines between the virtual and physical worlds. And because of the distributed nature of the metaverse, they will also need to be able to scale globally — something that has never been done before at this level.
In this article, we will take a developer's perspective and explore what it will take to build global, scalable metaverse applications.
As you are aware, the metaverse will work very differently from the web or mobile apps we have today. For one, it is distributed, meaning there is no central server that controls everything. This has a number of implications for developers:
Event
Intelligent Security Summit
Learn the critical role of AI & ML in cybersecurity and industry specific case studies on December 8. Register for your free pass today.
They will need to be able to deal with data that is spread out across many different servers (or "nodes") in a decentralized manner.
They will need to be able to deal with users that are also spread out across many different servers.
They will need to be able to deal with the fact that each user may have a different experience of the metaverse, based on their location and the devices they are using due to the fact not everyone has the same tech setup, and this plays a pivotal role in how the metaverse is experienced by each user.
These challenges are not insurmountable, but they do require a different way of thinking about application development. Let's take a closer look at each one.
Data control and manipulation
In a traditional web or mobile app, all the data is stored on a central server. This makes it easy for developers to query and manipulate that data because everything is in one place.
In a distributed metaverse, however, data is spread out across many different servers. This means that developers will need to find new ways to query and manipulate data that is not centrally located.
One way to do this is through the blockchain itself. This distributed ledger, as you know, is spread out across many different servers and allows developers to query and manipulate data in a decentralized manner.
Another way to deal with the challenge of data is through what is known as "content delivery networks" (CDNs). These are networks of servers that are designed to deliver content to users in a fast and efficient manner.
CDNs are often used to deliver web content, but they can also be used to deliver metaverse content. This is because CDNs are designed to deal with large amounts of data that need to be delivered quickly and efficiently — something that is essential for metaverse applications.
Users and devices
Another challenge that developers will need to face is the fact that users and devices are also spread out across many different servers. This means that developers will need to find ways to deliver content to users in a way that is efficient and effective.
One way to do this is through the use of "mirrors." Mirrors are copies of the content that are stored on different servers. When a user requests content, they are redirected to the nearest mirror, which helps to improve performance and reduce latency.
When a user's device is not able to connect to the server that is hosting the content, another way to deliver content is through "proxies." Proxies are servers that act on behalf of the user's device and fetch the content from the server that is hosting it.
This can be done in a number of ways, but one common way is through the use of a "reverse proxy." In this case, the proxy server is located between the user's device and the server that is hosting the content. The proxy fetches the content from the server and then delivers it to the user's device.
Location and devices
As we mentioned before, each user's experience of the metaverse will be different based on their location and the devices they are using. This is because not everyone has the same tech setup, and this plays a pivotal role in how the metaverse is experienced by each user.
For example, someone who is using a virtual reality headset will have a completely different experience than someone who is just using a desktop computer. And someone who is located in Europe will have a different experience than someone who is located in Asia.
Though it may not be obvious why geographical location would play a part in something that is meant to be boundless, think of it this way. The internet is a physical infrastructure that is spread out across the world. And although the metaverse is not bound by the same physical limitations, it still relies on this infrastructure to function.
This means that developers will need to take into account the different geographical locations of their users and devices and design their applications accordingly. They will need to be able to deliver content quickly and efficiently to users all over the world, regardless of their location.
Different geographical locations also have different laws and regulations. This is something that developers will need to be aware of when designing applications for the metaverse. They will need to make sure that their applications are compliant with all applicable laws and regulations.
Application development
Now that we've looked at some of the challenges that developers will need to face, let's take a look at how they can develop metaverse applications. Since the metaverse is virtual, the type of development that is required is different from traditional application development.
The first thing that developers will need to do is to create a "space". A space is a virtual environment that is used to host applications.
Spaces are created using a variety of different tools, but the most popular tool currently is Unity, a game engine used to create 3D environments.
Once a space has been created, developers will need to populate it with content. This content can be anything from 3D models to audio files.
The next step is to publish the space. This means that the space will be made available to other users, who will be able to access the space through a variety of different devices, including desktop computers, laptops, tablets, and smartphones.
Finally, developers will need to promote their space. This means that they will need to market their space to users.
Getting applications to scale
Since web 3.0 is decentralized, scalability is usually the biggest challenge because traditional servers are almost impossible to use. IPFS is one solution that can help with this problem.
IPFS is a distributed file system used to store and share files. IPFS is similar to BitTorrent, but it is designed to be used for file storage rather than file sharing.
IPFS is a peer-to-peer system, which means that there is no central server. This makes IPFS very scalable because there is no single point of failure.
To use IPFS, developers will need to install it on their computer and add their space to the network. Then, other users will be able to access it.
The bottom line on building global, scalable metaverse applications
To finish off, the technology to build scalable metaverse applications already exists; but a lot of creativity is still required to make it all work together in a user-friendly way. The key is to keep the following concepts in mind:
The metaverse is global and decentralized
Users will access the metaverse through a variety of devices
Location and device management are important
Application development is different from traditional development
Scalability is a challenge, but IPFS can help
Clearly, we can't have an article series about building the metaverse without discussing NFTs. In fact, these might be the key to making a global, decentralized, metaverse work. In our next article, we will explore how NFTs can be used in the metaverse.
By keeping these concepts in mind, developers will be able to create metaverse applications that are both user-friendly and scalable.
Daniel Saito is CEO and cofounder of StrongNode